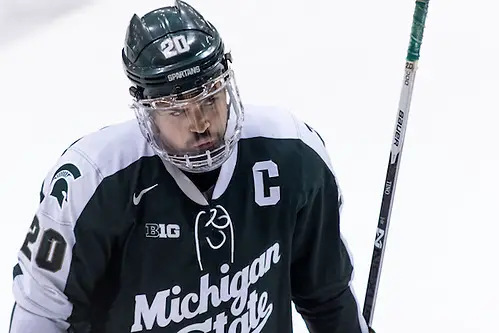 After some tough seasons in East Lansing, a strong finish to last year's campaign led to Michigan State being picked to finish in the top half of the conference and fight for a NCAA berth in 2015-16.
A successful season cannot be secured in October, but a good start can go a long way. This year, a good start for the Spartans depends on their ability to secure some wins away from home. They went 1-0-1 at the Ice Breaker Tournament last weekend and will travel to Denver for a two-game set with the Pioneers this week.
"It was kind of a typical first series," coach Tom Anastos said of the Ice Breaker. "There are things that we came away from very pleased with and other things that we still have a long ways to go to get to where we want to be.
"Overall, I really liked the work ethic of our team," Anastos added. "We got banged up for whatever reasons and had some injuries and were short of players, and I thought guys moved around, stepped into roles and did a good job."
The Spartans were picked to finish third in the Big Ten media poll, and while the number of top teams in the preseason USCHO.com Division I Men's Poll that were upset during the season's opening weekend may call the validity of any media poll into question, the Big Ten is a wide-open conference this season.
"We set high expectations for ourselves," Anastos said. "So regardless of where we are in polls, high or low, we have high expectations for ourselves.
"We just want to make sure that we become the very best team that we could possibly be at the end of the season," the coach added. "But, of course, in NCAA hockey you have to make sure along the way that you're winning enough to put yourself into consideration when the end of the season comes."
The Spartans provided a glimpse of the kind of team they were capable of being during the second half of last season when they went 10-5-1 after New Year's Day. Anastos said he believes this year's team has a chance to be better.
The recipe to be better is pretty simple: Put more pucks in the net. Michael Ferrantino is the top returning goal-scorer from last season with 12 and Mackenzie MacEachern and Joe Cox each notched 11.
Anastos had no problem coming up with a list of players who he'd like to see step up and help provide some goal-scoring help. There's Ryan Keller and Villiam Haag, both of whom are hampered by injuries at the moment. He also mentioned JT Stenglein, who was a goal-scorer in the USHL but has struggled to carry that over to the college game.
"I don't think we're going to have guys that are going to step up and all of a sudden be 15- or 20-goal scorers, but I do think we could have a much more balanced scoring attack than we've had in the past couple years," Anastos said.
The one player that Anastos can't ask for much more out of is goaltender Jake Hildebrand, who went 17-16-2 with a 2.18 GAA last season and was named a preseason Big Ten player to watch this year. A balanced scoring attack and Hildebrand in net would make the Spartans a dangerous team.
"It goes without saying, based on his performance last year, that our team has a lot of confidence in [Hildebrand]," Anastos said. "He's that type of goalie that you know can make the big save when you need one. He can also win games for you, so when you have him in net he always gives you a chance to win and certainly he gives you a chance, some nights, to actually steal some games."
Anastos added that Hildebrand's leadership was also important in the locker room. "It's a bit of a double impact in that regard," Anastos said.
Opening with two weeks on the road, with this week being against a ranked team, may not be ideal. Anastos pointed to the opening of the 2012-13 season, when he took a young team to open the season at then-nonconference opponent Minnesota and lost by a combined two-game score of 12-2.
That being said, he isn't concerned about being away from Munn Ice Arena with this group.
"I feel good about being on the road. I think it helps bring your team together," he said. "We do have a more experienced team, we have more juniors and seniors than we have had in the past couple of years and I think that helps you when you go on the road.
"I know it's going to be a hard place to play, it always is," he added, specifically speaking of Denver. "Yet at the same time I think it's a good thing for our team to have to go into a tough environment so early in the season."
Three stars of the week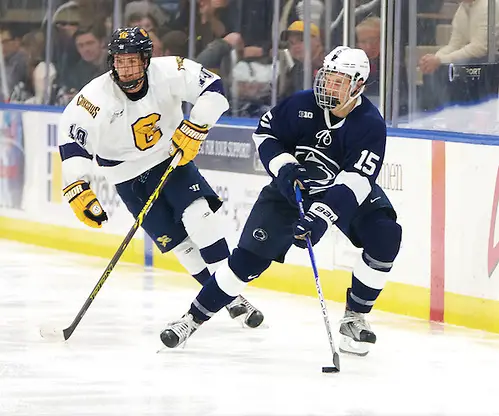 First star — Penn State senior forward Curtis Loik: Loik opened Penn State's season with an unassisted goal a minute and a half into its contest with Canisius last Saturday. He added two more assists in the first period of the Nittany Lions' 6-1 victory. This is his first career Big Ten weekly award.
Second star — Michigan State freshman defenseman Zach Osburn: The first-year blue liner notched his first two collegiate goals during Michigan State's opening-night tie with Maine. Both goals were on the power play and the second tied the game during late in the third. He added an assist during Saturday's victory over Lake Superior State.
Third star — Michigan State junior forward JT Stenglein: Stenglein recorded four points (one goal, three assists) last weekend at the Ice Breaker Tournament. He had two assists Friday vs. Maine and added a goal and an assist on Saturday against Lake Superior State. This is his first career Big Ten weekly award.
Big Ten in the poll
No. 11 Michigan and No. 15 Minnesota are the two representatives in this week's USCHO.com Division I Men's Poll. Michigan State led the unranked teams that received votes and Penn State and Wisconsin also received votes.
My ballot
1. Massachusetts-Lowell
2. North Dakota
3. Omaha
4. Boston College
5. Providence
6. Denver
7. Minnesota-Duluth
8. Boston University
9. Harvard
10. Bowling Green
11. Michigan
12. Yale
13. Miami
14. St. Cloud State
15. Michigan Tech
16. Minnesota State
17. Michigan State
18. Quinnipiac
19. Minnesota
20. Vermont
This week's matchups
Wisconsin at Boston College (Friday, Silvio O. Conte Forum)
Wisconsin at Boston University (Saturday, Agganis Arena)
Michigan State at Denver (Friday and Saturday, Magness Arena)
Ohio State vs./at Miami (Friday at Value City Arena, Saturday at Steve Cady Arena)
Penn State vs. Notre Dame (Friday and Saturday, Pegula Ice Arena)
Michigan vs. Mercyhurst (Friday and Sunday, Yost Ice Arena)
Minnesota vs./at Minnesota-Duluth (Friday at Mariucci Arena, Saturday at Amsoil Arena)