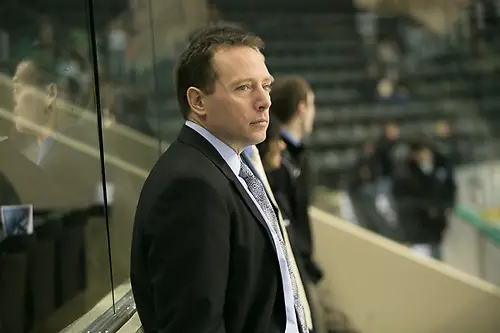 It isn't uncommon to see a struggling professional sports team unload the bulk of its roster and start over on the fly.
Things aren't quite that simple with college athletics. Sure, a new coaching staff can take over, but with the exception of a few transfers or reductions in playing time, there are no sweeping roster changes. It typically takes a new staff several seasons to recruit its players and mold the team to its style of play.
St. Lawrence coach Greg Carvel is entering his fourth year at the helm of the Saints, and it's looking like he's hit that spot. Picked 11th last year, St. Lawrence finished second and should be a competitor again this season.
"It gets more and more fun when you feel more ownership over the program," Carvel said. "When I took over as a head coach I spoke to [Yale coach] Keith Allain and some other good coaches in our league. They all said the same thing: It takes three to four years for the program to become what you want it to be.
"It takes time, not just recruiting players but the message you preach in the locker room and the culture you try to grow. I feel coming into the season when I walk into that room it's getting to that point that I envisioned when I took over the program."
Only a handful of players that weren't recruited by Carvel remain, meaning he's been able to get his type of players into the program.
"To me, we're starting to hit that stride," Carvel said. "[It's] getting to a point as a coach to where I worry less because my team is actually understanding what we want to do and executing it much better. I hope to be a much calmer coach this year, but only time will tell."
Golden Knights looking to push the pace
Clarkson hasn't been known as a high-scoring team the last several seasons, but coach Casey Jones is counting on the Golden Knights to push the pace this year.
"We're getting faster and faster as the years go on," Jones said, adding that Clarkson has been able to play at a higher speed because of increased knowledge of the team's systems. "We feel like that's the type of team that we're going to be: go north and south real quick."
Jones said generating chances wasn't a problem, but finishing them was. It also didn't help that starting goalie Steve Perry missed time after getting hurt in January.
"We might have been near the bottom of the league in goaltending statistics by the end of last year and you lose your swagger offensively," Jones said. "I thought we didn't take as many risks that we needed to in order to be a good offensive team."
It worked well for the Golden Knights over the weekend, as Perry allowed one goal in two games while Clarkson had 10 combined goals in wins over Rochester Institute of Technology and Niagara.
"The first thing we need is good hockey sense and the ability to move pucks properly and I think we have that," Jones said of playing with speed. "The game has gone that direction where transition and the ability to skate is a big asset."
Big weekend in the Capital Region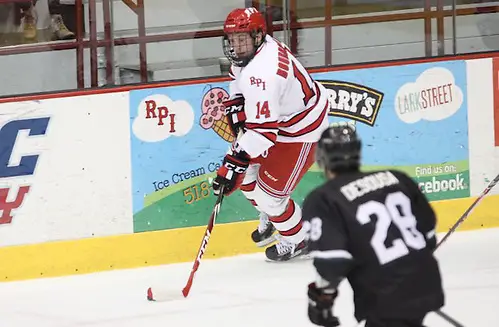 It wasn't a good weekend for Hockey East rivals Boston College and Boston University, each of whom traveled to New York's Capital Region.
Union coach Rick Bennett picked up his 100th career win with the Dutchmen's 5-3 victory over the Terriers on Saturday, while then-No. 1 Boston College lost 2-1 to Rensselaer on Sunday. It was the first time that RPI had beaten the Eagles since 1995, which was also the last time that Boston College traveled to Houston Field House.
Excluding an empty-net goal, the Dutchmen scored twice in the third period against last year's national runner-up, while RPI's Riley Bourbonnais scored both of the Engineers' goals. Senior Jason Kasdorf had 36 saves.
It was a better result than RPI's last game against the Eagles on Oct. 13, 2013. Kasdorf not only gave up six goals, he then hurt his shoulder during an ensuing practice and didn't play in another game that season.
Around the league
• The conference has two games (Quinnipiac at Yale on Dec. 4 and Colgate at St. Lawrence on Jan. 29) set to be broadcast on the American Sports Network, but assistant commissioner Ed Krajewski said via email that the league is still working on a TV schedule. Some schools are working on local coverage as well.
• Quinnipiac opened the season with a home-and-home sweep against Holy Cross. Junior Sam Anas, who was slowed by injuries in last year's playoffs, had four points on the weekend. The Bobcats host Division I newcomer Arizona State on Thursday.
• RPI swept the league's weekly awards, with Bourbonnais (player), Kasdorf (goalie) and Evan Tironese (rookie) each being recognized by the ECAC.
• Former Princeton goalie Mike Condon (2009-13) won his NHL debut Sunday, making 20 saves in Montreal's 3-1 win over Ottawa. It was also the first start for his opponent, former Boston University goalie Matt O'Connor, making it the first time in 48 years two goalies made their first start in the same game.
• In addition to Condon, Sean Collins (Cornell, Washington) Chris Wagner (Colgate, Anaheim) and Kyle Baun (Colgate, Chicago) all made NHL opening-day rosters for the first time in their careers.