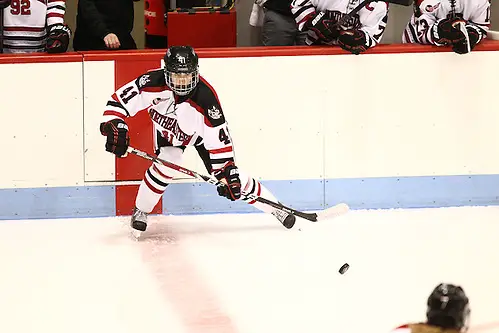 Arlan: We saw a little of just about everything this weekend, with the exception of any big upsets. History was made in Hockey East with Merrimack's first win in its league opener on home ice.
Just days after Alex Carpenter collected her 200th point for Boston College, Kendall Coyne scored her 100th goal for Northeastern. Carpenter and Hannah Brandt of Minnesota are poised to join Coyne in the century club, with both having knocked in 99 tallies.
With seven wins, Clarkson leads a quartet of four teams with perfect records, as the Golden Knights kept rolling by knocking off Boston University twice. BC, Minnesota, and Wisconsin have six wins apiece and have scored at will; it's hard to say if they have played primarily inferior opponents, or if these powers just make everyone look inferior. Another three teams, Bemidji State, Quinnipiac, and Colgate are still unbeaten, although tied. The Beavers and North Dakota played a series that was a polar opposite from what we've seen from the offensive juggernauts. Northeastern is another team that can pile up goals in a hurry, although it tends to do so against teams that aren't sure of what to do in net. When the Huskies ran into a strong goaltender versus Lindenwood, they suffered their only loss. Then there are plucky teams that we tend to overlook like a Connecticut squad that is always battling back from behind against somebody. Now into all of that, we mix in the Ivies in the coming week.
What looks to present a good starting point?
Candace: I feel like there's a lot to talk about, but I think we have to look at Clarkson first. I picked them to sweep Boston University, but that did still surprise me a little. BU actually jumped out to a 2-0 lead 37 seconds into the second period of the first game, then gave up a goal less than two minutes later that turned it around. Loren Gabel scored unassisted with eight seconds left in the second, then Kelly Mariani scored just 1:28 into the third, which stood as the game-winner. Shea Tiley made 32 saves in that game. Clarkson I feel dominated the second game more, jumping out to a 2-0 lead on Olivia Howe's second goal of the game at 9:43 of the second, then bouncing back from a BU goal with two in the third from Geneviève Bannon, one of which was an empty-netter. The defense was better in that game, with Tiley only having to make 22 saves.
I don't yet feel that the Golden Knights are as necessarily as good as the national championship team of two years ago, but they are 7-0 so far, and have looked very good. They are a very balanced team, currently fifth in the country offensively and third defensively. Cayley Mercer is one of several players sitting in a tie for seventh in scoring nationally, with 11 points so far, and Howe and Savannah Harmon are tied for 19th with several other players.
At this point, looking ahead, I see only three teams in the first half that might challenge them, the big one being Harvard, whom the Golden Knights face on Oct. 30. They will have an advantage in that game I think, because Emerance Maschmeyer will probably have left to go play in the Four Nations Cup. The only other games that loom big for them are Quinnipiac on Nov. 20 and Cornell on Dec. 5.
Before I ask you about Sarah Potomak and her likely rookie of the year season and whether it might compare to Amanda Kessel's rookie campaign, what is your sense of Clarkson?
Arlan: I'm very impressed with how quickly Matt Desrosiers has Clarkson built back to contender status. Last year, I cluelessly picked the Golden Knights to finish something like fourth in the ECAC. Part of my problem is judging how good their incoming classes will be, because I'm typically not that up on which Ontario recruits are likely to make the biggest impact. After last season, I'm just going to trust that he and his staff know what they're doing, and they will be in the mix year after year.
Clarkson definitely isn't as experienced in terms of games and shifts played as it was two years ago, but it possesses a different kind of experience. The NCAA Championship team came into the start of that season with one returning player that had one national tournament game experience. Compare that to this year, where the seniors have been in the NCAA tourney every year, and the upperclassmen have lived that championship run. It's a young team, but the veterans have a lot of big-game experience.
Interestingly enough, as you pointed out last week, Clarkson is off to a great start without the services of Erin Ambrose, the only member of the current roster who has over 100 points in her career. So this team doesn't quite have the established firepower on top the scoring chart that it did two years ago with Jamie Lee Rattray and Carly Mercer. Maybe this crew won't be able to roll over teams like that one could at its best, but I expect this team to win a lot of hockey games.
As for Potomak, her first six games remind me much more of Hannah Brandt's rookie season than Amanda Kessel's first year. Kessel was battling injuries early — that was a recurring theme over her college career — and it took awhile for the right line for her to emerge. Brad Frost was playing her at center until she missed a few games in early November. When she came back, he moved her to wing to lessen the physical demands in terms of the defensive game that centers have to play, and when she got on a line with Jen Schoullis and Sarah Erickson, it really started to click for her offensively.
Brandt, on the other hand, has been a center her whole time at Minnesota. She had a hat trick 34 minutes into her first game, came back with six points the next night, and was firmly entrenched between Kessel and Maryanne Menefee by the third game. All of those factors played into Brandt putting up 82 points as a rookie, while Kessel only had 50 points her first season.
I see Potomak being just as set with Brandt and Dani Cameranesi, unless someone gets injured or teams prove they can slow them down. I realize they won't continue to combine for 24 points like they did at Ohio State, but it will be very tough to hold them off the score sheet entirely once they get more familiar with each other. So far, it almost seems like Potomak is building up chemistry with Cameranesi more quickly, perhaps because they share a power-play unit.
I didn't see any of Clarkson or Minnesota this past weekend, but I did get to watch a number of teams online. I know that we both saw Mercyhurst at Northeastern. What did you conclude about those teams?
Candace: Not a lot that maybe we didn't already know. We knew both were going to struggle defensively while being able to score goals. They both graduated senior goaltenders last year who racked up huge minutes in Amanda Makela for the Lakers and Chloé Desjardins for Northeastern, and were going to be experimenting with goalies while trying to find the right pieces.
I'm not too sure if either has yet. Northeastern seems to be leaning more toward freshman Brittany Bugalski so far, who has played five of the seven games for Northeastern and gone 3-1-1 with a 2.85 goals-against and .908 save percentage. Neither stat is particularly compelling, and it doesn't seem like she can single-handedly steal a game when Northeastern runs into a BC or even a BU.
Mercyhurst has two freshmen goalies and one sophomore, and all have seen playing time so far. Sophomore Jessica Convery has a 2.33 goals-against and .889 save percentage, while Sarah McDonnell and Kerri St. Dennis are a 4.01 and 6.02 goals-against, respectively, with save percentages hovering just above .800. None of those stats are good for long-range success, so until any of those goalies gains some consistency, Mercyhurst is very vulnerable. This is not the type of Lakers team that can get an at-large bid to the NCAA tournament. Luckily, the Lakers play in the CHA and that league now has an auto-bid. None of the CHA teams so far is looking outstanding, so that league might be a coin flip till the last game. On the plus side for Mercyhurst, Emily Janiga is racking up points, and freshman Rachael Smith is showing the signs of being an outstanding scorer.
I feel like Northeastern got a little lucky in the first game. Falling behind 4-0 in the first period and pulling it out is wild, though when the Huskies pulled to within 4-3 in the second, I had a feeling it was going to happen. They dominated much of the second game, so it was a good step forward for Northeastern. I do think Northeastern still relies too much on Coyne, who is putting up points in bunches, averaging 2.5 per game. She does have a some support in sophomore Denisa Krížová, who is scoring a lot, and in Hayley Scamurra and Jordan Krause, but I still think if a team shuts down Coyne, they will likely beat the Huskies.
While we saw plenty of offense this weekend, we also saw some teams win defensive battles. I feel that Bemidji State took a huge step this weekend with a tie and then OT win in a home-and-home with North Dakota, rallying late to win the game on the road. What is your sense of North Dakota and Bemidji?
Arlan: Bemidji State looks to be exactly the team that it was last season. It is very hard to play against, because nothing comes easily, and an opponent has to work so hard to generate anything offensively. Clog the middle, get in passing lanes, block shots, tie up sticks, clear pucks, fight along the boards, block some more shots, get a clear — it can get exhausting just typing it, let alone trying to play against it. I almost drove to Bemidji on Friday for the game versus UND, and in hindsight, I was kind of glad that I didn't. It's a lot of miles to see zero goals.
I think those two teams could play an entertaining game, because both can skate and handle the puck, but they can also be guilty of playing too carefully as well. I like the Chris Wells approach at St. Lawrence, where his philosophy is that he is willing to give up a scoring chance to get a scoring chance. Stylistically, Bemidji State makes a better opponent for some team that wants to really open it up and run and gun. If BC makes a trip to Bemidji, then I'm there. North Dakota is too similar to the Beavers, so it is like a counterpuncher looking in the mirror waiting for the other fighter to make the first move. In the end, the bounces went in Bemidji State's favor at just the right time. The very approach that works so well against highly ranked opponents, that is, keep the game close and try to win it late, can be a detriment to BSU when it plays lower-ranked teams. A team like Minnesota probably made more mistakes this weekend than either Bemidji State or North Dakota, but the Gophers have a larger margin for error.
So far, advantage Bemidji State in the WCHA race with the teams that historically have finished near it. It has the sweep of Minnesota-Duluth and a series win over North Dakota, giving it an inside track to the top three. Four games into the conference race that doesn't mean too much, but at least it is something.
As far as North Dakota goes, this is starting out along a familiar script. UND plays well, does a lot of the things it wants to do, but there is a pattern of points left on the table. It won't be the only team that Brittany Mowat frustrates, and there aren't many goalies that will be able to hold UND to one goal on a weekend, but it always seems to be involved in games that go down to the wire. The objective in Grand Forks is to get back to the NCAAs, but it will be tough to do if it can't put away teams like Rensselaer and Minnesota State a bit more easily.
We talk a lot about the teams that win frequently, but of the 29 teams that are underway, five have yet to win at all. Union and Mercyhurst have at least earned ties, but three Hockey East squads have lost every time out: New Hampshire, Providence, and Vermont. The good news is that they have plenty of games versus each other, so somebody is going to win, but do you see any of those teams turning its season around and making a move up the standings?
Candace: Mercyhurst will start winning at some point, possibly even this weekend when the Lakers host Princeton. I have trouble seeing the Tigers sweeping both games. After that the Lakers have RIT, which is also struggling. Whether Mercyhurst racks up over 20 wins again, as the Lakers have done almost every year, is questionable.
Union will win a game here and there, possibly against RIT this weekend, and maybe against Brown, but the Dutchwomen have issues scoring goals. They've been shutout in three of their five games; in the other two, they scored twice and ended up with two ties.
As far as the Hockey East squads, New Hampshire losing to Merrimack was sort of unexpected. The bad news for the Wildcats is that having lost 6-0 to a BC squad that looked a little bit uninterested to be sharing the ice with them, now they travel to Clarkson for a pair. New Hampshire might end up battling Providence and Merrimack for the final Hockey East playoff spot, something that is amazing to think about considering that UNH used to be one of the dominant programs in the sport.
Providence is also struggling a lot. I don't think this is the year the Friars return to their previously lofty heights. The Friars have issues at both ends of the ice. At least New Hampshire can be tough defensively, but Sunday's 4-0 loss to Syracuse was the fewest goals the Friars have given up all year. They gave up five and eight to Wisconsin and six to Colgate. In the offensive end, Providence has scored four goals in four games, hardly a recipe for success.
That leaves Vermont. Yes, the Catamounts will struggle this year, but I think they'll battle up in the Hockey East standings. Their struggles again come offensively. Aside from one game where they gave up five to Clarkson, the Catamounts have done pretty well defensively. Saturday's 3-2 loss to St. Lawrence was a well-played game. You also have to think that starting a schedule with two games each against Bemidji State, Clarkson, and St. Lawrence will have helped the Catamounts' players develop more, and give them an edge when they face Providence, New Hampshire, and even Maine and Connecticut.
Speaking of teams turning things around, Robert Morris went on the road and swept Rensselaer this weekend by scores of 2-0 and 3-1. The Colonials are now above .500 for the first time since February 2014. Brittany Howard is back to her old self with 10 points in eight games, and freshman Sarah Quaranta is also putting up lots of points with 10, while junior goaltender Jessica Dodds is playing better, posting a 2.13 goals-against and .930 save percentage. Do you think Robert Morris is possibly a contender in the volatile CHA this year?
Arlan: I've been able to watch the Colonials both in person and via a stream over the course of three games, and they look to be out of the funk that they fell into starting with the last month or two of the 2013-14 season. I don't know if it was strictly health issues, a loss of confidence, dissension within the ranks, bad bounces, or if they wandered into an evil parallel universe, but nothing much went right for the Colonials over the course of about a year, spanning parts of two seasons. Now they look more like the squad that once was the principle threat to Mercyhurst.
I wouldn't say RMU is a great skating team. Both Bemidji State and RPI looked to have the edge in that regard. But it is a scrappy bunch that makes up for artistic deficiencies with hard work and team play. Dodds was in top form against the Engineers, and her defense did a good job blocking shots and covering people in the slot. Some of the Robert Morris success defensively this weekend could just be the Engineers, however. Whenever I watch them, they look better than the ultimate result. RMU's future looks good as well, in that they are getting solid contributions from a number of the freshmen. Defenseman Kirsten Welsh stood out to me on Saturday, providing strong play on the back end and chipping in on the attack
One of the Colonials went heavily into the boards and had to be helped off the ice on Saturday. I thought it was junior center Mackenzie Johnston, but I'm not sure because I was following several games at the same time and I didn't get a great look at the number. RMU has a bye week before closing the month at Syracuse, so if it isn't serious, the injured player could return by then.
Penn State is another club that I've watched a few times. The Nittany Lions rely on much the same cast of characters. Their top end players might skate better than, say, the Colonials, but I don't think PSU is as deep. One newcomer who stands out is Swedish forward Victoria Samuelsson, who is in a three-way tie for the points lead despite playing in one fewer game. Penn State only scores an average of twice a game, but it was shut out opening weekend. Since then, it is scoring at a much more acceptable pace of three goals per game. With its goaltending, that could be enough, and it was encouraging that PSU didn't look totally outclassed when it started by playing two NCAA tournament teams from last year. It will be interesting to see how it fares against a middle-of-the-pack Hockey East team when it hosts Connecticut.
With few results to go by, I wouldn't favor either RIT or Lindenwood to take the CHA season title. The Tigers are impossible to discount once the postseason begins, although they'll have to replace their accomplished senior class from last year, most notably Ali Binnington, and that process is very much ongoing. Lindenwood will be okay defensively, but I don't know that it can scratch out enough offense to be a league champ.
Based on its results to date, how do you see preseason coaches' pick Syracuse fitting into the CHA mix — is it the team to beat, or just another among equals?
Candace: Another among equals. Honestly, I do feel that any team could potentially win the CHA. Syracuse has had opportunities to set itself up and failed, losing to Connecticut 4-3 and to Northeastern 5-4, the same score that Mercyhurst lost its first game to Northeastern by. Jenn Gilligan hasn't had a great start to the season, with just a .891 save percentage and a 2.53 goals-against. On the plus side, the offense has done well, led by seniors Melissa Piacentini and Nicole Ferrara and sophomore Stephanie Grossi.
Gilligan is a solid netminder, so her play should improve, and combined with their offense, it gives the Orange an edge. Nicole Hensley at Lindenwood, Celine Whitlinger at Penn State, and Dodds at Robert Morris are all good netminders, but aside from Robert Morris, none have come close to Syracuse's offensive numbers so far at this stage. Defensively, while Penn State is top 10, Syracuse isn't too far behind averaging 2.8 goals allowed per game compared to Penn State's 2.17 and Robert Morris; 2.75.
The Orange also have a pretty tough first-half schedule, with out of conference games against St. Lawrence, Clarkson, Cornell, North Dakota (twice), and Boston College. The Orange already faced Clarkson once at home and lost 3-1; I have trouble imagining that moving the venue to Potsdam is going to help much.
Perhaps those tough games will help when the Orange embark on their second-half CHA campaign, which has four games against Mercyhurst, plus two each against RIT, Penn State, Robert Morris, and Lindenwood.
Regardless, I wouldn't want to place a bet on the CHA winner right now.
Let's turn back to Hockey East. We talked about BU getting swept by Clarkson; the Terriers dropped out of the D-I Women's USCHO.com Poll this week for the first time since March 2014. What is the state of the Terriers right now, who next face a very offensive-minded Northeastern squad that could exploit a defense that has been vulnerable this year?
Arlan: Massachusetts, and I expect that to remain unchanged indefinitely.
Brian Durocher said before the season that he'd like to see junior Victoria Hanson or sophomore Erin O'Neil take a step forward in net (figuratively, not literally). So far, that doesn't seem to have happened, and if anything, Hanson may have retreated a bit. Her improvement down the stretch was a big reason why the Terriers were able to make the run in the Hockey East tournament. Of course, it's unfair of me to point the finger and say the goalies are the problem when BU graduated three senior defensemen, but whatever the cause of the problem, the goalies are likely going to need to be a bigger part of the solution if BU is going to get back into the rankings and the NCAA puzzle.
Goals allowed is only half of the equation, and the Terriers are also struggling to find the net. We expected offense to be down in the post-Poulin era, but some key cogs just aren't clicking. Sarah Lefort had her first multi-point game of the season on Friday, assisting goals by Kayla Tutino and Maddie Elia. Outside of the four points they gained on those two goals, that trio has accounted for one point combined on the season. Sophomores Rebecca Leslie and Victoria Bach and freshman Sammy Davis have come through, but senior Rebecca Russo is the only veteran forward who has provided an offensive spark. Nobody is going to single-handedly replace a Marie-Philip Poulin, and it is tough to do it by committee if some of the members aren't able to carry even their previous share of the load. It would be a fair point to say that BU has run into some tough goalies thus far: Elaine Chuli of Connecticut, Meghann Treacy at Maine, Whitlinger of Penn State, and Tiley of Clarkson. In the end, the hot-goalie defense may earn a team some sympathy, but it doesn't add any points in the standings. Let's see what the Terriers can get done against Northeastern and Vermont, two defenses that rank closer to the bottom than the top.
You mentioned BC looking uninterested versus UNH. From what I've seen of the Eagles, even their goal celebrations look somewhat … I don't know if perfunctory is the right word. Even if it is only the second or third goal, BC celebrates with the business-like attitude that one might expect from a team that is up 10. Maybe after so many goal celebrations over the last season plus, the fun has worn off. Or the attitude could be, "Is it March yet?" Have you noticed that, or am I imagining it? Maybe I'm just comparing it to the joy I saw from Merrimack in its celebrations.
Candace: No, I think that's a perfect description. I have the sense that everyone on BC is playing for March at this point. I think that loss to Harvard in the Frozen Four, after what was so phenomenal a season, has left the Eagles feeling like they have a lot of unfinished business. I mentioned this last week, but both Carpenter and Haley Skarupa, two brilliant scoring forwards who are among the best in the country, are seniors this year, as are two of the top defensemen on the team, Lexi Bender and Kaliya Johnson. It's really now or never for the Eagles.
Perhaps BC also realizes that as the playoffs get closer, it gets harder to score goals. That certainly happened last year. After spending most of the first half putting up close to double digits on teams, sometime around mid-January, as the Eagles' undefeated streak stretched longer and longer, the goals became fewer and fewer. In their last seven games, they scored three or fewer goals four times, and two of the games where they racked up goals in bunches were against Providence. BC could only muster one against Boston University in the Hockey East tournament final, and one against Harvard in the Frozen Four. That last one in particular has to sting, as the Eagles top three scorers, Carpenter, Skarupa, and Emily Pflazer, were all held without a point.
Coming into the season, BC had to be looked at as one of 2-4 teams that were favorites to win the national championship. If BC doesn't make the final, it would be a tremendous disappointment. Last year, honestly, I think BC lost out on the title game by losing to BU in the Hockey East final, which knocked them from a one to a two seed. BC had to play Harvard in the Frozen Four as a result, a team that had already played BC twice, and had ended the Eagles' undefeated streak in the Beanpot final. I honestly think BC might have done better against Wisconsin, though that's far from definitive.
Speaking of the Badgers, their offensive numbers weren't as strong last weekend against St. Cloud as the previous week against Ohio State. Granted, St. Cloud netminder Katie Fitzgerald played extremely well, but Minnesota racked up 18 goals against the Huskies the previous weekend. Wisconsin is another team that is in the national championship conversation. Do you think the Badgers can finally break the Minnesota hex, which dates back four years at this point? The two don't face off till December.
Arlan: As you said, Wisconsin and Minnesota don't play until December, so I'm going to stall on the answer to that one for several weeks. Given the history of the WCHA rivalries, it is bizarre to think that neither Wisconsin nor Minnesota-Duluth has anyone on its roster that has ever beaten Minnesota. All those streaks will come to an end at some point.
St. Cloud State is another team that historically hasn't had a lot of success against Minnesota; it just seems to be a bad matchup for some reason. St. Cloud only has three wins over the Gophers in 70-some meetings, and conversely, Minnesota struggles versus North Dakota more than Wisconsin does. Some series just follow similar ruts.
Plus, the Huskies aren't going to remain static. The coaching staff had a week to attempt to fix as many problems as possible that came to light in the league opener. The SCSU players have pride, too, and they're going to try to get better and not get blown out like they did the previous week. Fitzgerald wasn't the problem in Minneapolis, but she wasn't robbing people left and right like she can. Maybe she engaged in a bit more thievery back home. The Huskies home rink has Olympic ice. My experience is that by and large scores are lower when women's teams play on a big sheet on rare occasions, because it seems to throw the passing off.
So there you go —- I must have offered a half dozen reasons why Wisconsin didn't hit double digits against St. Cloud State, and there are probably 100 more, but does it matter? I doubt that Wisconsin was ever in serious trouble in either game, and the Badgers took home the six points without worrying much about the final score on the bus ride home.
To backtrack a bit, I disagree with a couple of other points you made above. First, while it may seem like it as we sit here, it really isn't now or never for BC this year. Carpenter and Skarupa are great, but the game goes on when superstars graduate. Whether or not the Eagles win it all this season, I expect that they will be serious contenders next season. Minnesota, Clarkson, Harvard, North Dakota, Bemidji State, Quinnipiac, BU —- all these teams get hit hard by graduation this year, so unless Wisconsin is on top of the heap next year, it may be a quickly rebuilt champion.
Also, I don't think Wisconsin was the easier path to the final last year. The Badgers were playing very well at season's end. They never gave North Dakota or Bemidji State a chance in the WCHA tourney, they cruised past a BU team that had upset BC, and they gave the Gophers everything they could handle in the semifinal. I thought there were four evenly matched teams heading into the Frozen Four, each with a chance to win it all, and I still believe that. It's only because we know for a certainty that BC lost to Harvard that it seems to be a harder path.