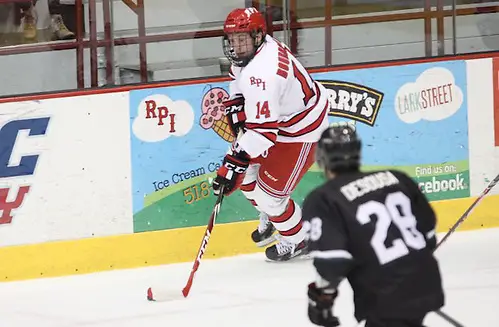 It's been a tough start of the season for Rensselaer.
RPI has begun its season 1-3, most recently two games in the Brice Alaska Gold Rush that saw two third-period leads erased in a flash. On Friday, Alaska-Anchorage scored three goals in the third period to defeat the Engineers 4-3. On Saturday, Alaska broke a 2-2 tie with 10:42 left in the third period and got an insurance goal later in the third to beat RPI 4-2.
Then again, maybe it isn't so bad. On Oct. 11, Rensselaer defeated Boston College 2-1 in one of the more significant early upsets in college hockey. It was RPI's first upset of the No. 1 team in the nation since 2011, when the Engineers beat Yale 5-2.
RPI has seven freshmen on its roster, including Evan Tironese, who has made an impact offensively in his first campaign — at least one point in his first three games.
Inexperience may be a factor. But the Engineers are powered by their senior leader Jason Kasdorf, who has made more than 30 saves in four games this season. He made 47 saves, a career high, against the Nanooks, and his play has kept RPI in more games than not this season. He has a 2.69 GAA and a .922 save percentage on 94 saves this season.
Offensively, RPI is led by Riley Bourbonnais with two goals. Tironese has a goal and two assists and Milos Bubela and Meirs Moore have goals in RPI's first three games. But it isn't enough. The offense is non-existent at the moment.
At some point, the law of averages says things will even out. But the questions remain: Is it a trend to be on the losing end of tough games? Was the win over No. 1 Boston College just a fluke?
Quinnipiac remains perfect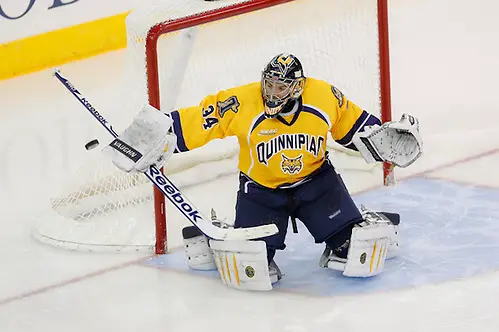 Tuesday's weekday matchup against Maine went like most games have gone early this season for Quinnipiac. The Bobcats doubled the amount of shots on goal (40 for Quinnipiac, 20 for Maine), scored twice on the power play and scored four times from four different players in a 4-0 win.
Offensively, the Bobcats are perfect. Nearly perfect, anyway. They've scored 18 goals this season. Defensively, they're nearly perfect — posting the team's second straight shutout after a 5-0 victory over Arizona State. In goal, Michael Garteig posted his 13th career shutout against the Black Bears with 20 saves.
None of this is exactly unexpected. Quinnipiac was supposed to be this good, as the team is now No. 14 in the nation. Led by Thomas Aldworth and Sam Anas, who each have three goals and three assists for the Bobcats through the team's first four games, this Quinnipiac team is deep and threatening.
It's certainly a good start, but the Bobcats haven't had much competition. Two victories against Holy Cross, a victory against Arizona State and a win over a struggling Maine team has given Quinnipiac an early boost, but it's not anything to hang your hat on. Not yet, anyway.
The Bobcats will play a two-game set with No. 9 St. Cloud State before they begin ECAC Hockey play against Colgate and Cornell. After this weekend, we'll know much more about this team.
Around the ECAC
Clarkson: Juniors A.J. Fossen and Jordan Boucher have put the Golden Knights in a strong spot to start the season. Clarkson is 3-1 so far, including a 4-3 victory last weekend over New Hampshire. But the Knights' one loss was, well … it was bad, 7-1 to Merrimack on Friday. It was a game where Clarkson outshot Merrimack 31-27. But eight penalties killed the Knights. It's hard to imagine that loss being anything but a fluke. Clarkson has a chance to rebound this weekend with a two-game set against unranked Western Michigan.
St. Lawrence: Merrimack ripped both ECAC teams it played to shreds last weekend, and St. Lawrence was its second victim — a 3-1 victory on Saturday. Overall, it hasn't been a bad start for the Saints. In fact, it's pretty good. St. Lawrence is 3-1 this season, led by senior forward Christian Horn with three goals. Sophomore goaltender Kyle Hayton has made 92 saves and allowed eight goals through four games. The Saints are No. 17 in the country and they'll have to prove it this weekend against No. 15 Miami (2-1-1), which tied No. 7 Providence and took two games over Ohio State.
Colgate: We're still waiting to see what Colgate is capable of. Tyson and Tylor Spink are tearing it up offensively, right on cue. But Colgate has yet to face a significant opponent. They will come in the next few weeks, with two-game matchups against Rochester Institute of Technology and then No. 3 Providence. Whether Colgate's defense can keep up with its offensive production is yet to be determined.