Just four games into the 2015-16 season, the Bentley Falcons have already had their share of highs and lows. Ryan Soderquist's team opened with a pair of discouraging losses on home ice to last season's playoff nemesis, Mercyhurst, but rebounded with a sweep of Northeastern last weekend.
It was a tale of two victories for the Falcons, who were outshot 51-11 on Friday at Matthews Arena but stole a 3-2 win thanks to a hat trick by Andrew Gladiuk and 49 saves from netminder Jayson Argue. Saturday's contest, played in front of a capacity crowd at John A. Ryan Skating Arena (1,200) was a more evenly played affair, but with the same result: a Bentley victory, 4-1 this time.
Ups and downs are expected with new faces in new roles.
"We have some great seniors, experienced players," said Soderquist. "But we also have a lot of freshmen, and more importantly, a lot of players in new roles."
Gladiuk, one of seven seniors, leads the way with 112 career points, but gone are mainstays Alex Grieve, Steve Weinstein and Brett Switzer, all career 100-point scorers.
"For the first time in three years, we have a major overhaul of our lines and especially our power play," said Soderquist. "We don't have [former all-league defenseman] Steve Weinstein running the power play. He made a lot of plays in his own way that only he could. We needed to get better [after Mercyhurst], making the first pass and retrieving the puck."
Bentley's power play was 1-for-9 against the Lakers but produced three goals against Northeastern, including two on Friday.
But Soderquist wasn't pleased with Friday's effort despite the win. Northeastern dominated play for most of the game but couldn't solve Argue more than twice on 51 shots.
"The final 10 minutes [on Friday] we played with some emotion and did what it takes to win games," Soderquist said. "We talked about carrying that over to Saturday and getting a goal in the first minute, a couple of early goals, set the tone."
The Falcons also fed off the home crowd. Saturday's game was a bona fide sellout of the JAR, with all tickets gone before the game began. Bentley also will host Merrimack (Nov. 4) and Rensselaer (Nov. 20) this season in nonconference play.
"It was a great atmosphere, having a Hockey East program come in, a Beanpot school," said Soderquist. "We appreciate the opportunity to have programs like that come into our rink."
Bentley is off this weekend, which will be a blow to the Falcons' momentum but something Soderquist hopes will allow some players to recuperate.
"We've had some injuries," he said. "Max French [57 points in two seasons] hasn't been able to play yet for us, and some other guys can use the time as well."
A rising tide
We're continuing to track the league's nonconference record, which in most years has been poor enough to sink the chances of the league getting an at-large team in the NCAA tournament.
In 2013, Niagara won 23 games and the league's overall record in nonconference games was 25-48-12 (.365). Not great, but good enough to get the Purple Eagles into the NCAA tournament after they were upset in the playoff quarterfinals.
Last season, Robert Morris posted a school-record 24 victories, but thanks to a 13-52-4 (215) nonconference record, the Colonials were dragged down in the PairWise Rankings, and their season came to an abrupt end after a semifinal loss to Mercyhurst.
So far, AHC teams are 5-18-2 (.240) in nonconference play, an improvement, but certainly nothing to celebrate at this early juncture. Home ice has been a huge favor so far, with Atlantic Hockey teams going 4-4-1 at home and only 1-14-1 on the road.
Circled on the calendar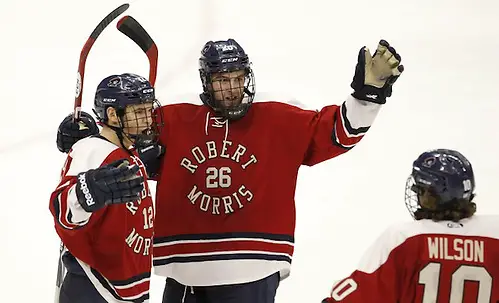 Ask a coach about the importance of nonconference games, and you'll get a mixed bag of responses. Most say since the league has a history of getting only its conference playoff champion into the tournament, nonconference games don't matter much — it's all about winning enough league games to position yourself for a successful playoff run.
On the other hand, if the league can manage to win more nonconference games, those contests loom large. Not just the ones you play, but those of fellow conference members.
"We're enemies during the season, but you root for each other in [nonconference play]", said Rochester Institute of Technology coach Wayne Wilson. "We want to see each other do well because it's obviously good for the league."
A few big games have already unfolded in the first three weeks of the season. As mentioned, Bentley's series with Northeastern, especially Saturday's game at the JAR, was highly anticipated, as was Air Force's two-game set with Denver and Army's home season opener against Boston College.
As the season unfolds, here are some games to look forward to, in and out of conference play:
Nov. 6 — Penn State at Niagara: The Purple Eagles have a pair of juicy nonconference games coming up at Dwyer Arena, with Cornell coming in a week earlier (Oct. 30). The Penn State-Niagara tilt will be the first meeting between the schools.
Nov. 20-21 — Mercyhurst at Canisius: This rivalry between founding MAAC/AHC members dates to the schools' pre-Division I eras in the ECAC West, spanning 82 games to date.
Dec. 4-5 — Robert Morris at RIT: This pair of games will be the only regular season meetings between last season's regular season and playoff champions, who ranked first and second in the league's preseason coaches poll.
Dec. 11-12 — Holy Cross at Bentley: Bentley hosts the only two games between these longtime rivals, their 59th and 60th meetings.
Dec. 28 — Robert Morris vs. Penn State: The state rivals will meet again in the fourth annual Three Rivers Classic, played at Pittsburgh's Consol Energy Center.
Jan. 14 and 16 — Niagara at Canisius: This rivalry between Western New York schools goes back decades and transcends hockey. They meet just twice this season, Niagara's first trip to HarborCenter in downtown Buffalo.
Jan. 15-16 — Air Force at Army West Point: The only regular season matchup between the service schools. It isn't Army-Navy football, but it's as close as it gets in college hockey.
Jan. 28 — Sacred Heart at Connecticut: This will be the 61st meeting between the state rivals, now nonconference foes.
Feb. 9 — American International vs. Massachusetts: The crosstown rivals square off at downtown Springfield's MassMutual Center.
Weekly awards
I'm in complete agreement with the this week's selections by the league.
Players of the week — Andrew Gladiuk, Bentley, and Todd Skirving, RIT: Gladiuk was the difference in Friday's 3-2 win at Northeastern, scoring all three Falcons goals for his second career hat trick. He chipped in another on Saturday to help Bentley complete the sweep. A senior, Gladiuk has 112 career points.
Skirving set a Division I-era record for the Tigers, scoring twice in a 25-second span in the first period of RIT's 2-2 tie with Bowling Green on Saturday.
Goalie of the week — Jayson Argue, Bentley: The sophomore made 89 saves on 92 shots last weekend, including 49 at Northeastern on Friday.
Rookie of the week — Shane Starrett, Air Force: Starrett stopped all 10 shots he faced in a relief role in Friday's 5-1 loss at Robert Morris, and was instrumental in Saturday's 3-3 tie against the Colonials. In his first collegiate start, Starrett made 45 saves on 48 shots to help the Falcons to a point on the road against the defending regular season champs.