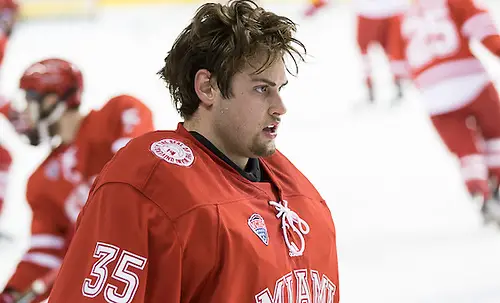 More and more in the past few years, college hockey coaches have been promoting their teams' "process." The idea is that a season is a marathon instead of a sprint, and each team is building up steam for the long haul.
Miami coach Enrico Blasi said his RedHawks have made big strides there over the first two weeks of the new season. After picking up a loss and tie at home against No. 7 Providence on Oct. 9-10, Miami posted a pair of wins last weekend in a home-and-home series with Ohio State.
A 3-2 win on Friday in Columbus gave Miami the start it wanted against its in-state rival. Omaha transfer Andrew Schmit opened the scoring in the first period before the teams went back and forth in the scoring department over much of the rest of the game.
With 1:33 left in regulation, RedHawks freshman forward and Columbus native Jack Roslovic netted the game-winner.
Roslovic came up big again on Saturday in Oxford, Ohio, in the RedHawks' 3-1 win over the Buckeyes. An assist and a second game-winning goal in as many nights over his hometown school helped to clinch a sweep for Miami.
Speaking at his weekly news conference on Tuesday, Blasi said he feels his team is coming along well in terms of what they're trying to accomplish this season. After a rough opening weekend against Providence, Blasi saw improvements against the Buckeyes in Week 2.
"A few weeks ago, I said that you can't mimic games in practice," Blasi said, referring to his team's sessions ahead of its Oct. 9 opener. "You have to play the games, you have to feel the pressure, you've got to feel an opposing player coming after you and things like that.
"After four games, we're slowly getting into our roles and starting to feel comfortable with our roles. We've still got some guys, I would say, that are probably fighting it a little bit in a good way. They want it so bad and they want to play their roles so well that sometimes they're pressing a little bit, but those things will even out and iron themselves out as we go.
"We're making progress, we're focused on the process from day to day," Blasi continued. "I know, even as coaches, we're starting to get a feel on the bench who you can go to in certain situations. All in all, a pretty good couple of weeks."
This week, Miami has been preparing for its visit to No. 17 St. Lawrence. Blasi said the games against the Saints, against whom Miami picked up a win and tie last October in Oxford, will provide good opportunities for the RedHawks to show continued progress.
"St. Lawrence is a top-10 team, in my opinion, and we're going to their building and it's going to be a heck of a challenge," Blasi said. "Our opportunity as a team and as a program in the early stages of the year is to get to better, to grow and to try and try to ultimately play that complete game we've been talking about.
"We're getting closer, but we're not there yet."
Broncos take new approach to penalty-killing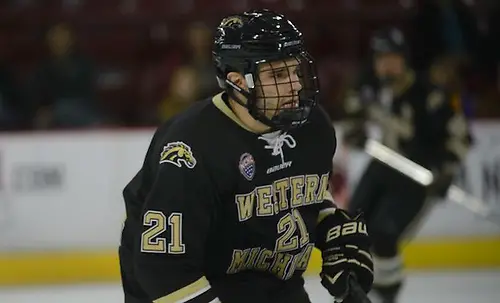 Western Michigan finished seventh in the eight-team NCHC last season, and the Broncos largely had themselves to blame.
No team in the league racked up more penalty minutes last year than Western, and coach Andy Murray placed emphasis in the preseason on trying to fix that. So far, changes his team has made are working.
Through three games, the Broncos have killed 18 of their opponents' 19 power plays (94.7 percent), which places Western's penalty-killing units tied for ninth in the country in that category. In their most recent game, a 4-1 home victory over Bowling Green on Oct. 13, the Broncos killed all seven Falcons power plays.
Western is still taking its fair share of penalties — an average of 13.3 minutes per game — but the Broncos are taking a smart approach to how they go about their business when outnumbered on the ice.
"Part of the PK success is the fact that, even though we've taken some penalties we'd still like to avoid, we're having to kill less penalties so our people have more energy," Murray said. "We're also using more players in penalty-killing roles.
"We've got guys that are not on power play now that are getting ice time on PK. We're rolling four units of penalty-killers out there so we've been able to stay fresh, and certainly an issue last year was getting the puck down the ice when we had an opportunity, and we've done a better job of that."
Coming off of an early bye weekend, Western is preparing to visit a Clarkson team that has opened the season with a 3-1 record. Western Michigan is hoping to keep up its smart play in Potsdam, N.Y., and maintain its unbeaten record (2-0-1) against the Golden Knights.
Part of that, Murray suggested, is down to keeping an eye on the big picture.
"We've done some good things, [but] I reference the fact this is a hockey schedule, not a football schedule," Murray said. "We don't play nine games where if you won [the first] three you're feeling pretty good about it. We've got a lot of work in front of us."
Players of the week
Offensive player of the week — Austin Ortega, Omaha: A junior forward expected to lead the Mavericks this season has started off hot, and he picked up four of UNO's seven goals last weekend in a road sweep of Vermont.
Defensive player of the week — Troy Stecher, North Dakota: The junior UND defenseman played a key role in his team's tie and win last weekend in a home-and-home set with Bemidji State. Stecher picked up two assists in a 4-4 tie on Friday in Bemidji before he scored the game-winning goal in UND's 5-2 victory on Saturday in Grand Forks.
Rookie of the week — Jack Roslovic, Miami: The Columbus, Ohio, native and Miami freshman forward had a big weekend against Ohio State, his hometown school. The Winnipeg Jets prospect picked up game-winning goals in both of the RedHawks' victories.
Goaltender of the week — Charlie Lindgren, St. Cloud State: The junior netminder kept up his fabulous start to the season last weekend with a pair of shutouts over Minnesota State. Lindgren is off to a 3-0 start this season and has stopped all 68 shots he's faced.