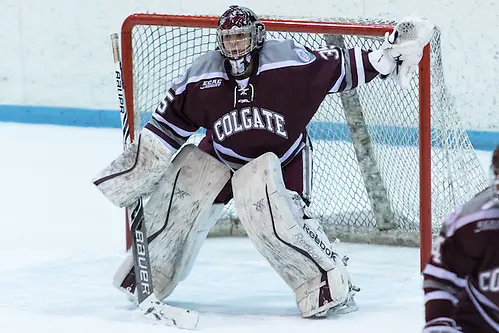 Sometimes, a writer doesn't ultimately tell the story that he intended at the outset.
Admittedly, I'm far from an expert when it comes to Colgate Raiders hockey. I've watched them play one series in person. That was opening weekend three years ago. It was the first NCAA competition for this season's senior class, and those were the first games behind the Colgate bench for coach Greg Fargo.
Colgate lost both games in one-sided fashion and got off to a 3-10-2 start by the end of November. The Raiders opened with a 3-12-0 slate in 2013-14. Last year, they started at a 3-15-0 pace.
"We talked about getting off to a great start the last couple years, and it hasn't happened," Fargo said.
Thus, it is new territory for Fargo's Raiders to be one of the remaining undefeated teams with a 3-0-1 mark.
"I think when you're able to put a couple games together early on, your team is able to see that the things that you preach every day, they work," Fargo said. "It helps get buy-in to what you're trying to do and how you're trying to build your team. I think that's what it has done for us. They've been able to see that all the work we put in during the off season and all the work that we put in during the early going, it's resulting in positive things for us so far."
Preparing to tell the story of a marked improvement over previous years, I assumed it would be fairly basic —- better players combining with key returnees like senior goaltender Ashlynne Rando to produce a better start. Fargo certainly has attracted some higher-profile players to Colgate.
"We're always out there trying to recruit the best players," he said. "I think what we see now is you look at our roster, now we have the players that are going to help us succeed, but we have more of them. We have more depth. You can look at the box scores from every night so far and it's been different people that have been contributing on different nights. Sometimes you rely on your goaltender to maybe come up with big saves, and other nights, a couple of your players have big offensive nights for you to really kick-start the group, but the neat thing is we're not relying on the same people every single night. When I think about the players and the people that we have, there is an inner drive with a lot of them that they want to be the best that they can be, and they're pushing themselves, pushing each other to keep raising the bar. I think when you have that kind of thing going on, it's a really healthy thing for your team."
Why are people like freshman Shae Labbe and sophomores Breanne Wilson-Bennet and Lauren Wildfang, who have all played for Canada at the Under-18 World Championships, plus other very talented players, deciding to attend Colgate?
"They picked Colgate for all the right reasons," Fargo said. "They pick it for the fact that we're an emerging program. Colgate has a great academic reputation. And I think the ability to combine those things with the opportunity to earn a scholarship, too. We have a beautiful campus at Colgate, one of the best in the country. We're in the middle of building a new $38,000,000 facility; that's exciting. But I think for the people that have come in recently, I tip my cap to them a little bit, because in a lot of ways, they've taken a chance on me and they've taken a chance on the program. They've been to campus, they've seen what the potential is, and they've really bought into the fact that this is a program that can compete at the top of college hockey with all of the great things that are going on."
I assumed that influx of talent would be the bottom line, but it turns out there is more to what is evolving at Colgate from Fargo's previous seasons.
"I think there's been a lot of differences," said senior captain Katelyn Parker. "We just kind of got to know each other a lot better."
With Colgate's roster, there was a need for people to get to know each other.
"Another huge difference was just the amount of underclassmen that we have in terms of this compared to previous years," Parker said. "We have 15 underclassmen, seven upperclassmen. But I think something that helps is that you have eight newcomers, new faces that are in the locker room. They're just so excited, so eager to like eat everything up, everything that's coming at them. Then you also have seven sophomores, so they've only had one year under their belt. They're just as excited to get back to it and get back to work. So we have 15 basically fresh bodies."
While youth brings enthusiasm, a team needs a veteran presence as well.
"If you look to the upperclassmen, you have seven people who are so committed to what this team stands for," Parker said. "One of the things we did in preseason is we kind of took a look at our culture and the identity that we want to be known as as Colgate hockey. So we kind of redefined that."
According to Parker, the team started the process of changing its culture last season, but it became more of a finished product in the preseason.
"We live and breathe these four cores, and so it's team first, work ethic, attitude, and family, and I think that everyone is so bought into these that we've had a great start," she said. "Everyone is coming to the rink so excited to be a part of the new Colgate hockey. I think that's the biggest difference."
She elaborated a bit on what each of these core values means at Colgate.
"Team first is basically every player knowing her role and where she fits in in the team, and then taking that role and perfecting it," Parker said. "You're going to have players that are going to be PKers to the girls that you're going to look to every night that should score big goals for you. Team first is taking that role that the team needs you to play and perfecting it. Whenever you do something, you're thinking about the jersey and the school that we represent. So we're thinking about Colgate in everything we do, and we're not just thinking about ourselves. We're thinking about the 21 other girls that surround us in the locker room and what we want to represent for them."
That blends into the second core value regarding the effort each player is willing to give to the process.
"We leave everything out on the ice that we have to give that day," Parker said. "I should be giving my 100 percent, everything that I have. Work ethic, that's pushing each other, too, in practice. Like battling along the boards, not taking an easy shift. It's not a measurable thing, but you can feel it and you can tell when people are giving it 100 percent, and so far, our practices have been awesome, our team has been firing on all cylinders in games."
Colgate's third core overlaps the first two.
"Attitude is basically how we want to come to the rink and how we want to work at the things we need to," Parker said. "I think obviously having a positive, enthusiastic attitude is huge. People feed off each other's attitude, so if you're going into something and you're super excited about doing it, you're going to get other girls that are going to be super excited about doing it."
Speaking with Parker, it quickly becomes apparent that she would excel at getting others to share her excitement.
"We want to try to get rid of the negatives and just look at stuff through positive," she said. "Obviously, you're going to have some ups and downs through the season and the games. You're going to have good practices and bad practices; that's just the nature of the game. We just want to come to the rink again with the attitude that this is a good day, this is a great day for hockey. We can always get better, we can build each other up. We can look at the positives in every situation. That's where attitude plays a role."
Eventually, there will likely be losses and other adversity that the team and its players must face, especially with so many young players, perhaps away from home for the first time. That's what makes the Raiders' fourth core so key.
"We like to think of our Colgate hockey family as our home away from home, your second family," Parker said. "We have some girls like Annika Zalewski, she lives 30 minutes from home, but you have other girls like Kayla Haus is from Alaska. So you have girls from all over the map. So we want to be like a family in here. The way we think about it in here is you'll do anything for a family member. At the end of the day, you might not totally agree with what your family members think, but you're always going to have their backs. So we're a family. So that's kind of the big thing, we want to be 22 sisters, and then obviously we've got our coaching staff who is obviously a huge part of our family as well."
From these four cores, a new spirit is formed.
"All four of them combine," Parker said. "Accountability is just found throughout all four of them. Our team has been super bonded to these four core identities that we think should define Colgate hockey. At the end of the day, this is how we're going to be successful. If we play to these core values and we're staying true to them, we believe that's what championship mindset is going to make us successful."
The Raiders want that mindset to lead to being champions.
"We want to win an NCAA national championship," Parker said. "That's the main goal; that's huge. We come to the rink every day, team first, we have championship habits, holding each other accountable. By coming from the 22 girls in the locker room, it's going a lot further than if it's just coming from the head coach, or it's just coming from the three captains, or just coming from seniors in the group. It's everyone."
There will be many steps to reach that summit.
"We also have smaller goals, like we want to make it into the playoffs," Parker said.
She and her classmates haven't experienced the postseason since their freshmen season. That year, Colgate acquitted itself well, losing twice by a single goal to top-seeded Cornell, one loss coming in overtime. They're aiming higher this time.
"We want to not only make it into the playoffs, but we want to be a top-four team so we have home-ice advantage," Parker said. "Then if we get that, then we want to make it out of the playoffs and we want to get into the NCAA [Tournament]."
All of those objectives are off on the horizon, with more immediate objectives each time out.
"We want to play fast, relentless, and be like hounds on the puck," Parker said.
So far, so good.
"I think in the early going, we've been able to do that in all four of our games that we've played," Fargo said. "We've controlled a lot of the play and you get to see what your players can do, and we're not chasing the other team around, which is huge. I think it comes back to that confidence piece, where we feel good about the players and the team that we have, and we're going to keep growing and getting better as the year goes on."
The closest thing the Raiders have had to adversity through four games is having to settle for a tie at Connecticut.
"You leave with a little bit of a sour taste after being up with 10 minutes to go by two goals," Fargo said. "But we talked about it, and I feel it wasn't in terms of our work ethic or our Xs and Os or our execution. It was just a little bit of undisciplined play by us, and we know that. This is a good lesson for our team right now. We're not going to dwell on it too much. We're going to learn from it and move on, and we won't make the same mistakes again."
Next for Colgate is another road trip to face a Hockey East opponent.
"We're excited to play Merrimack this weekend," Fargo said. "I'm just really excited about what the next step is, and we're here to keep moving forward.
Longer term, what is possible for his squad this season?
"I think we can be as good as we want to be," Fargo said. "Where we're going to end up in the standings, how many points we're going to have, I don't have a crystal ball. All I can tell you is I love our team. I love the players that we have. I love the combinations that we have, the ability to find the right line combinations and D pairs, the depth that we have. I love our leadership and our goaltending. We enjoy being around each other. We're instilling and improving upon our culture every day. Hopefully, that results in more wins for our program, and I believe it will, but we're not going to measure ourselves on that. We're going to measure ourselves on are we working to reach our potential as a group and are we doing it the right way. I think that to us, that's as important as anything."