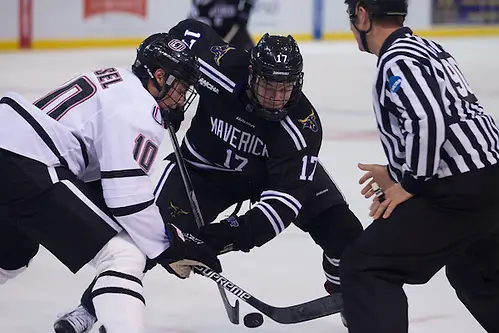 In coach Mike Hastings' first three seasons at Minnesota State, goal scoring was never much of a problem.
The Mavericks averaged well over three goals per game and were shut out just three times.
It's a big reason why no team in college hockey won more games over that span.
More of the same was expected to start the 2015-16 season, as Minnesota State was highly ranked in the preseason and picked by both WCHA coaches and media to repeat as MacNaughton Cup champions.
What a difference two weeks can make.
"We're a work in progress," Hastings said. "I don't think that's going to change. It's a process."
The Mavericks not only are winless at 0-4 but have been shut out in three consecutive games, something that had never happened before in the program's history, including its Division II/III era.
It's way early, of course, and the Mavericks haven't even started conference play yet (that begins Friday and Saturday at in-state rival Bemidji State — no easy place to win), so the focus has been on trying to get a talented team back on the rails.
"Our job is to try to help young men on and off the ice get through things like this," Hastings said. "We're going to do it together. … We'll focus on what we can control.
"Bits and pieces have been extremely positive, and bits and pieces have been not indicative of the things you need to do to be successful."
Since scoring early in the third period of a 4-2 season-opening loss at home to Omaha, Minnesota State has been held without a goal for more than nine periods of hockey — 195 minutes, 26 seconds, to be exact — against Omaha and St. Cloud State, both of which are undefeated and now top-10 teams, Nos. 2 and 9, respectively.
The Mavericks were ranked sixth in the preseason USCHO.com Division I Men's Poll but dropped out of the top 20 this week.
"Goals-for gets magnified. Wins and losses get magnified," Hastings said. "I don't think it changes when you're on the other side."
Minnesota State is trying to find ways to replace the production of high-scoring graduates, including All-Americans Matt Leitner and Zach Palmquist. Bryce Gervais, who scored 27 goals last season, is still looking for his first goal of the season.
It's not like Minnesota State has not had scoring chances. The Mavericks have 120 shots on goal (94 in the last three games), and the goalies who have shut them out — Omaha's Evan Weninger and St. Cloud State's Charlie Lindgren — have allowed a total of one goal in their combined five starts.
"As a coach, you get up every day looking at ways to get better, whether you're 4-0 or 0-4," Hastings said. "For us right now, I think we need to make sure we focus on what's ahead of us because as much as we want to change what happened, we cannot."
Freshmen lead Lakers
A season ago, it took 10 games for Lake Superior State to win its first game of the season. The Lakers went the entire month of October winless until finally beating Alaska-Anchorage on Nov. 1.
This time around, that first win came much quicker.
Playing a nonconference series against WCHA foe and Upper Peninsula rival Northern Michigan, the Lakers were routed 6-3 in Marquette last Friday but returned home to Sault Ste. Marie, where they blanked the Wildcats 4-0.
The Lakers are young this season, with 10 freshmen on the roster, and a handful of those rookies led the way over the weekend.
Mitch Hults and Josh Nenadal each scored twice in the series, and Gage Torrel had three assists. Owen Headrick also added a goal.
Most impressive may have been freshman goaltender Nick Kossoff, who had a 19 saves and became the first Lakers goalie to record a shutout in his college debut.
"On the score sheet, our young guys really showed up and did a good job," coach Damon Whitten told the Sault Ste. Marie Evening News. "But we also had good contributions from the seniors. The seniors have done a good job of keeping things together through a difficult start."
The Lakers are 1-3. They opened the season at the Ice Breaker Tournament, where they lost to North Dakota and Michigan State.
They head downstate to East Lansing this week for a Thursday-Friday rematch with Michigan State.
Ice chips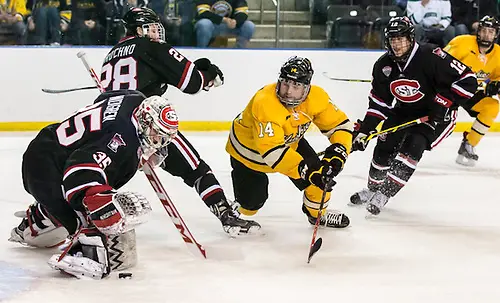 • Besides Minnesota State at Bemidji State, there will be two other conference series this weekend: Alaska-Anchorage at Alabama-Huntsville and Northern Michigan against Michigan Tech in a home-and-home series. Michigan Tech started regular season play a week later than the other nine WCHA teams and got right into conference play with a split at Ferris State. Alex Petan and Malcolm Gould — the Huskies' two leading returning scorers — each netted two goals in the series.
• Lake Superior State playing Michigan State won't be the only WCHA-Big Ten crossover this weekend. Ferris State will host Wisconsin in Big Rapids for the first time. The Badgers lead the all-time series 3-2-1, including a win and a tie last season in Madison. With two wins, Bulldogs coach Bob Daniels will have 400 for his career — all at Ferris State.
• Alaska-Anchorage is 3-1, winning its first back-to-back games since sweeping Alaska Jan. 16-17 of last season. With 15 goals in their four games, the Seawolves lead the WCHA with 3.75 goals per game. They averaged 2.06 last season, which ranked eighth in the conference.
• Alaska sophomore Tayler Munson had six points in the Brice Alaska Goal Rush last weekend, scoring four goals and setting up two others as the Nanooks won twice and won their fourth straight tournament title and their sixth in the eight-year history of the event. Alaska is idle this weekend.
• Gerry Fitzgerald scored three goals in Bemidji State's 4-4 tie and 5-2 loss against No. 1 Bemidji State. The sophomore forward — one of the Beavers' famous triplets — scored the game-tying goal in Friday's rally at home and both of his team's goals in Saturday's road loss. He has four goals in three games to lead the Beavers in scoring. Leo Fitzgerald has three points — all assists — while Myles Fitzgerald has yet to suit up this season as he recovers from an injury.
• After playing five games in eight days, Bowling Green will get a much-needed break this weekend before traveling to Anchorage next week. The Falcons are 3-1-1 following a win and tie on an eastern trip to play Canisius and Rochester Institute of Technology. Goalies Tommy Burke and Chris Nell have been solid. Burke is 2-0 with a .904 save percentage and 2.50 GAA. Nell is 1-1-1 but has stats of .943 and 1.62.
• Northern Michigan's Robbie Payne became the first WCHA player this season to record a hat trick, netting three goals in the Wildcats' win over Lake Superior State last Friday. It was also Payne's first college hat trick.
• Alabama-Huntsville had last weekend off from NCAA competition, but the Chargers played a game against the club team from Alabama. UAH routed the in-state foe, an ACHA team, 11-1 in the exhibition game with Brent Fletcher and Cody Marooney leading the way with two goals apiece.
• WCHA players of the week are Alaska sophomore forward Tayler Munson (offensive), Bemidji State senior defenseman Graeme McCormack (defensive) and Alaska-Anchorage freshman defenseman Wyatt Ege (rookie).