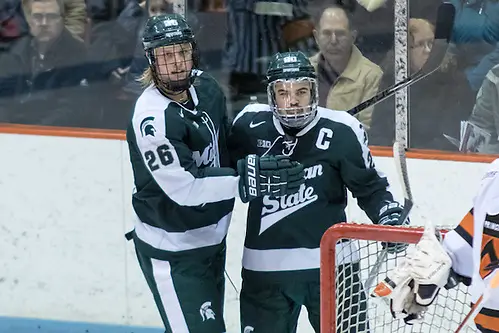 If the Big Ten was hoping for a better start to its nonconference opening act in 2015-16 than it experienced collectively in 2014-15, there's bad news and good news.
The bad: In 2014-15, B1G teams went 6-11-2 through the first two full weekends of Division I play; this season, the record was 5-12-2.
The good: It's still early.
And early equals optimism. Even when that optimism isn't finding its way into an opponent's net.
After a 6-0 loss to Boston College last Friday, followed Saturday by a 4-1 loss to Boston University, Mike Eaves said that Wisconsin showed improvement from game to game in the trip to Massachusetts.
"We saw a lot better things in breaking down film [Sunday that] we can take to the team, some good stuff," said Eaves. "We see the stuff we have been working on in practice and harping on, you're starting to see on a more regular basis when you look at film, and that's the kind of growth we want.
"We don't have the final results yet but there's good growth there, and we've got to keep pushing that and going in a good direction."
Already the Badgers (0-2-2) have a better record than they had at the start of last season, when it took Wisconsin until the last weekend in November to do anything but lose, when the Badgers tied and defeated Ferris State at home.
With six freshmen and eight sophomores skating, Wisconsin is still a young team looking to define itself. The same can be said of winless Minnesota, with its five rookie forwards having played in their three opening games.
Minnesota (0-3) has been shut out twice this season, including in the second game of last weekend's home-and-home series against Minnesota-Duluth. Friday night, the Gophers lost at home to the Bulldogs 3-1; Saturday, it was a 3-0 decision in Duluth. The Gophers were outshot 68-45 in the two contests.
After Saturday's game, coach Don Lucia said that there are positives to build on in spite of the Gophers' record and the fact that Minnesota has scored a single goal — yes, just one goal — in three contests this season.
"I continue to like our goaltender, Eric Schierhorn," said Lucia. "I like the fact that we got better as the game went on. We started to build our game, and that's what we have to. The compete factor was hard, our wall play was better, and now we just have to kind of relax on the offensive part of things.
"We missed the net, we hit shin pads around the net, we can't finish, and that's — I mean, the guys are gripping their stick a little bit right now, too."
Wisconsin is being outscored by opponents 15-6 so far this season, Minnesota is being outscored 9-1, and for Ohio State, the margin is 14-6. The Buckeyes are also winless in their four opening games, having lost a home-and-home series to Miami last weekend. Ohio State is another team with a big rookie class, with seven new forwards and two new defensemen having seen playing time in four games.
A little closer than that
Like Wisconsin, Minnesota and Ohio State, Michigan State is a team looking to pump up its offense — but the Spartans seems a bit closer to finding scoring consistency. Now 1-2-1 after being swept at Denver last weekend, Michigan State has been outscored 11-9 in four games, and the Spartans are hampered by injuries.
After Friday's 4-2 loss, coach Tom Anastos said: "I thought our guys competed hard tonight. That's a real good team. We're missing a few guys, so we're a little thin in our lineup."
After Saturday's 3-0 loss, Anastos said that the Pioneers "dominated the game" and that although the Spartans had some looks on the power play, it wasn't enough.
"I thought there were times we moved the puck around well, but we never generated any meaningful or dangerous scoring chances on the power play," he said. "But I thought that was just kind of indicative of the whole game."
There were four Spartans players missing from the lineup in Denver, all forwards: juniors Ryan Keller and Villiam Haag, senior and captain Mike Ferrantino and sophomore Dylan Pavelek. All were injured in the Ice Breaker Tournament two weeks ago.
And then there are these guys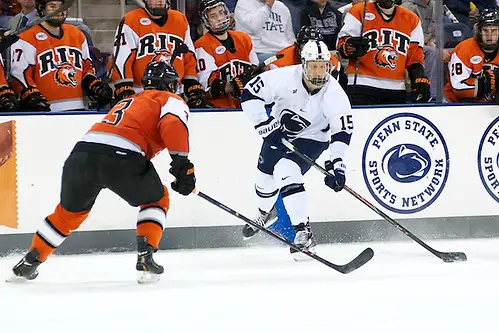 Two Big Ten teams are among the top 10 teams in the country in scoring in the early going, and it might be a trend that will continue throughout the season.
Whether Penn State and Michigan will be able to keep opponents off the scoreboard enough, though, is a matter of debate — and is something each team struggled with last season.
In 2014-15, Michigan finished with the top offense in the nation, averaging 3.86 goals per game. Michigan's defense, however, was 38th in the country (2.89). Penn State was 12th in scoring last season (3.22) and 42nd (3.05) defensively.
After their opening weekend, a home sweep of Mercyhurst, the Wolverines are sixth nationally in offense (4.50) and tied for 28th defensively (3.00). Three games in, and Penn State is tied for first in scoring (5.00) and is tied for 48th defensively (3.67).
Yes, it's early. Yes, these numbers are statistically relatively meaningless. Yes, they may be a sign of things to come.
After Friday's season-opening 6-4 win, Michigan coach Red Berenson saw a lot of room for improvement. "Our faceoffs have to be better," he said. "Our penalty killing has to be better and our power play has to be better."
In Sunday's 3-2 Michigan win, the Lakers tied the score at 11:03 in the second but rookie Kyle Connor answered for Michigan less than five minutes later at 15:51. The Wolverines had to kill penalties to preserve their lead in the third, prompting Berenson to say, "It was a part of the game where you could sense desperation and I like our team when they play desperate."
Senior goaltender Steve Racine had Friday's win and junior Zach Nagelvoort won Saturday. "I have said all along, we have two goalies that can play, so don't be surprised if you see both of them," said Berenson. "If one of them gets really hot, we'll play the hot goalie."
Penn State gave up three goals in the first period and then two in the second and third in Friday's 7-4 loss to Notre Dame. The Nittany Lions' response to losing their home opener in front of a sellout crowd? A 5-3 Saturday win in which they took their first lead of the weekend on three goals scored within the span of 2:21 in the middle of the second period, two of them with the man advantage.
Coach Guy Gadowsky credited the Penn State faithful for the momentum the team needed to surge ahead. "I think we rolled off three in a row and sort of got that snowball rolling with the crowd into it and that makes it fun," said Gadowsky. "That certainly adds to the momentum. It's nice to be on that side of it."
There's no telling yet where the Wolverines and Nittany Lions will end the season, but it seems fair to say that neither team will be dull between now and March.
Those rookies
It's hard to ignore the impact that newcomers are making in the Big Ten. Freshman forward Brent Gates has Minnesota's only goal so far in three games this season and his classmate, Schierhorn, has been the goalie of record in all three Minnesota games. Schierhorn has a respectable .915 save percentage so far.
Another freshman goaltender seeing some ice time is Wisconsin's Matt Jurusik. Neither he nor senior Adam Miller seems to have settled down enough yet in net, but Eaves said he liked what he saw from Jurusik against Boston University on Saturday, a game in which the rookie made 40 saves.
"Matty certainly did himself a lot of favors by playing the way he did tonight," said Eaves.
Other impact freshmen include Michigan State defenseman Zach Osburn, with two power-play goals in four games; Michigan forward Kyle Connor, who had three goals and an assist in his first weekend of play; and two Penn State forwards, Chase Berger (2-0–2) and Alec Marsh (3-1–4).
Three stars of the week
Two Jersey boys take honors this week. Who knew?
First star — Michigan freshman forward Kyle Connor: Talk about an impressive debut. The rookie from Shelby Township, Mich., had those three goals and an assist in the Wolverines' sweep of the Lakers, including Saturday's game-winning goal. Obviously, this is the first time Connor has been honored. It seems unlikely that it will be his last.
Second star — Penn State freshman forward Alec Marsh: Marsh, of Bridgewater, N.J., had three goals in Penn State's split with Notre Dame, including the goal Saturday that gave the Nittany Lions their first lead of the weekend. This is Marsh's first weekly award and likely not his last, either.
Third star — Michigan senior forward Justin Selman: Selman, from Upper Saddle River, N.J., had three assists in Michigan's series against Mercyhurst, including an assist on Connor's game-winner Saturday. In 26 games last season, Selman had 11 goals and 12 assists, but he had just one point in the first six games of 2014-15. This is Selman's second career weekly award.
My ballot
It's so early. As Jim Connelly and I discussed in last week's Tuesday Morning Quarterback, it's really tough to put together a ballot this early, this season.
1. Providence
2. Boston College
3. North Dakota
4. Boston University
5. Denver
6. Omaha
7. Minnesota-Duluth
8. St. Cloud State
9. Massachusetts-Lowell
10. Michigan
11. Michigan State
12. Bowling Green
13. Quinnipiac
14. Michigan Tech
15. Miami
16. St. Lawrence
17. Massachusetts
18. Ferris State
19. Clarkson
20. Western Michigan