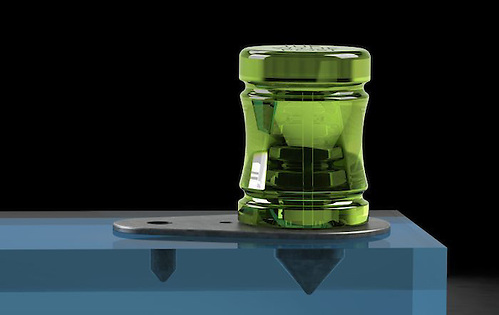 Editor's note: This is part of an occasional series of stories checking in with college hockey personalities, past and present.
We've seen it happen a thousand times.
A goalie tries to move laterally in his or her crease and the net pops off its pegs during action and the flow of the game is stopped.
It took the mind of a former NCAA goaltender to want to fix the situation.
Wylie Rogers, who played at Alaska-Fairbanks from 2004 to 2008 before playing pro hockey with the ECHL's Utah Grizzlies, the Central Hockey League's Rio Grande Valley Killer Bees and a season in the Netherlands, was also an assistant coach for his alma mater from 2012 to 2014.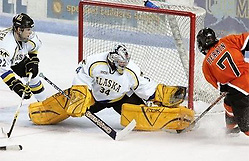 While coaching the UAF goalies, Rogers, now 30, started to get frustrated with the nets and the wheels were put in motion for The Wylie Post, a prototype that is a dual-spike peg with a short rubber post on top that won't come free when goalies push against the post. It also allows the net to come free when a skater runs into it and no drilling into the ice is needed to install the product.
"During practices, the steel pegs weren't holding up and before, you just learn to deal with the inefficiencies, but I really couldn't ignore the problem any longer," Rogers said. "When you try to teach a movement and it's difficult to do with the equipment given to you, your head starts to spin a little bit about different ways to make it work."
During part of his master's degree workload at UAF, Rogers took a class called "New Venture Development," where bringing an idea to life was the scope and students were asked to go through all the steps needed to make a product market-ready.
"My professor, also my mentor and friend, Dr. Ping Lan, doesn't know anything about hockey and speaks very little English, but when I came up with this concept of what's now The Wylie Post, he was like, 'We got a winner here,'" Rogers said. "He really pushed me to keep going, so I made my first prototype, which was basically just a peg with a spike welded onto it and we used it in practice and it worked so well that we couldn't use it in games because it was so dangerous — the nets weren't breaking free at all. One of our guys ran into it and the net didn't even budge."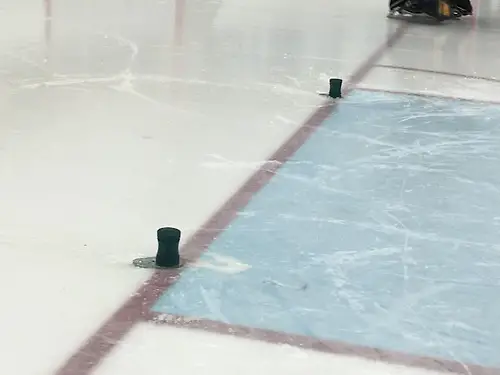 Rogers then went back to Lan and, with his guidance, made some adjustments to make the product safe.
"Dr. Lan said you're not done until everyone can use this," said Rogers. "That's where the wheels really started turning and we started playing with different ideas on how to make this become a reality. It's been a lot of years in the making since then, but it's progressed fairly quickly. Not a process I'd like to do over and over with all the testing, reworking and redrafting, but we're weeks away from releasing this thing and launching this product."
And to think that it all started as a home project.
"I started out making these things in my garage, mixing my own rubbers and pouring them into toilet paper rolls to try and somehow make this thing work," Rogers said. "Obviously, I didn't know the engineering side of it, but a professor from Alaska Pacific University, Ky Holland, approached me and said that he could help take this forward. We basically modeled the steel peg, but in a rubbery, urethane form, but that didn't work because when you put the net on it, the net was extremely loose, so we made the new peg fatter and that's when we knew we were getting close.
"It wasn't until Ky said that he knew of some oil companies using zinc spray on arctic slopes of Alaska that we did the same thing, coating the bottom with a zinc spray to help the pegs melt into the ice a little better. No one ever thought to melt a peg into the ice and have it freeze at a higher level. Once we did that, it was pretty expensive as we then had to rewrite some of the patent on it."
Rogers was married to his wife, Sarah, in the summer of 2014 and if The Wylie Post takes off, he's banking on making that his full-time job.
"I've worked for my buddy's landscaping company every summer for the past 13 years, so this has never been my primary job, but it will," Rogers said. "Last winter, it was spotty time that I was able to put into this product and now that it is where it is, and the fact we just bought a house in Anchorage, my priority will be The Wylie Post, marketing it and getting it out there. It'll be new to me, but I'll finally be able to commit all my time and effort to making this thing a reality."
Once The Wylie Post is approved for usage in rinks, a set of two will retail for $249.95.
More info and pre-orders are available at www.thewyliepost.com.