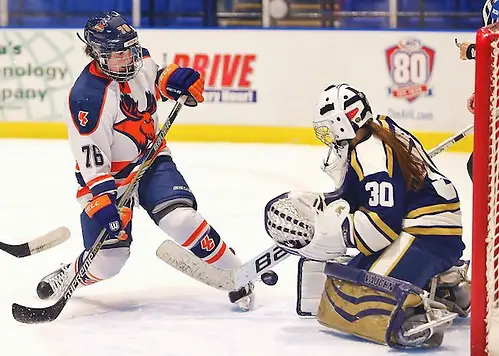 Utica is off to a quick 2-0 start this season, and some of that success can be attributed to Gabrielle Schnepp.
The junior forward out of the Detroit suburb of Northville has exploded for three goals (all on the power play) and six points so far, good for team-best numbers and tops in the country with teammate Morgan Reed.
Last weekend, the Pioneers topped Canton in a pair of nonconference tilts; they start ECAC West play this weekend with a home-and-home series with William Smith.
"Our season is off to a great start," Schnepp said. "We have two nonconference wins under our belts and it is preparing us for conference play this weekend. We have a young team full of freshmen, but they are learning and getting better every day. It is a great group of girls that want to work hard and get better every day. I look forward to what this season brings to us.
"I thought I had a great opening weekend to the season. I felt good out there and ready for the season."
During her freshman season with Utica, Schnepp averaged a point per game with 15 goals and 27 points in 27 games before tailing off a bit in 2014-15, slipping to seven goals and 17 points over 27 contests.
She said she's hoping to boost her offense this season to where it was two years ago.
"Hard work is what it comes down to," said Schnepp. "I worked hard this past off season to get to where I am right now. It will take teamwork and dedication to get my numbers to where they were freshman year or better."
In the classroom, Schnepp is majoring in criminal justice and has a plan for post-graduation in 2017.
"I want to work for the U.S. Border Patrol, hopefully in Texas," said Schnepp. "In the end, I would like to work with drug dogs at the borders."
As a youth in the hockey-rich Detroit environment, Schnepp skated with the Honeybaked, Little Caesars, and Belle Tire AAA programs, and went to the national tournament on three separate occasions.
"Nationals was a great experience playing teams from all over the country," said Schnepp. "I think AAA hockey in Michigan has prepared me for college hockey. I played with some of the best girls in the country. I also had some great coaches that taught me a lot and prepared me for my dream of playing college hockey."
When Schnepp was a junior in high school, the college application process came into play.
Admittedly, she never thought about committing to Utica until she saw the campus in person.
"I looked at many schools, but as soon as I saw the Aud, I fell in love with the school," Schnepp said. "The locker room and the rink is second to none here. The girls on the team were also a huge impact on my decision to come here. They were very inviting and made me feel like a part of the team when I toured the school."
Is Utica anything like back home?
"No, Utica is nothing like the Detroit area," explained Schnepp. "New York has many mountains and pretty scenery. Detroit is very flat with no mountains. I live in a suburb of Detroit, about 40 minutes from the city. Detroit is a lot more city-like than Utica. We are surrounded by professional sports teams in Detroit, while in Utica, there is not much besides the (AHL's) Utica Comets."
Having Michigan-born teammates Sam Husak and Victoria Pelton with her at Utica has also made college life enjoyable for Schnepp.
"It is nice to have someone on the team that is from the same area as you," said Schnepp. "Pelton and I played for Belle Tire together our senior years. When I found out she was going to Utica as well, I was excited. To have someone you grew up playing with and against your whole life is pretty neat. I also played with Sam on the Belle Tire U19 team. It helps with driving the long 10 hours home to have someone to ride with or to watch the Detroit Red Wings games with."
With no NCAA Division I women's hockey teams in Michigan after Wayne State folded in 2011, Schnepp said there is good and bad with that situation.
"There is not as much hockey in Michigan as there is in other states on the East Coast or Minnesota," said Schnepp. "Most D-I schools are not close to Michigan, so it would be a lot of traveling for games if there was a D-I college. It would definitely help grow the interest in girls hockey in Michigan starting with the young ones. We all dream of playing for a big school and in front of big crowds. Little girls in Michigan could dream of playing for the D-I Michigan team if there was one."
Armed with a fast start team-wise and individually, Schnepp has lofty goals for the rest of this season in Utica.
"As a team, I hope we make NCAAs and win a national championship," Schnepp said. "Although it has been close in the past, Utica has never made the NCAA tournament in women's hockey. I believe in our team this year and I think we are capable of this. It would be great to represent the school and the city of Utica. On an individual level, I just want to be the best I can be. My goal is to be in the top five of the league in points and to get back to where I was my freshman year."
WOMEN'S D-III NOTEBOOK
Plattsburgh received all 15 first-place votes in this week's USCHO.com Division III Women's Poll … Lake Forest senior forward Michelle Greeneway leads the nation with four goals thus far … Utica's Morgan Reed is tops with four assists … In her only game so far, Buffalo State sophomore forward Erin Gehen notched two short-handed goals as part of a three-goal, one-assist game Oct. 30 at Nichols … Lake Forest senior Allie Carter and Endicott freshman Vendela Jonsson have each rang up a pair of shutouts this season … Salve Regina is 3-for-5 on power-play opportunities this season … Thirteen teams have gone perfect so far on the penalty kill.