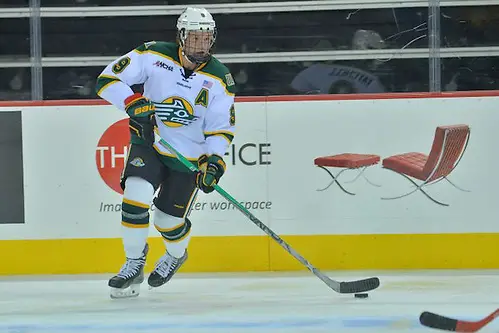 Alaska-Anchorage has had good starts to the season before. Since 2010, the Seawolves haven't lost more than one of their first four games — always back-to-back tournaments in Anchorage and Fairbanks.
What happened after leaving Alaska was usually the problem.
Until this year, anyway.
When Anchorage won at Alabama-Huntsville on Oct. 24, it marked the first time the Seawolves had won a game outside of Alaska in 19 games, snapping a streak of 0-16-2.
Coach Matt Thomas was aware of that streak, having lived through it last season, but he was reminded by an assistant about another one that began before he arrived in 2013: Starting in 2009, the Seawolves had lost every first game following the two tournaments in Alaska.
Thomas had a message for his team:
"If they wanted to start changing the culture and try to start changing things, it had to start with that weekend," he said.
They tied Huntsville that first night and then won the next night, killing two bad streaks in one series. Then, back at home last Saturday, they extended a good one, an unbeaten run, to five games, their longest since late in the 2011 season, with a 4-2 win over then-No. 12 Bowling Green. That streak ended with a 2-0 loss to the Falcons on Sunday.
"We felt we played good enough to win both games," said Thomas, whose team is 5-2-1, its best eight-game start since 2008, and heading into a bye week. "[Falcons goalie Chris] Nell was really good, and [Bowling Green] played really well. But it's a good start for us."
If the Seawolves took a step forward in Thomas' first season, with the program's first winning record since 1992-93 and a trip to the Final Five, they took two steps back a year ago, winning just eight games and missing out on the WCHA tournament.
Thomas hoped to turn that luck around with more offense and less time in the penalty box.
It may be early in the season still, but so far, so good.
Anchorage is averaging 3.12 goals per game, which ranks second in the WCHA and is more than a full goal higher than last season's average.
The Seawolves rank eighth in the WCHA in penalty minutes at 10.4 per game, compared to 16.3 last season when they led the league in that category.
Forward Blake Tatchell is off to a fine start to his senior season, leading the WCHA in scoring with 10 points (four goals, six assists), and Thomas believes he can be even better, as he was on Saturday against Bowling Green when he had a goal and two assists after returning from a tough couple of days in his hometown of North Battleford, Saskatchewan, where he attended funerals for his great aunt and his grandmother.
"He's got a very consistent approach," Thomas said. "He's never too high, never too low. He always seems to have a really, really good handle on the way he approaches it."
After Tatchell is a collection of five freshmen and sophomores, each with at least four points, led by Jeremiah Luedtke, who is averaging a point per game so far. Sophomore goalie Olivier Mantha, who has four wins, appears to be continuing what he started as a rookie.
"We're a young team, and we hope our young players integrate well," Thomas said. "So far, a lot of freshmen have stepped in right away, not only producing but picking up on what we do here."
The Seawolves follow their break with two straight home weekends with Ferris State and Penn State in town and then embark on their toughest road trip of the year, going to Minnesota State and Michigan Tech on back-to-back weekends.
Long time coming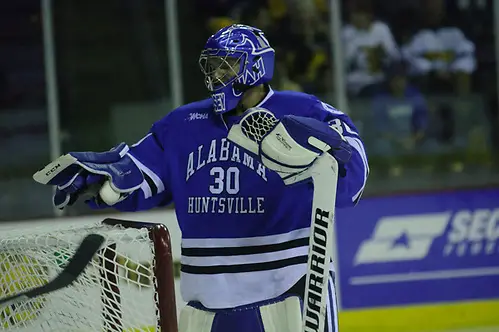 Carmine Guerriero, Alabama-Huntsville's No. 1 goaltender, had the night off on Saturday against Lake Superior State. And the Chargers' leading scorer, sophomore forward Brennan Saulnier, was suspended for the game after a hit to the head on Lake State's Gus Correale during Friday's 5-4 victory over the Lakers.
Sounds like a recipe for disaster, right?
Well, the Chargers seem to be taking pleasure in bucking expectations this season.
Matt Larose, UAH's No. 2 goalie, made 31 saves, and the Chargers scored five goals from five different players en route to a 5-0 win over the Lakers.
In the process, the Chargers had a few "first time in a long time" milestones, the most significant of which is this: Larose's shutout was the first for the program in more than five years.
The last time a Chargers team earned a shutout, current Edmonton Oilers goalie Cam Talbot made 29 saves in a 1-0 shutout against Robert Morris. The date? March 12, 2010. A playoff game in the last-ever CHA tournament.
According to the folks at UAHHockey.com, the Chargers had gone 171 games without a shutout (and were themselves shut out 41 times in that span).
Aside from the shutout, it's also the first road sweep for UAH in even longer — since beating Air Force on Oct. 16-17, 2009, in Colorado Springs.
Those were some impressive (and long) streaks to be broken.
The Chargers get Saulnier back this weekend for a home series against Michigan Tech. Despite missing Saturday's game, he's still tied for first in the WCHA in goal scoring (six) and is second in the league in total points (nine).
And it's not just Saulnier. The Chargers are spreading the scoring wealth around: Teammate Max McHugh (eight points) is tied for third in scoring with five different players. Junior Cody Marooney scored both game-winning goals against Lake State (including the OT winner) and has four points. Senior Chad Brears is up there in conference scoring with seven points.
Ice chips
• Ferris State coach Bob Daniels scored career victory No. 400 last Saturday at Michigan Tech thanks to Andrew Dorantes' game-winner with a little over a minute to play in the 3-2 win. Daniels was unable to be behind the bench in Houghton due to a family matter, but his players presented him with the game puck in practice this week. "Thanks guys, it means a great deal to me," Daniels told his team, "but, more importantly, we won. We needed the points. Way to go." The Bulldogs host Minnesota State this weekend and will attempt to snap an eight-game losing streak against the Mavericks.
• Minnesota State has won four games in a row after starting the season 0-4, most recently scoring its first-ever sweep of Alaska. The Mavericks' defensemen accounted for four goals in Friday's 5-2 victory. Minnesota State appears to be picking up where it left off in one category, shots allowed, where it was so good last year. The Mavs rank sixth in the country, allowing just 23.5 shots on goal per game.
• Bowling Green sophomore goaltender Nell already has five shutouts in 16 career starts, earning his second of the season on Sunday at Alaska-Anchorage. Nell ranks fifth nationally in GAA at 1.14 and save percentage at .957. He's already in third place in shutouts on Bowling Green's all-time list, two behind Tyler Masters and Andrew Hammond.
• Alaska senior forward Tyler Morley is expected to be back in the lineup on Friday against Northern Michigan after serving a one-game suspension for contact to the head, an unpenalized play last Friday night at Minnesota State. The Nanooks are going home for a week before heading back on the road for a two-series stretch at Bemidji State and Ferris State.
• Bemidji State is getting a much-needed break after being snakebit last weekend against Northern Michigan. The Beavers had a combined 81 shots on goal in the two games but managed just one goal, a Cory Ward power-play tally. Of the Beavers' 14 goals this season — a WCHA low — eight of them have been with the man advantage, the most in the league.
• Lake Superior State has attempted the most power plays (40) among WCHA teams and is tied with Colorado College for second-most in the nation. However, the Lakers have converted on just five of those opportunities and are at 12.5 percent — near the bottom nationally.
• Michigan Tech visits Alabama-Huntsville this weekend and is a perfect 8-0 all time against the Chargers since the series started in 2013-14, UAH's first season in the WCHA. Six of those Huskies wins came last season.
• Northern Michigan's scoreless tie with Bemidji State on Friday was the third such result in program history for the Wildcats and the second for the Beavers. Coincidentally, both teams last skated to 0-0 ties against the same opponent, Western Michigan in 2005 and 2010, respectively.
• WCHA players of the week were Alabama-Huntsville junior forward Marooney (offensive), Northern Michigan freshman goalie Atte Tolvanen (defensive) and Alabama-Huntsville freshman defenseman Kurt Gosselin (rookie).
• The WCHA also announced its players of the month for October. Huntsville's Saulnier was named the player of the month while Northern Michigan's Tolvanen earned the rookie of the month honor.