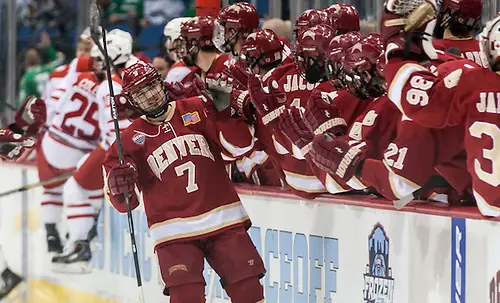 Entering a home-and-home series last weekend against archrival Colorado College, the No. 9 Denver Pioneers were a perfect 3-0 at home. As successful as they had been at home, they were 0-3 on the road, with three one-goal losses, two of which were in overtime while the came on a goal in the last 30 seconds of the third period.
After winning Friday's game at home, the Pioneers battled and came out with a hard-fought 3-1 win over CC on Saturday. Getting that first road win was a relief.
"For us to be able to stick with the game plan and continue to try and find ways to score goals at big moments and come through with a win was nice to see, especially compared to how the other three road games ended up," said Denver coach Jim Montgomery.
According to Montgomery, the previous road losses were a combination of several factors, including lack of game management.
"We didn't manage the games really well in last minutes and first minutes of periods," said Montgomery. "We gave BC a game-tying goal at the end of the first after I thought we outplayed them in the first, and it gave them life. Same thing with BU — we gave them opportunities because of our own discipline or because we didn't manage the puck well, and it ended up costing us that game as well, but they are talented teams that force you into tough situations."
Denver is led in scoring by defenseman Will Butcher, who in his junior year seems to have stepped into the role that standout Joey LaLeggia had occupied on the team in the previous four seasons. Butcher is averaging 1.25 points per game, almost triple his average of his first two years at Denver.
"I think the extra minutes that he's getting in key moments because of Joey's departure has added to his confidence, and with that, he's taken off," said Montgomery. "He's always been an elite player. With what he's done on the national stage and at key moments, I think he's shown that he was going to be a dominant college player here, and now he seems to be doing it every night for us."
Denver is also getting welcome contributions from freshman Dylan Gambrell, who is tied for second on the team in scoring and notched the goal that sealed the win against CC last Saturday.
"He's a very responsible player, very intelligent player and is really playing with a lot of pace right now," said Montgomery. "He's creating turnovers and also making good decisions with the puck. He's also supporting his linemates really well, no matter who he plays with. He's scored goals on three different lines."
With Denver's struggles on the road, one area that could stand improvement is the power play, which is clicking at only 13.8 percent, 42nd in the country.
Montgomery said he's planning some changes for the power play this week.
"I think we've been very methodical," said Montgomery. "We're 13.8 percent, and sometimes I would say that's not reflective of how we've been on it, but I do think it's very reflective right now. We're not getting any momentum from our power play. It's very stale, and we're going to make some changes to our power play. We need people to play with a little more urgency on our power play and hopefully make some changes this week that will provide that."
Denver goes on the road this weekend against No. 13 Minnesota-Duluth, the first stop in a stretch of three straight road weekends broken up by a break at Thanksgiving. Montgomery is expecting a stout test this weekend.
"Well, I think we are walking into a hornet's nest. We're walking into a team that I thought should have been preseason No. 1 in the country. With the depth of talent they have coming back and the speed of the team up front, and the depth of defense and in goal, I think it's going to be the hardest weekend we've had, and we're going to have to be really smart with playing a really solid team game to give ourselves an opportunity at success."
Omaha rebounds from first losses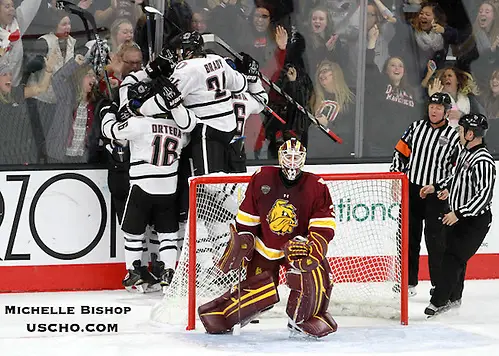 After starting the season 6-0, the No. 8 Omaha Mavericks hit a bump when they traveled to Western Michigan and were swept, losing 4-2 and 6-1.
The second loss could have bruised the psyche of the young team, but instead, the Mavericks regrouped for last weekend's tough series against then-No. 6 Minnesota-Duluth, which they swept by identical 4-2 scores.
Omaha coach Dean Blais said he sees some parallels in both weekends.
"It wasn't like we just went in and threw in the towel," Blais said of the series at Western Michigan. "As a matter of fact, on Saturday, the shots were even and we got beat 6-1, so I think the goaltenders were responsible for the six wins, and they were responsible for the two losses. A lot of losses come down to that. Certainly, to lose those two games and then come back here and play Duluth, a good team, same thing. They lost both games 4-2 but could have won either one and outshot us both games."
In the series against Duluth, Blais for the first time this season played the same goaltender on both nights, and freshman Evan Weninger came up big. He stopped 45 shots on Friday and another 35 on Saturday, rebounding from his disappointing outing at Western Michigan the previous Saturday, where he gave up three goals in the first period before being replaced.
"Certainly, we like to ride the hot goaltender, and it appears right now that Evan is that with a .95 save percentage, although being a freshman and everything, it's hard to say that he's our starting No. 1 goaltender," said Blais. "Kirk Thompson was 3-0 before he kind of stumbled on Friday night [at Western Michigan], and he didn't stumble all that much. The fourth goal was just a lucky one, a shot from behind the net that hit the space between his pads and the post and went in. That was just a lucky goal for them, unlucky for Kirk. Evan, after he played so well Friday, 45 saves and giving up two goals, both on the spectacular side, we went with him again Saturday and he played well again."
Omaha is 4-0 at its new home rink, Baxter Arena, an on-campus facility that seats 7,500. Blais said the players are enjoying their new home.
"Full house every night, close to 8,000 people," said Blais. "We averaged 8,000 at CenturyLink Center in a 14,000-seat arena, and it'd be half-full. This place is rocking, and our players are feeling at home. After 20 years of carrying that hockey bag all over Omaha, they've got a home now and we've got our weight room here and our training room and our player lounge and all those things that we need. … It's their home, and the players feel comfortable with it."
Omaha has a potent offense, with two players in the top 10 nationally in scoring. Junior captain Jake Guentzel is tied for the national scoring lead with 16 points and junior Austin Ortega is tied for eighth. Guentzel was a key cog in Omaha's rebound from the Western Michigan series, scoring five points against Duluth.
"The thing that makes him a special player this year is he's stronger, and he's wearing the letter 'C,' so he feels really responsible for this team's success, or lack of it," Blais said of Guentzel. "He's taking a lot of pride in wearing the letter and being one of the captains."
Omaha is off this week, something that will give Blais and the coaches time to work on the team's strangely dismal power play, which has struck only three times so far this and has an 8.8 percent success rate.
"Just looking at the stats, we've got a really good group of guys that are unselfish," said Blais. "We have to be a little more selfish and simplify things and get more shots to the net. I think we've had opportunities to make perfect plays and move the puck around and get an open shot, and the player will miss the net, for example. With the talent we have, our power play has got to be better."
Players of the week
Offensive player of the week — Jake Guentzel, Omaha: Guentzel, who is tied for the NCHC and national scoring leads, notched five points in Omaha's sweep of Minnesota-Duluth by identical 4-2 scores. On Friday, he assisted on Omaha's first two goals while posting a plus-2 rating. On Saturday, he was named the game's first star for assisting on the first goal and then scoring twice in the third period, the first to break a 1-1 tie and the second a short-handed, empty-net goal, and finished plus-3.
Defensive player of the week — Will Butcher, Denver: Butcher notched four points while helping Denver sweep rival Colorado College. In Friday's 5-3 win in Denver, he scored a short-handed goal and assisted on the game-winner while finishing plus-4 and blocking two shots. On Saturday in Colorado Springs, he had two assists, one on Denver's first strike and another on the game-winner in the third period while finishing plus-2.
Rookie of the week — Evan Weninger, Omaha: Weninger stopped 45 shots on Friday and another 35 on Saturday to help Omaha sweep Minnesota-Duluth. On Friday, he made 18 saves alone in the third period of a 4-2 win and was named the game's second star with the sixth-highest single-game save total in Omaha history. On Saturday, he again was named second star while making 35 saves and helping kill all five Minnesota-Duluth power plays. He posted a .952 save percentage on the weekend and a 2.00 GAA.
Goaltender of the week — Ryan McKay, Miami: McKay helped the RedHawks end a three-game losing streak with a sweep of Western Michigan while giving up just two goals. On Friday, he made 23 saves, including 12 in the third period and 22 straight after a first-period goal. He stopped 19 on Saturday and finished the weekend with a .955 save percentage and 1.00 GAA. He was named the game's first star Friday and second star on Saturday while helping kill all four Western Michigan power plays in the series.