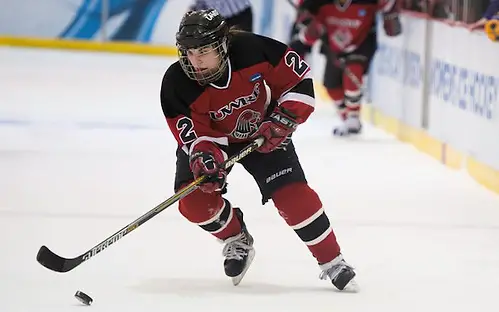 Chloe Kinsel is like most hockey players: humble.
Even after putting together a 50-point All-American season a year ago. She's also finding herself living in the moment more than ever as a senior at Wisconsin-River Falls.
"It honestly is hard to believe this is my senior year," said Kinsel. "It sounds cliché, but it does goes by fast. I still remember bringing home a flyer for youth hockey registration and asking my mom if I could play and she said if I do well at open skate and here I am playing my last season."
With eight goals and 10 points in seven games so far this season, Kinsel hasn't missed a beat with her offensive prowess.
More than that, she's relishing her time with the Falcons.
"Hockey has been a huge part of my life and I am thankful for the opportunity to play the sport for as long as I have," Kinsel said. "I just want to have fun. At the beginning of the year, (assistant coach) Jim Walsh came up to me at practice and told me it's my last year and to just have fun, don't feel pressure to be the best and just enjoy it all. That really stuck with me. At the end of the day, hockey isn't everything, so making the most of it while I still can, especially my senior year, is the plan."
During her first three seasons at River Falls, Kinsel averaged better than a point per game with 18 goals and 32 points in 30 games as a freshman, 17-16—33 as a sophomore and then her huge season a year ago when she went for 22 goals and 28 assists for 50 points in 31 games. Her point totals were a WIAC-best and tied for second in the country with Elmira's Ashton Hogan.
This season, Kinsel sits in a 19th-place tie in the national scoring race.
Still, Kinsel said "yes and no" when asked if gaudy offensive numbers have always been a part of her game.
"I never thought in high school (at Cretin-Derham Hall in St. Paul, Minn.) that I would be this successful at the collegiate level," admitted Kinsel. "I think I have only gotten better each year and I think my coaches can back me up on that. I remember beginning of my freshman year just being put in games at random points, but eventually I learned from my teammates and coaches that you have to find the next step and picked up my game."
Winding up at UWRF in the first place was a situation that Kinsel never expected, but has learned to embrace.
"I just wanted to keep playing hockey," said Kinsel. "Division I schools didn't work out and I was starting to look at schools for just academics and thought I wasn't going to ever play hockey again, but I am lucky UWRF ended up working out. I wanted to stay close to home, but not too close, and they had the major I wanted to go in to as well."
As a biology major with a biomedical emphasis, Kinsel said her goal after the season ends is to go on to graduate school for pharmacology and research drugs and their use.
"As of right now, I have no plans to stay in hockey," Kinsel said. "I think it might be time to hang up the skates, but only time will tell."
In the spirit of living in the moment, Kinsel went back to discussing the current season with the No. 8 Falcons and again, with the humble mentality, said that the team always comes first.
"We have a pretty young team, but a lot of talent, so it is only a matter of figuring out how to use our talent across the whole team," explained Kinsel. "We usually start off slow and have a couple losses under us, but they're learning experiences. For me, I have just been trying to be a leader on and off the ice and if I score or create scoring opportunities, that's just a bonus. As long as we play well and are winning, how many points I have doesn't matter. We've had scoring from a various amount of people and lines, and I am happy with that."
Off to a 5-2-0 start (3-1-0 WIAC), Kinsel cautioned that wins now won't necessarily mean wins later in the season.
"We can't play like we're expected to win just because we have had winning seasons in the past; it's a new year and new team," said Kinsel. "Obviously, a national championship is the ultimate goal and we'll only get there if we play well and take it game by game and not think down the road. Even winning the conference and conference tournament is always our goal every year as well."
And yet, March is seemingly right around the corner.
"Sometimes to help motivate me to get through practices, I just think about how pretty soon I am not going to be practicing any more and I will be wanting to step out on the ice to condition or go over systems or do a shootout at the end of practice," Kinsel said. "Freshman year, you have your whole collegiate career ahead of you and it's exciting and your senior year, you really understand that this is it and are almost grateful and humbled for all hockey has done for you. Both are great situations to be in, but senior year I've found myself living in the moment more than I ever have. Freshman year, you look forward to what hockey has to bring and senior year, I'm looking forward to what academics has to bring and I'm excited.
"Hockey has been a nice getaway, but it's on to the real world after this year."
NOTEBOOK
Nothing new at the top of the USCHO.com Division III Women's Poll as Plattsburgh again received all 15 first-place votes in Monday's poll. … Castleton entered the rankings at No. 10, marking the school's first-ever appearance in the national rankings, and is 7-0-1 thus far. … In an interview with Rubber Hockey Magazine (www.rubberhockey.com), former St. Anselm player Robin Yoshida (2011-15), one of just two New Mexico natives in NCAA women's hockey last season (Amherst's Kristen Molina was the other), is set to join the Peace Corps in February and will travel to Madagascar to participate in community health volunteering and helping local healthcare workers.