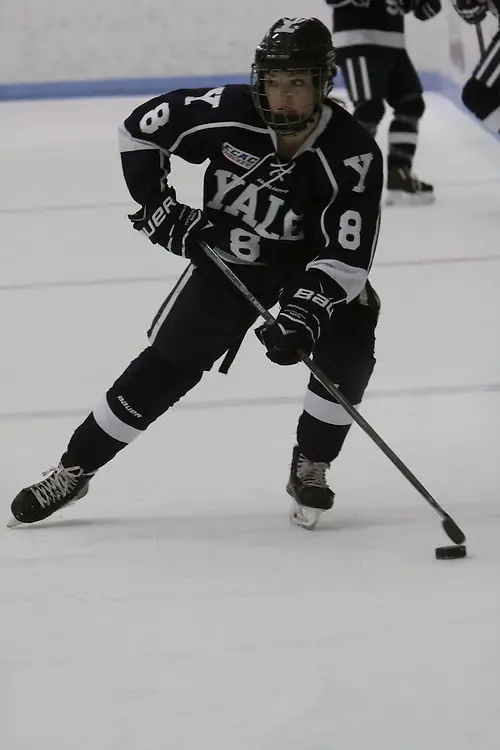 By some interpretations, Yale has gotten off to a slow start this season.
"They're not happy that we're 1-6-1, especially the senior class," coach Joakim Flygh said of his team. "They deserve better."
From a different perspective, it's really not that slow of a start. Four years ago, the season before the current senior class arrived, the Bulldogs finished 1-27-1, defeating Union in overtime and tying Colgate.
That was Flygh's second year in charge of Yale's program, and he and his staff were trying to reshape the roster.
"This whole senior class that we have, they made a leap of faith in some ways, because of where we were as a program when we got them," he said. "There are six kids in that class, and as we got all of those six kids, we were excited about [them] and the first time we had an opportunity to really go through the recruiting process with a class. We were excited to get all those kids."
Things didn't turn overnight, as among other things, Flygh's early teams had to overcome more than their share of injuries.
"I think coming in our freshmen class did a good job of kind of turning the program around a little bit, changing our culture," senior captain Janelle Ferrara said. "The past three years, we've gone from one win to last year we were a .500 team, so it's been really cool to see the program turn around. We've worked really hard to get it to where it is today."
Results weren't always immediate. Her first season, the Bulldogs started 1-9-0, but improved to five wins by season's end.
There were other positive signs. Yale was outscored by 121 goals the year before the current seniors arrived. That goal differential dropped to 47 goals in the first season once they became Bulldogs.
Sophomore year started with five losses. Once again, Yale grew over the course of the season, and wound up with a 9-16-7 overall record and 6-9-7 in ECAC Hockey. The goal differential shrunk further, down to a minus 20.
Perhaps most importantly, Yale returned to the postseason for the first time since 2008. The Bulldogs played an epic quarterfinal series at Harvard. In the first game, then junior goaltender Jaimie Leonoff made 55 saves and Ferrara got her stick on a puck in the Harvard crease and pushed it into the net to give Yale a 3-2 win at 17:33 of the second overtime. The next day, Harvard tied the game at 2-2 with 4:02 remaining in regulation, and this time, it was the Crimson that found a goal in the second overtime. Harvard also took the deciding third game and ended Yale's season.
Last year, the Bulldogs rose to 12-10-0 in conference play, and their overall goal differential was now in their favor by 15 goals. However, for a second straight year, the Crimson eliminated Yale in a quarterfinal series.
The picture in the league looks to be more wide open than ever through the early weeks of conference play.
"I think in the past, there have been a few teams who control the league, but this year from first place to last place, it's very even," Ferrara said. "It's exciting to go out there and battle each game and know that you have just as good of a chance as any other team in the league. We're excited to play for a league championship this year."
That may sound overly optimistic for a team that has lost six times through it's first eight games, but only two of those losses were in conference play.
"We've played four league games to this point in our season, and they've been all very close games," Flygh said. "Some of the teams that are outside the playoffs seem to have improved quite a bit this year, RPI and Colgate, so I think they're going to make a strong push to get into playoffs, too. They're playing well, so it's going to be a fun race. There isn't going to be any easy night in our league, and it's fun. Certainly looking forward to it. We've only got six league games before Christmas, so we'll get the bulk of our league games after Christmas."
The mission for Yale is to be a stronger team by the time that large slate of ECAC competition commences.
Offensively, the Bulldogs aren't far off.
"We have a lot of talent up front," Flygh said.
The team returned its top five scorers from a season ago, and with a balanced attack, Yale ranks in the top half of scoring offenses thus far. The problems have come at the other end of the rink.
"We've just got to do a better job as a team and play better team defense and help our goaltenders out," Flygh said. "We've been spoiled with Jaimie Leonoff, who is fantastic, the past three years, and we're going through a growth period now with it, but I believe in the kids that we have and we'll figure it out."
What the Bulldogs need to figure out is how to improve a scoring defense that currently ranks 35th out of 35 teams.
"When you have a kid like Jaimie Leonoff, when we had her, it made it competitive for us," Flygh said. "When you need to win games to be in the playoff hunt in our league, the top eight teams obviously, so it was hard to get [backup] Hanna [Mandl] minutes. She's certainly very capable in practice, but certainly in playing time you get a ton of experience, too. We know she's capable of playing."
Whether the issue has been the goaltender or the skaters in front of her, Yale has yielded a minimum of three goals in each of its games through the first month of its season. Admittedly, it has been a challenging month, with six of the eight games coming against teams that advanced to the NCAA tournament in March, including its most recent series against the defending national champions.
"We've got to do a better job, especially playing teams like Minnesota, you've got to play really good one-on-one defense," Flygh said. "I think that was something we struggled with at times, and I think also at times we didn't play as tight as we needed to with the kids off the puck."
There have been positive signs. In the second game at Minnesota, Mandl and the Bulldogs tightened considerably, and they held the nation's most prolific offense two goals below its usual scoring average, allowing only one goal five-on-five.
"At the end of the day, [that was] probably by far her best game of the year, and she made some key saves," Flygh said. "I told her right after the game, if she keeps playing like this, we're going to have some success in our league. So make sure she carries that forward and plays with that kind of swagger and confidence, and she's going to be just fine."
That confidence can snowball and lead to more success.
"We certainly have enough faith in her, too," Flygh said. "We've seen the work she's put in the last two years. It's not a lack of effort, not trying. We need to learn to play in front of her, and she needs to find her way, too, to be competitive. The biggest thing for her is she's starting to get a little more aggressive and challenge the shooters a little bit more. Hopefully, she can keep building off that and gain more and more confidence."
Mandl doesn't need to win games single-handedly. If she can hold her team in games, it has demonstrated that it can be a competitive team. Their lone win thus far came over No. 5 Quinnipiac, a week after Yale fell by three to the Bobcats.
"That was a great team win for us," Ferrara said. "I think Quinnipiac is a great hockey team, we played just a strong team game. We didn't play well that first game against them, had a couple of defensive breakdowns and just failed to play a good, strong defensive game against them since they're such a good hockey team."
While the Bobcats are built to think defense first, that isn't quite how Flygh has constructed a Yale roster that hails from seven states, three Canadian provinces, plus Sweden and Switzerland.
"Wherever we can find talent," Flygh said. "We try to find players that can play with skill and pace, obviously."
That produced entertaining games against a Minnesota team that also looks to get up and down the ice.
"There was a lot of back and forth, and I thought we did a good job in transition at times, too," Flygh said. "That's the way you want to play. You want to play with speed and skill and really play an uptempo style of hockey. I think that's what we enjoy to do and try to recruit that way and train that way and put our systems in place that way. We're probably going to be in a lot of high-scoring games this year."
Such a style is popular with players.
"We use our speed really well," Ferrara said. "We're a fast, quick team. It's been fun, fun to play with people who push the pace like we do."
As a roster acquires players with speed and skill, it gets easier to recruit more of them, such as sophomore Eden Murray.
"Coach has implemented a really great system for the incoming freshmen and all of the upperclassmen and the sophomores, and I think that the way we play the game as a team is hard-working and fast paced," Murray said. "I definitely like being on a team with girls who know how to work hard and get in there and move the puck well, too. It's exciting."
It can be exciting for a coach to find a player like her as well.
"Eden exemplifies the type of kids that we look for: extremely fit, play hard and play with pace, and loves to compete and she certainly does that," Flygh said. "The last four, five games here, she's been really, really good. I think she leads our team in scoring now. She shows up ready to play and wants it real bad."
Murray is tops on the team in points and she and Ferrara lead in goals with four apiece.
Before her arrival in New Haven, Murray competed for Canada in the Under-18 World Championships.
"It was unbelievable; great experience," Murray said. "Great girls, great people to play with. So much is expected of you, and it's nice to be held to that standard. It's really neat to see how successful every girl is on the team. It's nice to be given the opportunity to play with people like that."
A taste of international competition creates an appetite for more.
"I just think it drives me and other girls in the program to pursue even higher goals for themselves," Murray said. "Being a part of that program, you know what they expect of you. It's a good reminder every day to push toward that ultimate goal."
Given how precious spots on the Canadian senior national team are, players have to look for ways to grow their individual games.
"I think the type of game Hockey Canada wants from me is to be almost mistake free, and so I need to work on fewer turnovers in all zones," Murray said. "But I think I've worked hard this season with the girls. Everyone has been working really hard, and hopefully, show some improvements there."
Someone with her pedigree had options of schools to attend. Yale had an advantage, because Murray's sister Madi was a defenseman and classmate of Leonoff.
"I had been looking at some other really good schools, but ultimately it was when I visited campus," Murray said. "My sister had a big part to play, but when I visited, I just fell in love with the team and the girls. They're great people, and the coaches, obviously great coaches, good staff, good support system. Nice facilities. I just really enjoyed my visit. That's what helped me decide."
Flygh has other great players in the fold as well. Junior Phoebe Staenz found time during her freshman season to win an Olympic bronze medal with the Swiss team.
"It's been crazy to see how much respect other people give us now than they did our freshman year," Ferrara said. "It's definitely much more fast-paced games than it used to be."
Now that a quick start has eluded the Bulldogs once more, they'll have to demonstrate again that they can turn a season around.
"I think our biggest thing is just have more confidence," Ferrara said. "We're a good team and we just need to come out each game and set the pace, and not wait to get down and then push back, but know how good we are and play to our strengths."
Nobody is panicking.
"I think we're going to keep growing the first half of the year, and we're going to take some lumps and bruises along the way, but I also know that we're going to play some really good hockey after Christmas, too," Flygh said. "We'll get better. I think our kids know the process that we're trying to follow here. They're believing in it. They're doing everything we're asking them to do."
Partly, the team is following its leadership.
"Janelle Ferrara, being our captain, is good as a hockey player, and she's an unbelievable person off the ice and someone that all our kids gravitate toward," Flygh said. "Spend some time around this group and see how she interacts with the team, you understand why she is the captain. A salt of the Earth kid, and obviously tremendously fortunate to have her in our program. Sets a great example every day for her teammates. I can't say good enough things about her as a person and as a hockey player."
Ferrara and her classmates could pat themselves on the back, tell themselves that they were part of a program turnaround at Yale, and accept their diplomas in the spring.
"We worked really hard in changing the culture, and this senior class that we have has been a big, big part of that, too," Flygh said. "So that's something we've got to continue to refine, and we have our six core values that we use to define our success at the end of the day, but these kids are competitive. They want to win."
The seniors are looking for more than just moral victories and the knowledge that they tried very hard.
"We're definitely looking at getting better every day, but also at the beginning of the year we set our goal of being top four in the ECAC and compete for an Ivy League title, and hopefully, get a shot at the national tournament this year," Ferrara said. "A good way to go out my senior year."
Success can be measured in many ways. Perhaps no other women's hockey program exemplifies that better than the one at Yale, where the impact of the late Mandi Schwartz, a player who was diagnosed with leukemia her junior year, is still felt. She made a difference in the days she had at Yale, and inspired others, like 2012 Hockey Humanitarian Award Aleca Hughes.
"Ultimately, we want our kids to be good citizens, which they are," Flygh said. "They are some tremendous kids that are extremely bright, smart, caring people, but they also want to win. We want to have a championship program, and that's something that we strive toward."