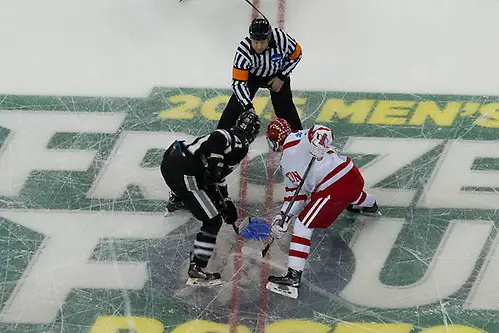 This week's edition will depart from the usual fare. In recognition of Thanksgiving, I'm listing the top 20 hockey-related things I'm thankful for.
Jim will return next week with a more typical edition looking around Hockey East.
Without further ado …
20. Mites and squirts playing during intermissions
I may have a game story to work on during intermission, but as soon as the little kids skate onto the ice, they've got my attention. The story can wait.
Is that simply because it sends me back to the good old days when my son was a little tyke, falling down but then jumping back up again to race after the puck, filled with energy and enthusiasm?
Maybe a little, but I'd contend that no other sport lends itself to being entertaining to watch at all levels. By contrast, would you stop to watch a Little League game played by kids you don't know?
19. Kids being introduced as part of the starting lineup or named honorary team captains
I love to see kids in their uniforms being announced as part of a team's starting lineup. If it doesn't actually put a smile on my face, it puts one in my heart.
What a thrill for those kids, and what a great form of community outreach.
And special kudos to those teams that adopt as honorary captains kids who are facing life-threatening illnesses. To me, this is athletics at its finest, extending a helping hand to those who need it most.
18. Student-athletes in the most complete sense of the word
Each year, Hockey East announces its all-academic team comprised of student-athletes who have achieved a GPA of 3.0 or better in both of the season's two academic periods. Last year, a league-record 133 such players qualified.
Topping that list were Merrimack's Hampus Gustafsson and Alfred Larsson, who shared the designation of being Hockey East's top scholar-athlete, each with a perfect 4.0 GPA for the season.
Eleven players were honored as distinguished scholars, having qualified for the all-academic team in each of four seasons of varsity play.
That typifies what is best about our collegiate game.
17. No Louisville-style scandals
And at the other end of the spectrum …
I suppose the money involved in college football and basketball are bound to corrupt at least some teams eventually. But you have to shake your head at the revelations about the Louisville basketball team, for which escorts were allegedly hired to perform their services as part of recruiting efforts.
I'm not naive and would never contend that hockey players in general act like choir boys. But thank goodness we don't suffer from scandals on par with this one.
16. Hockey Humanitarians
At the other end of the spectrum are those humanitarians, both those recognized at the end of the season by the Hockey Humanitarian Award and those who get no mention of their honorable work.
The life of a student-athlete is exceptionally demanding. It boggles the mind how some of them can also apply so much effort into making this world a better place.
15. New additions to the league
Since I began covering Hockey East, the league has added Massachusetts, Vermont, and, most recently, Notre Dame and Connecticut.
I've come to appreciate the importance of the two games each team gets against every other. That limited quality does up the ante.
And although I did like the old system where teams actually missed the playoffs, thereby raising the importance of the regular season, I see advantages to the new format as well.
14. The music
It's great to know that U2 and "Where the Streets Have No Name" are somewhere on the playlist at Merrimack's Lawler Rink. It may take until the third period, but that magical guitar riff seems to always echo before I leave.
And I may be biased from attending so many games there recently, but I have to tip the fedora to UMass-Lowell's band above all others. In particular, the sax solo on "House of the Rising Sun" a weekend or two ago was just smokin'. I could not have loved it any more.
It took me back to the first time I heard a Sonny Rollins album at the MIT Coop all those years ago and I realized there was a whole new world of music to explore called jazz.
Kudos to all the bands, especially Lowell's, and a big thumbs up for the chops of that sax player.
13. Jim Connelly
Jim is both a great friend and a great hockey guy. I'd like to think we Frick and Frack pretty well in this space. I can't think of anyone I'd rather share this column with.
I'd list him at higher than No. 13, but frankly, this year he's kicking my butt in our picks competition so he slots in at 13, where maybe that unlucky number starts turning his picks sour.
12. Witty chants
I'll always remember the time at Northeastern that the student section recognized me and decided to serenade me for having picked the Huskies to lose that night.
"Daa-ave!" they began in their singsong chant. "Daa-ave! Dave Hendrickson! You suck!"
That was a great moment.
More to the point, though, are all the chants directed at other teams that are witty, but not mean-spirited.
There are plenty of chants that fail my mean-spirited litmus test. The "safety school" chant almost always does.
With one exception.
I had to love it when one of the other Beanpot schools, I think it was Northeastern, began taunting Harvard with, "Safety school! Safety school! Safety school!"
Now, that was witty.
(As a former student at MIT, I must point out that I hold no grudges toward Harvard. I'll happily grant that it's the second-best school in Cambridge.)
11. The turnover
Every year and for every team, there's a new incoming freshman class. A batch of seniors has graduated. Perhaps some high profile stars have departed early for the pros.
If you're BU or Providence fresh off a fabulous NCAA title game, Jack Eichel and Jon Gillies are gone, new challenges in their places.
If you're Massachusetts, coming off a last-place finish, a new Cardiac Kids edition replaces last year's club.
Hope springs eternal. New challenges arise.
For every great player that leaves, there's a new one on the way.
10. My incredibly supportive wife, Brenda
I've put her at No. 10 instead of number one because she's a perfect 10 of a wife. Not in the sexist mentality of the Bo Derek film, but in terms of being the perfect partner.
And what does she have to do with hockey?
If not for her overall support and especially her transcriptions of my interviews, I'd never be able to keep up with this column.
So if you like these columns, you can wish her a silent thank you.
Of course, if you hate my columns week in and week out, blame her.
9. Rotating Frozen Four locations
I think the committee has gotten it just right of late (other than having gone too long between Boston appearances).
Switching between traditional sites like St. Paul (and yes, Boston) and nontraditional but popular ones like Washington, D.C., or Tampa works perfectly.
I'm already looking forward to a return to Tampa and can already feel the breeze as I navigate an early morning run along the Riverwalk.
Of course, I'm also looking forward to the smell of certain beverages as we all socialize during the one time when East meets West.
8. Pastoral settings in the winter
My favorite has to be New Hampshire's Whittemore Center when the snow is falling thick from the sky. I love to feel the crunch of the snow beneath my feet and hear the sound of church bells pealing in the distance.
(If those aren't church bells, don't tell me.)
It takes me back to simpler times as a little kid growing up in Maine, living in a small town where everyone knew everyone else. Those were great years before my family moved to Lynn, Lynn, City of Sin.
As culture shocks go, that one was of seismic proportions.
So those snow-filled skies outside of UNH games are always welcome.
7. My wonderful son, Ryan
There will always be only one No. 7 for me. Ryan finished as co-captain for the Wesleyan Cardinals, and what a great ride that was.
He earned all-NESCAC academic honors, and if defensive prowess could be as easily measured in statistics as goals and assists, he'd have earned plenty of other honors as well. A key member of the penalty kill as a freshman and the dominant member of the PK the next three years, he led a unit that finished among the best in the NESCAC all four years, even during the middle two when the team finished at or near the bottom of the league.
My list of players I admire most begins with Ryan.
6. The players
I've witnessed so many great players, from Chris Drury in USCHO's first season to Jack Eichel last year. The exceptional talents are always a treat to watch.
But I also appreciate the role players, guys who were stars at another level but do whatever it takes outside of the limelight to get their team a win.
There's a lot that goes into Hockey East's success, but it starts with the players.
5. Cooperative coaches and sports information directors
I'm thankful for all the returned phone calls and all the time that coaches have spent with me so I can provide you with columns as interesting and as informative as I can make them. In most cases, a column only goes as far as the coaches' answers.
As for the sports information directors, they all help make every writer's job easier with their pregame notes and other information. Their research often provides that colorful detail that gives that extra spice to a game story.
A special thank you is due to New Hampshire coach Dick Umile for his extraordinary efforts to track down a former high school classmate for me as part of my research into the novel that became "Cracking the Ice." I'll never forget that.
4. Programs on the rise
It's great to see programs grow from being doormats to serious forces within the league.
There's probably no better example than Merrimack, which took its medicine year after year. It had a facility that screamed to potential recruits (such as those at Hockey Night In Boston): "If you can't get a scholarship anywhere good, check us out."
I coached teams there where players had to be sure not to step on exposed metal near the benches. There were a lot of good people there, but a lot that wasn't giving the program a chance.
Now, Merrimack sports a first-class facility that it can be proud of to go along with a first-class team it can also be proud of.
That transformation has been a pleasure to witness.
3. The Beanpot
Yes, there is that outsider, Harvard, but in reality the Beanpot is a Hockey East party. (The Crimson have advanced to the championship game only once in the last 17 years and not at all since 2008.) Boston University vs. Boston College is always great fun, but Northeastern has been knocking hard on that door in recent years, too.
The atmosphere is invariably electric as is the quality of play.
The first two Mondays in February are a distinctive treat.
2. The national champions
There's nothing like having two Hockey East teams battle it out in the NCAA title game like last year.
Although, I take that back. In 1999, it was even better because Maine and New Hampshire took the championship game into overtime and Boston College rounded out the three Hockey East semifinalists. So that had to be better (and I sure didn't mind being in Anaheim).
But the point is that it sure is great to see Hockey East schools in the Frozen Four season after season. At least one league team has appeared in the NCAA championship game in 15 of the last 19 years.
And the good guys have taken the title in five of the last eight years (2008, 2009, 2010, 2012 and 2015).
This is the Golden Age of Hockey East.
1. The fraternity of friends
Some of you I've known all the way back to the pre-website days of HOCKEY-L, the college hockey email list. It's always great to see the familiar faces around the rinks and see familiar names in my email inbox.
I'll never forget the cards I received when I was recuperating from open-heart surgery or having legendary Boston Herald writer Jocko Connolly show up in my recovery room at Mass General.
The people in college hockey are special. The new friends and the old ones.
You all are the best.
And for all of these things, I'm so very thankful.