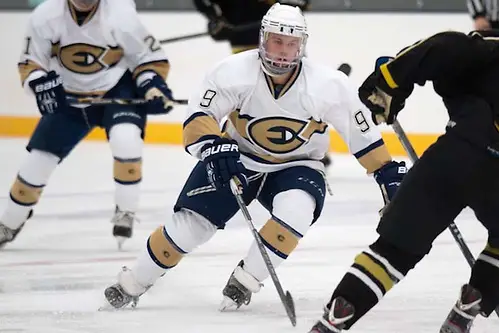 Adam Knochenmus is in his third season at Wisconsin-Eau Claire and has made significant strides during his career with the Blugolds.
Those strides have helped him become one of the top scoring threats for Eau Claire. In fact, during the team's 5-1-2 start, Knochenmus leads the Blugolds in goals (9) and points (12).
"I think I've just matured a lot since last season and I'm playing with a lot more confidence," Knochenmus said. "I was trying to be too cute last year on plays. This year, I know if I'm around the net, I have the ability to put the puck in."
Knochenmus, a tremendous athlete — he was a three-time letter-winner in baseball while in high school — is pleased with the way the year has started off for him. But the junior forward gives a lot of credit for his success to his teammates.
"I think I've played pretty well so far," Knochenmus said. "I go out there and play with a lot of energy and do my best to take advantage of scoring opportunities. I owe a lot of credit to the guys I play with, though. We have a talented group of forwards and they put me in a position to score goals. I couldn't do it without them."
Knochenmus has been a key contributor for the Blugolds since arriving on campus after playing junior hockey in the NAHL. He scored two goals and dished out five assists as a freshman before racking up five goals and 13 assists last season.
"The big thing for me was adjusting to the speed," Knochenmus said. "I wasn't expecting it to jump up as much as it did from junior hockey. It was a wake-up call for me. It also took time to get used to being ready to play every night. With the season being much shorter in college, you can't afford to take any nights off."
Of course, playing for one of the top teams in the nation means Knochenmus must be on top of his game night and night out anyway.
"We seem to get everyone's best shot. Every team comes in wanting to beat us," whether we are at home or on the road," Knochenmus said. "We have to be prepared to play our best game and we work extremely hard in practice every week to be ready to go."
Knochenmus is determined to continue playing at a high level and he is also focused on helping the Blugolds compete for a WIAC and national championship. Eau Claire last won it all in 2013.
"We have to be consistent in every game," Knochenmus said. "We play in a great league and our goal is to win a title and have a chance to compete in the (NCAA) tournament. We have the potential if we play our best hockey."
Johnnies back on track
St. John's failed to win in its first six games, but finally got on track over the weekend with a sweep of nationally-ranked Hamline. The Johnnies topped the Pipers 2-1 and 4-3 to improve to 2-4-2 overall and 2-2 in the MIAC.
St. John's has scored 16 goals this season and Huba Sekesi has paved the way with three goals and four assists. Six other players have scored at least two goals for the Johnnies, including Neal Smith, who has punched in three to go along with an assist.
If the offense can continue to make strides, St. John's should be just fine going forward, particularly with a veteran goaltender in Saxton Soley.
Soley has started all eight games and has tallied 241 saves. He has allowed 21 goals. Soley was just named the MIAC Men's Hockey Athlete of the Week. It's the third time in his career he has earned the honor and the first time since the 2012-13 campaign.
Saints on a roll
St. Scholastica will take a three-game win streak into Thanksgiving weekend. The Saints completed a sweep of Northland this past weekend, winning 4-2 and 3-2 to improve to 4-1-1 on the season. They are 3-1 in the NCHA.
Tyler Bruggeman made a career high 49 saves for St. Scholastica in the opening game. Bruggeman has been the starter in all six games this year and owns a 2.29 GAA.
Brandon Millin has helped fuel the Saints' success, scoring a goal in four consecutive games and leads the team with six on the year. He has also dished out four assists.
Speaking of assists, Cole Golka has tallied one in four consecutive games. He has racked up five on the year and has also scored twice. The Saints have scored 25 goals in all.
Yellowjackets looking to bounce back
Wisconsin-Superior is in the midst of a difficult stretch. The Yellowjackets are winless in their last five games and two of those games have been decided by only one goal. Another game ended in a 1-1 tie.
It was a different story earlier in the season as Superior opened with three consecutive wins. It is 3-3-2 on the year.
Superior plays Hamline next and a win over the Pipers would provide it with a huge boost of confidence going forward.
Offensively, Superior has scored 20 goals, with Ian Ecklund tallying three to go along with eight assists. Generating offense will be key against the Pipers, especially after managing only one goal in its last two games.