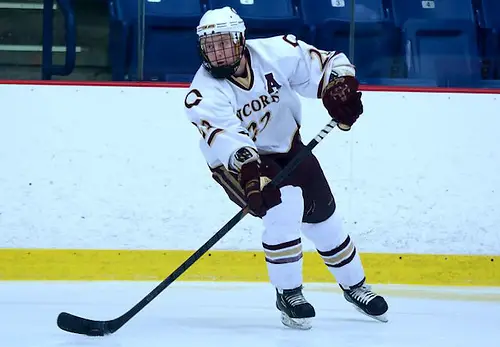 Charlie Aus is more than a hockey player.
He also loves the outdoors, especially hunting and fishing.
And while the Concordia (Minn.) senior defenseman's demanding schedule during the season doesn't give him a lot of time to enjoy those activities, he finds time to do them every once in a while.
"It's tough, but we make time," Aus said. "Myself and some of my teammates have gone bow hunting and deer hunting. I even try to do a little ice fishing in my off time. I love being outside when I can be."
Aus is also doing his part to help Concordia stay in the hunt for a MIAC championship this season. He has two goals and six assists on the year for the Cobbers, who are 5-3 overall and 4-0 in the conference. They trail reigning champ St. Thomas by three points in the standings.
"We've battled through some injuries, but we've done pretty well and have shown the kind of team we can be, especially after sweeping a great team like St. Mary's," Aus said. "For me personally, I've taken on a leadership role and have done what I can to lead by example."
Aus, an alternate captain for the Cobbers, has eight goals and 27 assists in his career. He noted that being ready to play every night is a key to success in the always competitive MIAC. He said one thing that has helped him along the way is great coaching.
"Our [defense] coach [Erick Galt] does a great job of making sure we do what we are supposed to out there," Aus said. "If we don't, we're going to be put on the bench and get an earful. He played the game and has a lot of knowledge. I definitely take all of the advice he gives me."
Aus and his Cobber teammates have every intention of competing for a championship this year. A year ago, Concordia went 13-9-4 and lost 4-3 in double overtime to St. Mary's in a MIAC tournament semifinal game.
"Everyone has the expectation of winning a championship," Aus said. "We feel we are good enough to compete for it and we're going to take our best shot at making a run at it."
A championship would be the perfect exclamation point to what has been a great experience for Aus playing at Concordia.
"It's awesome playing here and I get a great education," Aus said. "I can't imagine being anywhere else. I have great teammates and coaches and we just have a great team atmosphere here. We all work together to be successful."
Auggies thrive off balance
Augsburg is off to a stellar start in the MIAC, winning three of its first four conference games. The Auggies swept St. Olaf this past weekend, scoring 11 goals in the two games. Augsburg has won two in a row and sits at 6-4 overall.
The Auggies are off until Jan. 2 and go into the break feeling good about what they accomplished during the first two months of the year. They scored 35 goals, with 15 players scoring at least one. Nate Flynn has paved the way with eight goals and seven assists. Eli May and Corbin Chapman have scored four goals apiece.
The defense has been impressive as well as the Auggies have given up only 23 goals. Jordyn Kaufer has started eight games between the pipes and owns a 5-3 record.
Bulldogs on a roll
Adrian has won its last four games and is 7-1 overall and 6-1 in the NCHA. One of the keys to the Bulldogs' success has been the play of freshman goaltender Kevin Entmaa, who is undefeated in the five games he has played. He has given up only 10 goals on the year. Tyler Parks has also had his share of success in goal, going 2-1-1 in his four starts.
The depth at goaltender has put Adrian in a great position as has the Bulldogs' powerful offense. The Bulldogs have already punched in 49 goals this year.
Trevor Boyd leads the way with seven goals, while Jeremy Olinyk, Mathew Thompson and Bryan Yim have all come through with six goals. The offense has been fueled by solid team play as Adrian has 86 assists on the season. Connor Armour has a team-best 11 assists.
Falcons soar in WIAC play
Wisconsin-River Falls made quite a statement during the opening weekend of WIAC action, beating nationally-ranked opponents Wisconsin-Stevens Point and Wisconsin-Eau Claire to get the early jump on the race for the championship.
River Falls stepped out of conference play Tuesday night to take on Hamline for the second tie this year and the two teams battled to a 3-3 tie. The Falcons defeated the Pipers 3-1 in the first meeting of the season.
The Falcons are 5-4-2 on the year and have been led by Mitch Kontny, who has come through with four goals and five assists. Seven other players have scored at least two goals, with Joe Drapluk scoring three. Tanner Miliron has started 11 games for River Falls en route to winning five games. The Falcons have scored 28 goals and allowed 24.
River Falls has two games remaining before the holiday break as it will play host to Finlandia in a nonconference series. The Falcons are 3-0 lifetime against Finlandia. They won't play a conference game again until Jan. 21 when they host Eau Claire. River Falls defeated the Blugolds 2-1 on Saturday.