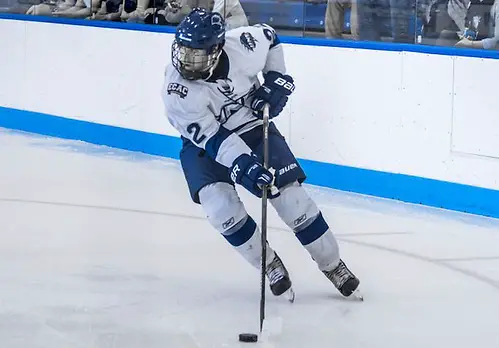 At face value, a 3-0-1 record to close out the semester is a substantial improvement over the 1-4-1 mark with which the University of New England hockey team opened up the season.
There is no question the results are better, but first-year coach Kevin Swallow feels just looking at the record is misleading and doesn't represent accurately the level of play his Nor'easters have displayed since the very first puck drop against Hobart back in October.
"We are a young team that has been playing pretty well," stated Swallow. "We tied Hobart 1-1 and lost to Norwich in overtime 1-0 very early on. The effort has always been there, but I don't think we necessarily had the results reflecting our overall level of play. The two wins at the PAL Cup over the Thanksgiving weekend right after a really strong performance against a good Bowdoin team were really the first time that we have been rewarded by the outcome for our efforts on the ice. The last two games of the semester against St. Anselm and New England College are a good challenge for us as those are likely to be the teams we will be battling with for playoff position and a potential home-ice berth in the conference tournament.
"It is nice to see the team get rewarded for their efforts these past few games."
Swallow, in his first year at UNE after leading Nichols to the ECAC Northeast title and NCAA berth last season, is still navigating his team and life at a new institution. He acknowledges that each and every day is a new opportunity to get better and build, what he believes is a program that will compete successfully at the highest levels of Division III hockey.
"It has been a lot of fun," stated Swallow. "Everyday, I am getting more accustomed to the 28 players here on the roster as they are getting more accustomed to me as a coach and my systems on the ice. We have great support from the school, top-notch facilities for the players and a great setup with the rink here, so regardless of who we play, we feel we can compete at a high level and build a championship program here at the University of New England."
Two players that are leading the way for the Nor'easters are developed locally in Biddeford, Maine. Trevor and Brady Fleurent are brothers who lead the way offensively for UNE. Brady, a freshman, leads the team with 15 points in just 11 games while Trevor, a junior and last year's leading scorer, is close behind with seven goals and 11 points for the Nor'easters.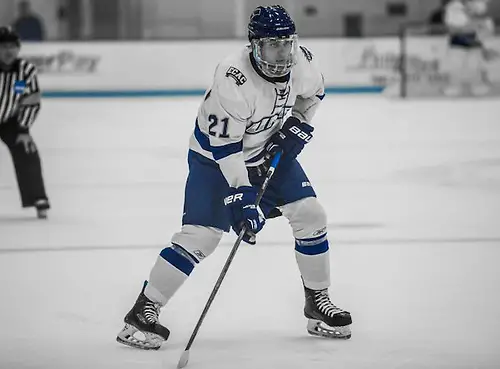 "Trevor has been a leader for us on the ice and now Brady has come in to put up some great early-season numbers and be a real contributor on the scoresheet," Swallow said. "They both work really well together and just seem to be around the puck at the right time to create opportunities and scoring chances. Both players are part of what we are trying to build here and I look forward to their only getting better."
Better may be a direct result of the tinkering with the lines by the coach in trying to fine that "right" combination up front on the first line. Another freshman, Dylan Bengston, was inserted as center between the two Fleurents and the productivity on the line just took off.
"When we put Dylan in at center with Trevor and Brady, we kind of found that missing piece," said Swallow. "He works so well on that line and three look like they have been playing together for a long time. Dylan is right up there with them in points now and that total line will be a challenge for any team to defend."
The Nor'easters have earned some time off with their current four-game unbeaten streak and the second half opens after the New Year with three home games against Franklin Pierce, Castleton and Skidmore. The winds are moving in a favorable direction for the new coach and his new team and they will be looking to continue their strong play and good results in 2016.