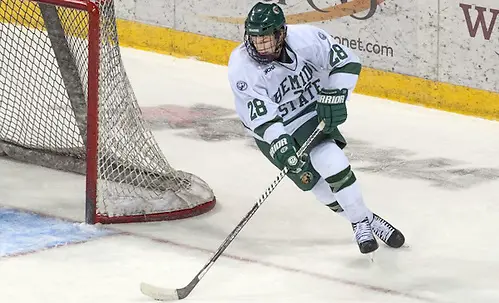 It often can be tough shaking off a poor start.
But in the topsy-turvy WCHA, nearly any team came make up ground quickly with a simple, yet cliche, maxim: Just win, baby.
With the first half of the season winding down, a number of teams have rebounded from bad starts and started winning again, putting themselves in position to make a comeback and climb the standings in the second half.
"You look at the standings, and everything's tight," Bemidji State coach Tom Serratore said. "The only way you move up is you have to win games."
The Beavers have been doing plenty of that as of late.
After going winless in seven games in October and November, the Beavers have started to make a push. They've gone 3-1-1 in their past five games — including a sweep on the road at Alabama-Huntsville and a split with Ferris State — to climb out of the cellar and into eighth place in the league standings.
And as WCHA fans know, those standings are a fluid, ever-changing spectrum — perhaps more than any other league.
Case-in-point: The Beavers were in 10th place following a disappointing loss and tie against Lake Superior State on Nov. 20-21. After sweeping Huntsville on the road over Thanksgiving weekend, they moved up four places to sixth before falling again to eighth after the split with Ferris.
The Beavers, who have given up five goals in their last five games with two different goaltenders, host No. 14 Bowling Green this weekend in their final games of 2015. The Beavers, who have just two wins in eight games at their home rink, hope to find some more success there down the stretch.
"We've been snakebit a little bit at home," Serratore said. "We've had success on the road.
"It was a 3-1 road trip for us. It's the last game before break, so hopefully we have some gas in the tank."
The Beavers aren't the only team that has a chance to make some noise in the season's second half.
Ferris State, with a 7-7-4 overall record, finds itself in fourth place in the standings, due in part to some remarkable consistency. The Bulldogs have neither swept any team nor been swept, and they have taken at least a point from every single weekend so far.
Ever since losing and tying in a home-and-home series against Western Michigan in the first weekend of the season, the Bulldogs have won at least once every weekend since.
"We've put ourselves in a position where, if we can get on any kind of roll, we can make a good run at home ice," Bulldogs coach Bob Daniels said before the series with the Beavers. "No matter how you look at it, how you slice it up, we're .500. No matter what segment you look at — two-game, six-game, eight-game segments; in conference, out of conference — we seem to find a way to be .500. That can go either way. You can go downhill, too, but I'd like to think we have a team that has more potential than just .500 or being an average team.
"I can't help but think we have a better team than that. We have plenty of time to prove it, but we have to go out and prove it."
Ferris State's opponent this weekend is Northern Michigan, another team that has done enough to stay in the middle of the league standings with solid play.
The Wildcats are 4-4-4 in league play and have lost twice in their past six games. In those six games, the Wildcats have had a knack for keeping games close. The two losses against Bowling Green were by a goal, with one game going to overtime. They also tied three times, once against Alabama-Huntsville last weekend and twice against WCHA leaders Minnesota State.
After the break, the Wildcats play in the Great Lakes Invitational in Detroit, then head to Mankato before playing three straight series at home, where they are 3-0-3.
Northern Michigan is in fifth in the league standings, one point ahead of Lake Superior State, which is tied for sixth place with Alaska-Anchorage.
The Lakers have made a push, too. They are 4-1-1 in their last six games and are riding a three-game winning streak heading into this weekend's home series against Michigan Tech.
"Everyone pegged us as a bottom team in the WCHA this year," Lakers goalie Nick Kossoff told the Fairbanks Daily News-Miner after his 2-0 shutout of the Nanooks on Saturday. "We've kind of proven that's not what we are and we're working our way up."
Up for grabs in Alaska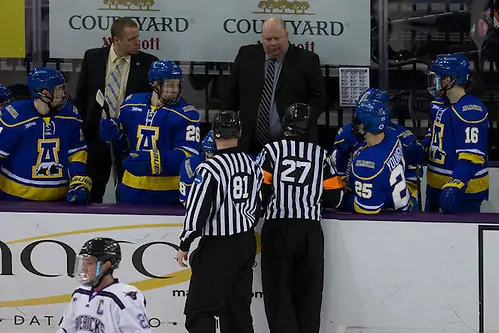 Alaska has won the Alaska Airlines Governor's Cup, the annual intrastate battle between the Nanooks and rival Alaska-Anchorage, for the last six years. Could that run end this year?
The first leg of that competition takes place this weekend in Anchorage (the second half will take place in Fairbanks on March 4-5, the last weekend of the regular season).
The Seawolves are coming off their most successful series of the season, a stunning sweep at Michigan Tech, while the Nanooks are reeling and hoping to end a seven-game winless skid.
According to the Alaska Dispatch News, the two wins at Houghton marked UAA's first regular season road sweep since March 2011 when it swept Minnesota State in Mankato, thanks to an outstanding goaltending performance by Chris Kamal. Kamal is now the Seawolves' director of hockey operations.
At 8-6-2, Anchorage already has matched its win total from last season, and its five conference wins also equal last season's total.
Meanwhile, the Nanooks' recent slide includes four losses in a row, all at home, most recently to Lake Superior State.
"It's not great," Alaska goalie Jesse Jenks told the Fairbanks Daily News-Miner. "Anytime you get swept by a team it's rough."
Alaska did have a happy moment last weekend, however: On Friday night, Justin Woods scored his first goal since March 3, 2014. Woods returned to the team this season after missing all of last year while being treated for a rare form of bone cancer. It was the second collegiate goal for the sophomore defenseman and Fairbanks native.
Ice chips
• After sweeping Lake Superior State at the end of October, Alabama-Huntsville has had a rough time. The Chargers lost seven straight before snapping their losing streak on Saturday with a 1-1 tie against Northern Michigan. Despite the losses, sophomore Max McHugh has been coming on strong. The sophomore from Seattle had his strongest offensive performance of the season with three points (one goal and two assists) in the series-opening loss to Northern Michigan. McHugh leads the Chargers with 14 points (4 goals, 10 assists) and is tied for fourth in the WCHA in assists and tied for sixth in points.
• Bowling Green is in second place in the WCHA, thanks to two extra points gained over the last two weeks with some late-game, short-handed heroics. Last Friday, Ben Murphy scored an extra-attacker goal with 6.7 seconds remaining against Minnesota State to prevent a loss and earn an eventual 2-2 tie. A week earlier, Mitchell McLain scored an overtime game-winner against Northern Michigan with 10 seconds to play. The Falcons are unbeaten in their last seven games and play at Bemidji State Friday and Saturday.
• For Minnesota State, this weekend's home series against Alabama-Huntsville marks its 10th consecutive weekend of playing without a bye — 20 games. Since starting the season 0-4, the Mavericks are 8-2-4 and are on a seven-game unbeaten streak. This week, they moved into the USCHO.com Division I Men's Poll — at No. 20 — for the first time since falling out of the rankings in Week 3 of the season. After playing the Chargers, the Mavericks will get the break they've been waiting for and will be off until Jan. 8-9.
• Michigan Tech, which is tied for second with Bowling Green, travels east to take on Upper Peninsula rivals Lake Superior State this weekend. The Huskies have had lots of recent success against instate rivals: In their last 20 games against other Michigan programs, they are 13-5-2. That includes five sweeps, nine wins on the road and a 9-2-1 record during 2014-15.
• The WCHA players of the week were Northern Michigan junior forward Dominik Shine (offensive), Alaska-Anchorage sophomore goalie Olivier Mantha (defensive) and Lake Superior State freshman forward Gage Torrel (rookie).