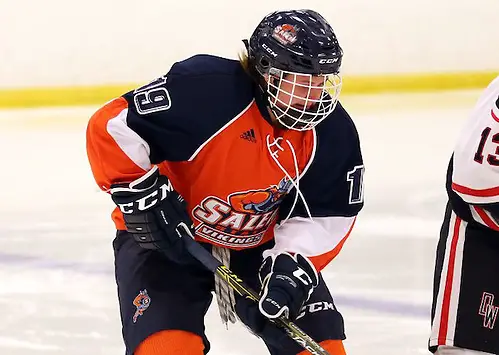 Kristin McKenzie and Kelsey Russell have grown so close playing for Salem State that you'd think they are sisters.
The pair have been best friends since their freshman year of high school back in Arlington, Mass., and are now seniors with the Vikings.
In fact, even after McKenzie began her college career at Merrimack, she decided to transfer to Salem State to reconnect with Russell.
"A big reason it was so easy for me to transfer to Salem was because I knew Kelsey went here and I knew she played hockey here, so I knew I would already have one friend on the team that I could count on," said McKenzie. "We have many, many memories from high school and especially, from hockey season. We played one year together for Charles River as well."
McKenzie added that a bout with adversity a few years back brought the two even closer together.
"My senior year of high school, my dad passed away in March due to colon cancer and Kelsey was the first person I called," remembered McKenzie. "Throughout him being sick, she was always there for me and she was a great friend that I knew I could lean on. The last week of my dad's life was spent in a hospital, not how I wanted to see him, and every one of those days for me was spent at Kelsey's house. She was a great friend to me while my dad was sick and after he passed away.
"A few days after he passed away, the day of his funeral, we had our senior year tournament playoff game. It definitely was the hardest game I ever had to play in, but I knew I had my team and I knew I had Kelsey to lean on. She has always been a great friend to me for as long as I can remember and coming to Salem for me was that much easier knowing I had Kelsey here to play hockey with again."
For Russell, she said she honestly doesn't remember when she first met McKenzie, but, "I just know we've been playing hockey together forever."
"It's kind of crazy to think back to when we were both just freshman at Arlington High School," said Russell. "High school hockey was definitely the reason we became best friends. Kristin's dad ran the rink in Arlington; everyone knew him and everyone loved him, especially myself. We used to always make jokes about her having a bed hidden somewhere in that rink because I swear she was always there, but really we all knew she was just following her dad's footsteps. They were best friends. When Darren passed away, it was a heartbreak for not only Kristin, but the whole town of Arlington. I remember thinking how can something so terrible happen to someone so special? And why now? Right in the middle of our senior hockey season, I wasn't really sure what was going to happen. I wasn't sure of anything at that point."
Russell said that, "Kristin never gave up on us. And we definitely never gave up on her. With everything going on, her heart was still on that ice. I think I realized that year the type of person Kristin is, and I knew we'd be friends forever. When deciding on schools, Kristin was very set on playing softball. It was what her dad wanted and I knew she always wanted that too. Some people say you can't go to college with your high school friends, but that was never a problem for us. Nothing beats the memories we've made together, and that is something I'll always be grateful for."
When she first went to Merrimack, McKenzie said it was to play softball and to dedicate her first year to her father.
"After two and a half years at Merrimack, way too long, I knew I had to leave and go play hockey again," said McKenzie. "Going to college to play softball wasn't my smartest decision. Growing up, hockey was a huge part of my life and in high school, it was my favorite time of year and I always had the best teammates for hockey. My dad really wanted to see me go to college to play softball, but after my first year at Merrimack, I was already missing hockey more than anything. Then after I started my third year at Merrimack, leaving was tough for me because I knew it was what my dad wanted, but I also came to terms and realized that my dad would want me to be happy, too. So I thought long and hard about where I wanted to transfer to and it didn't take me long at all to know that I wanted to go to Salem State and play hockey again.
"I had still been playing hockey in pick-up leagues while I was at Merrimack, so I wasn't too rusty, and after being on the ice with the team for just a week, I was moved up to first line and me and Kelsey were back playing hockey together. I am not ready to graduate and leave it all behind."
This year, McKenzie and Russell are also Salem State co-captains, along with senior goalie Jenn Toussaint.
Moving to Division III this year has also been an "interesting" year, according to McKenzie, but even as the Vikings sit 3-7-0 overall, Russell said it's been refreshing to make the jump.
"After being such a strong club program, we were all very confident and excited for this season, but I don't necessarily think we were overly confident because I think we all knew the level of competition would be much higher," said Russell. "For many of us, especially us seniors, it's been a while since we've played competitive hockey and I think that is what myself and the other seniors were most excited about for this season — having that anxious and nervous feeling back that we used to get before high school hockey games. I think in the circumstances we're in, it's hard to be super disappointed in our record so far. I think we've had games that could have gone either way, and games that really just weren't in our favor, but I don't think we have been unsuccessful."
"The season has been a learning curve for us and we are adapting to playing good hockey teams as the season continues to move along," added McKenzie. "What's done is done and those games are behind us and all we can do from here is look ahead to the rest of our games this year and do everything we can to be the best team we can be."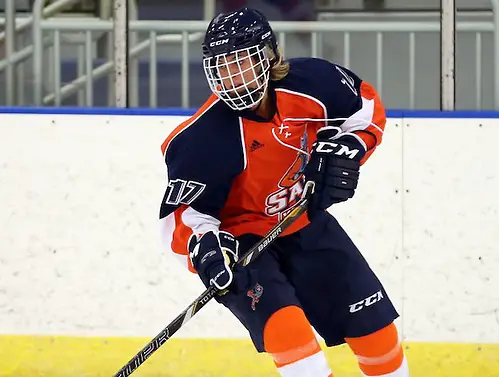 After this season, though each player shuddered when the topic is brought up, competitive hockey may not be in either of their plans.
That said, each wants to keep their skates sharp in one realm or another.
"Hockey will always be in my future plans," McKenzie said. "Whether it's pick-up leagues or 'old lady' leagues, I plan on playing hockey until I physically can't anymore. It has been one of the biggest parts of my life since I was five years old. However, I know I'm not going to be a professional hockey player and that's why I am in college. I am a physical education major and I hope to someday be an elementary school phys. ed. teacher. I have always had a passion for working with children and teaching physical education is the perfect way for me to have a positive role in helping children to live active lifestyles. I plan on getting a job teaching right out of college and then going to get my master's while I am teaching. I also definitely plan on coaching women's ice hockey at either the high school or college level."
"Being a three-sport athlete was hands down the best decision I've ever made it my life," added Russell. "I honestly couldn't imagine going through college without my teammates and it's definitely made me who I am today. However, I think the hardest part of all of it will be when it all ends. I have no idea what I'm going to do without two hours of practice every day or weekends that are consumed with games and long bus rides. It feels like just yesterday I was a freshman and I would give anything to go back.
"After school I plan on traveling and hopefully playing a little more lacrosse. As for a job, I definitely hope to coach and eventually I would love to become a firefighter, but that's another story."
Each of the girls also said that with girls/women's hockey growing in leaps and bounds in the U.S., it's imperative that growth keeps trending skyward.
They both offered advice to the younger generation looking to lace up the skates.
"I have always helped out with the Arlington youth hockey girls teams and even when I was in high school, they looked up to me because I was older than them and I played hockey and they thought that was so cool," McKenzie said. "I love having that impact on youth hockey players and I even still go home over Christmas break and help out with my old high school team. My biggest advice to girls of all ages that play hockey and want to play at the college level is to follow your dream and always work your hardest on and off the ice, especially in the classroom. Hockey isn't everything and after college, there aren't many places to play, so keep your grades up because there is life after college and it may not be playing professionally for everyone and your grades are important.
"Also, be a good person and good role model throughout your life because as you get older and if you play in college, there are always younger girls that look up to you, so make smart decisions for yourself and for everyone who looks up to you."
"My advice for younger girls that want to play at the next level is to have fun," said Russell. "I've loved being the competitive athlete that I am all these years, but I owe that to my love and passion for the game. If you're not having fun, there's no point, because eventually when you're physically drained, the only thing that will keep you going is your mind. Think positively and never give up. I also just want to say that playing at the collegiate level was the best decision I ever made, so if you're even remotely thinking about playing after high school, then do it. It is so worth it — I promise."
With the season not yet over, though, Russell said she wants to see some measure of success this year for the Vikings.
"The girls on this team are all very skilled and passionate about the game," said Russell. "With another year or two of recruitment and practice together, I see only success in their future. Personally, I just hope to be a strong leader for the girls this season. I think it will be important to make sure everyone keeps their confidence up as we play some pretty competitive hockey teams. It's exciting, though.
"That nervous, yet exciting feeling you get before games is one of the best feelings I could have asked to have for my last season at Salem State, and I don't plan on ever taking that for granted."