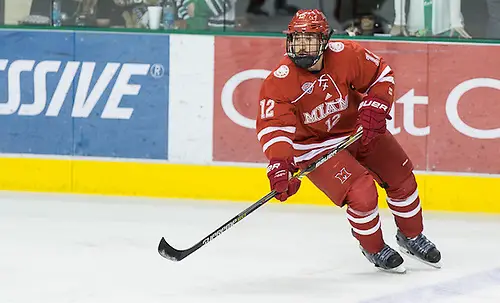 It's no secret that Miami experienced an up-and-down first half of the season. At 6-10-2 overall and 2-7-1-1 in NCHC play, the RedHawks are only two points above the cellar in the conference standings.
What happened in the final period of Miami's most recent game, however, has RedHawks coach Enrico Blasi looking forward to what's to come.
Miami salvaged a home split against nonconference foe Rensselaer last Sunday, defeating the visiting Engineers 4-2 some 24 hours after falling 3-2 to RPI.
RPI looked on track to lock up a two-game sweep Sunday when the Engineers held a 2-1 lead after two periods. Three Miami goals in the third period, however, turned the score on its head.
Alex Gacek and Justin Greenberg scored 2:03 apart to tie Sunday's game and then give Miami a 3-2 lead. Chris Joyaux later put away an empty-netter with 25 seconds remaining.
The big outburst was just what Blasi was looking for from a Miami team that hadn't won a game in regulation since Nov. 7.
"I thought our third period was about as good as we've played in a long time," Blasi said. "I thought everybody was on the same page doing the things we ask them to do.
"The energy, the executing of the game plan was there pretty much for the entire third period and we didn't change the way we were playing based on the score or things that were happening to us, good or bad."
Blasi and his team are now focused on another home series this weekend, this time against a No. 19 Minnesota-Duluth team that has won six of its last eight games.
Speaking at a news conference this week, Miami's coach wasn't stingy with praise for the Bulldogs.
"I think Duluth is as good a team as I've seen all year long," Blasi said, "and there's a reason why they were picked [in preseason polls] to finish first in our conference.
"They've got a lot of guys back from a team that was pretty good a year ago, their goaltending's solid, defensemen are real mobile and can get the puck up the ice and their forwards are deep and talented."
Miami's schedule won't get easier any time soon. Including this weekend's set against UMD, each of the RedHawks' next 10 games is against a ranked opponent.
What better time, then, for the RedHawks to prove what they're made of?
"We're going to have to really be ready to go," Blasi said. "It's January now and it's the meat of the season, and every game you've got to play your best to give yourself an opportunity."
UND working to shake off holiday rust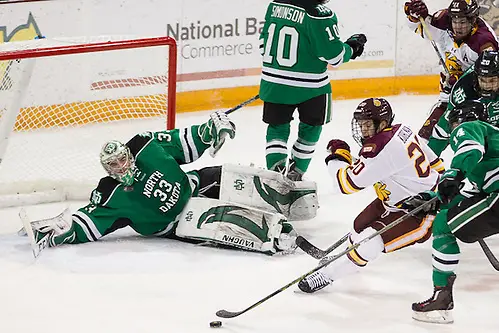 Heading into North Dakota's home series last weekend against Alabama-Huntsville, the general consensus was that there weren't any Chargers victories in the crystal ball.
Indeed, the Fighting Hawks won both of their games against UAH, but nothing came easy for UND.
On New Year's Day, a second-period power-play goal from Bryn Chyzyk stood up as the game-winner in a 1-0 UND victory over the Chargers at Ralph Engelstad Arena.
Most of the talk after the game surrounded Hawks goaltender Cam Johnson, who picked up a fourth consecutive shutout and broke UND's school record for minutes without having conceded a goal. However, Huntsville keeper Carmine Guerriero was also superb in making 38 saves.
UND defeated the Chargers 4-1 in Saturday's rematch, but the final score flattered the Hawks. A short-handed goal-of-the-season submission from Drake Caggiula in Saturday's second period put UND ahead 2-1 before the Hawks scored twice more in the game's final 1:52.
[youtube_sc url=https://www.youtube.com/watch?v=ooxFlig4A2I]
Caggiula, who finished Saturday's game with a goal and an assist, put in rare cameos as a center with typical linemates Brock Boeser and Nick Schmaltz playing for the United States at the World Junior Championship in Finland.
"I thought he did a pretty good job," North Dakota coach Brad Berry said of Caggiula's performances against the Chargers, "and it's not a role that he's played a whole lot over the course of the last year, and it's kind of nice to have that [experience].
"Obviously, we'll put him back on the wing when Schmaltz and Boeser come back, but it's kind of nice to have him play that position and get that experience in case we do need another center down the line."
UND's so-called "CBS line" leads its team in scoring. Caggiula tops the table with 29 points, three ahead of Schmaltz and eight ahead of Boeser.
The top-ranked Hawks' only game this weekend is a Saturday exhibition against the U.S. Under-18 Team. Next week, UND welcomes No. 6 Omaha to Grand Forks, N.D.
Berry hopes to see continued improvement from his team as it jumps into the second half of the regular season.
"I think [we were] building a little bit of a sharper game over the course of our time off," Berry said. "I thought we were a little bit rusty on Friday [but] I thought we were a lot better on Saturday.
"I want to get back to where we were, and I think we're close."
Players of the week
Offensive player of the week — Austin Ortega, Omaha: The junior forward is poised for a big second half of the season, and he scored two goals in both of the Mavericks' victories against Arizona State on Dec. 19-20. Ortega is the country's second-leading goal-scorer with 16, and he leads the NCAA with six game-winners.
Defensive player of the week — Niklas Nevalainen, St. Cloud State: The junior Finnish defenseman played a big part in allowing Arizona State to score only one goal in two games last weekend. Nevalainen also finished the weekend with a goal and four assists.
Rookie of the week — Dylan Gambrell, Denver: Gambrell had a part to play in each of Denver's three goals last weekend in a pair of ties against nonconference foe Notre Dame. He finished the series against the Fighting Irish with two goals and a helper.
Goaltender of the week — LuKas Hafner, Western Michigan: Hafner played only one game over the holiday break, but he pitched a shutout on Dec. 30 when Western beat Bowling Green 1-0 in Toledo, Ohio. Sixteen of the saves Hafner made against the Falcons came in the game's third period.