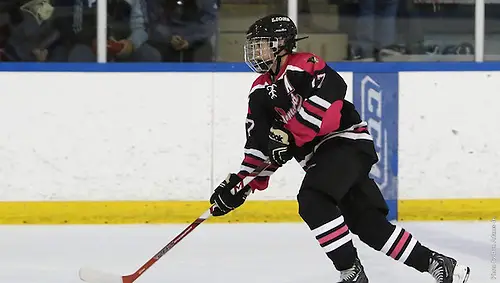 At the end of February, the postseason will begin for 30 teams. A handful of them will be confident of reaching the NCAA tournament, regardless of their conference tournament results. A few more will be on or near the tournament bubble, and may be able to advance as an at-large selection with the right combination of outcomes.
For the rest, the national tournament possibilities will be simply stated: win the conference tournament and advance; lose at any point in the league tourney and the season is over. Thus, many teams focus on winning the conference tournament as the season unfolds, the losses mount, and the PairWise Rankings paint an unflattering picture.
Usually, the dream isn't all that realistic for those teams below the tournament bubble. Boston University had a couple of seasons where a Hockey East Championship allowed it to crash the NCAA party. St. Lawrence did the same in ECAC Hockey a few years back. More common is the fate of teams like Cornell or Bemidji State last March, reaching the conference final, but falling one agonizing game short of nationals.
College Hockey America has only played one previous season as a conference with an automatic qualifier to the NCAA tournament, so it wouldn't be accurate to use the cliche that hope springs eternal. However, RIT demonstrated for all to see just what a difference that automatic berth can make, shrugging off its sixth and lowest seed in the CHA playoffs and hoisting the tourney's trophy.
"RIT did it two years in a row; that's what people forget," Lindenwood coach Scott Spencer said. "It wasn't just a fluke. They were missing [goaltender Ali] Binnington for a lot of the year, last year. They were missing some pieces through that year, that if everybody is healthy come playoff time, you've got a shot at it."
Such is the landscape in the CHA, that when a member of any team in the league says he or she thinks the league championship is a possibility, one tends to believe. While Lindenwood looks like an unlikely candidate at first to be the league's next champion, it does possess some pieces that are reminiscent of the Tigers last season.
"With Nicole Hensley between our pipes, that definitely helps, and she's a game-changer," sophomore forward Brittania Gillanders said. "She's our MVP, so it's awesome to have strong goaltending."
The Lions' goalie could well be this season's Binnington.
"That's been our rock back there for my first two years here, and the four years that she's been here," Spencer said. "She just got back from the U.S. camp, so she hasn't practiced with us for the last six days. For her getting back in there and getting back with her own team was good. She comes up with big saves. She's a heck of a goaltender. Everything that she gets is well deserved, because she works her tail off to get it. It's been great having her."
It isn't easy when playing for a team that loses far more than it wins, but Hensley has gotten some looks from her country's national teams.
"Hopefully, she has a good second half here to finish off her college career," Spencer said. "If I was a betting man, I don't think her hockey career is over after college here either. I don't want to jinx anything, but I think she'll go and play after."
As for this season, no CHA opponent will look forward to the continuation of its season being dependent on finding a way to get a puck past Hensley. As a freshman, she extended Robert Morris to three overtimes in a playoff game. Her 90 saves that night would have set an NCAA record, except for the fact that Lindenwood was still transitioning to an NCAA program, so the accomplishment went unrecognized.
As she's matured, Hensley has also contributed to the Lions in other ways.
"She's one of the first goalies that actually [communicates], and it's so helpful when we communicate," Gillanders said. "When your back is turned and she's yelling at you, 'Chip the puck up,' or, 'Move it,' it's really helpful."
The team as a whole has improved from Hensley's early days.
"Shots have come down tenfold from two years ago," Spencer said. "We're creating more chances. We're possessing pucks better. It's the finishing. As a whole, as our team, how it's operating, I'm very happy with how we're coming along."
Throughout their brief history, the Lions have never been very prolific on offense.
"We start adding our next two recruiting classes that we have committed, we've got a couple kids who can put pucks home, which I'm excited for," Spencer said. "The future, I think, is going to be pretty bright here."
The problem with focusing too much on the future is that both Hensley and Shara Jasper, the team's leading scorer, are seniors, so the future could well be now.
In her two years at Lindenwood, Jasper has given the team a scoring threat it had previously lacked, and perhaps one nobody would have foreseen. As a junior, her 27 points were 50 percent more than she compiled in her first two seasons at Minnesota-Duluth combined. In her final collegiate season, she's ahead of that pace. Her 23 points and 15 goals both lead the team.
"The puck follows her," Spencer said. "She puts herself in good spots. She's got pretty good instincts around the net. For all of our young kids, it's another rock for us to have an older kid who has played a lot of good hockey, played against a lot of good teams, to maybe settle down a young group that gets a little erratic at times and panicky. She's a good calming factor for us up front with that for sure."
Lindenwood is starting the 2016 portion of its schedule with a four-game trip to Minnesota for series versus Minnesota State and Bemidji State, over the course of five days. After her two seasons with UMD in the WCHA, Jasper says the travel demands at Lindenwood are one of the biggest adjustments.
"The WCHA is pretty compact as far as their distance traveled, so for us, it's a little bit more of a trek," Jasper said. "Especially coming out here, we bus, so we spent nine hours on the bus [Saturday], and we were just hoping to get a good sleep. Coming out here, we had never been on [the Verizon Wireless Center] ice before, so we had to figure that out early. I think definitely the travel is the biggest difference."
Because of the distance, Lindenwood could save some miles by playing two opponents in the state on one trip.
"It's definitely nice that we don't have to go back to St. Charles and then go all the way back to Bemidji," Jasper said. "On the flip side, though, it's definitely going to be tough to recover with just one day and then these are really physical games, so we just have to really worry about taking care of our bodies."
The bus legs and unfamiliar ice may have played a role as Lindenwood fell down by a couple goals on Sunday after the first period of its road trip. Jasper started a comeback in the second period when she arrived at just the right time to bang in a rebound and cut the Minnesota State lead to 2-1.
"I think it's just anticipation and just kind of reading the play before it happens and figuring out where the puck is going to go," Jasper said. "On that one, it was just a nice shot from the outside and everyone kind of followed the shooter, and I saw the puck pop loose, so just picked it up from there."
One of the Lions' problems is that there aren't a lot of scoring options after Jasper and her wings, freshman Shannon Morris-Reade and sophomore Sarah Bobrowski.
"That's where we're really lacking, is a lot of secondary scoring," Spencer said. "We've got our one line that creates a lot, and our other lines are starting to create more, but we haven't seen the results of their hard work yet. Hopefully in the next little bit here going into our conference play, we get a little bit more secondary. It's a pretty easy team to play against if you've only got one line."
On Sunday, Gillanders came through less than a minute after Jasper's goal to tie the score with her seventh goal of the season, the second-highest total on the team.
"Katie Nuckleby moved it up quick from the point, which is a good, quick transition," Gillanders said. "That's what we've been really trying to do in practices is just get the puck, quick transition. I just slipped it by the defenseman and deked the goalie out five hole. Just got to learn how to bury more pucks."
The goal gave her 11 tallies in her career; again, only Jasper has more on the Lindenwood roster.
"Brittania is a little bit different player than Shara — bigger, stronger kid," Spencer said. "In tight, she's pretty good, and you saw the tight little move there to slip it five-hole."
Those moves have been many years in development.
"I grew up on a farm, so we had a dugout (pond) around our houses, and all of the cousins would strap up our laces and play some three-on-three hockey with everyone," Gillanders said. "That's really how I grew up with the game and that's how it's so much a part of my life, which is awesome."
Gillanders' cousins and siblings didn't play your garden-variety family pond hockey. Cousins Dustin (Colgate), Kali (Clarkson), and Baylee (Minnesota), plus sister Brienna (UMD), all played Division-I hockey, while sister Brooklyn (Wisconsin-Superior) played Division-III. Those games helped form Brittania's game.
"My dad was my coach growing up, too, so a lot of his play came into my game as well," she said. "My older sister Brienna definitely influenced me, too. She's a huge role model in my life. Kind of structure my game after her a bit."
The Lions began to recruit Gillanders in her 11th grade year.
"Lindenwood was a brand-new program, and I wanted to come to a team and make a big impact right away, so I knew Lindenwood was a team that I could come and make a big impact right away," Gillanders said.
She's found it to be a good fit.
"The CHA is definitely a lot more grinders and not as skilled as the WCHA, but just like hard work and battling, and that's kind of my structure of play," Gillanders said. "Not much on the skill side, but just kind of my work ethic and battling in the corner."
This season, Lindenwood plays 12 games versus WCHA teams, giving Jasper a chance to compare the style of play from her underclassman days to that she now sees regularly in the CHA.
"It is pretty similar," Jasper said. "I think they have bigger girls so we really need to work on competing against each other a little harder in practice so that we're ready for it. CHA is probably a little cleaner of a game, so it's more of a surprise when we come out here and you get those hacks behind the play. Definitely grittier in front of the net, so that's something that we have to adjust to and really pick up when we come out here."
Jasper draws more attention now that she is her team's leading scorer than when she was a role player in Duluth.
"It has its pros and cons because it loosens things up for my linemates, but it also makes things tougher for me," she said. "Overall, I try to just fight through it and lead as much as I can by battling through it, setting that example. Just show the girls that if you want it, you can't be stopped. Also, just talking through things on the bench, because if they're following me, then I can see things that not necessarily they can. Just try to open the ice up for everyone else."
The Colorado native has liked the way that the second half of her college career has unfolded with her new team.
"It's been great," Jasper said. "It's definitely a different atmosphere. Obviously, a lot of history at Duluth and a fresh start at Lindenwood. It's been nice kind of creating a culture here and helping this team build. It's had its uphill battles. We have a really young team, but that just means it's a lot of different players to mold and try to create their own culture."
Now she'd like to wrap it up with the trip to the NCAA tournament that eluded her with the more-successful UMD program.
"Anything can happen at the end of the year, and I think that's something that's big for us to hold on to," Jasper said. "We've had a lot of close games, a lot of tough battles, things that could have gone either way, and unfortunately, haven't really gone ours. But there's always that hope that we can get it at the end of the year and just keep working toward that and hoping that the bounces come our way at the right time."
After coming up short in the third period in Mankato on Sunday, the Lions got two goals from Jasper and a late power-play goal from Emily Gunderson to defeat the Mavericks on Monday, 3-1. They then gave the No. 6 team in the country a tough battle on Wednesday night before the Beavers got a third-period goal from Stephanie Anderson to gain a 2-1 win.
Playing Bemidji State tough suggests that Lindenwood, despite only having won five times, is ready to go down to the wire with anyone in the CHA.
"There's so much parity in our conference, that yeah, you want to be rolling into the playoffs, for sure, but we know that there is that light at the end of the tunnel with having the automatic bid now," Spencer said. "You've got to win a series and then go into the tournament, and you've got to win two hockey games. If you get hot at the right time, I think we've got the goaltending that can steal some games for you, too."