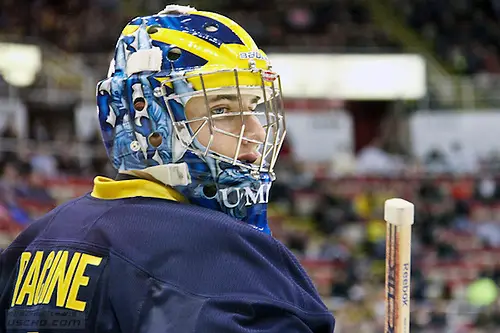 This week's marquee series in the Big Ten will conclude at one of the world's most famous venues, but it would still be a big series for Michigan and Penn State if it was played on a frozen pond.
Michigan and Penn State will play at Pegula Ice Arena on Thursday evening and then will wrap up the series at Madison Square Garden in New York City on Saturday. The Wolverines and Nittany Lions are tied for second in the Big Ten going into the weekend, six points behind Minnesota. The Gophers playing two nonconference games this weekend means that the opportunity to close the gap looms large.
"We know that they're a tough opponent and we're going to have to be at our best against them," Michigan coach Red Berenson said of the Nittany Lions.
Penn State owns an 11-3-1 record at home this season, so the beginning of Thursday's game will be crucial for Michigan.
"It's important that we have a first good period and that we have a good first five minutes," Berenson said. "They're going to come out hard, just like we try and come out hard at home. We've got to match that."
Berenson said the team hadn't talked about Saturday's game at The Garden much. He anticipated that they would treat it like a game at Detroit's Joe Louis Arena, a professional venue that the Wolverines typically play at multiple times during the regular season.
Michigan is riding a six-game unbeaten streak and played an exhibition game against the U.S. Under-18 Team last weekend. The Wolverines skated to a comfortable 5-2 victory against the national development team, but Berenson said that they provided a tough test, one from which he hoped his team could grow.
"We wanted to be better in a couple of areas," he said. "One of them was transition on loose pucks and trying to outnumber the other team when you get a break. I thought we did that a couple times; we scored a nice goal on a rush."
The coach also said he wanted to work on special teams play and used to opportunity to get some players who had lacked game minutes this season into the lineup, which will be crucial as multiple players will miss action this weekend due to suspensions.
"We were able to get a couple guys in the lineup and get their legs under them," Berenson said. "Because they'll have to play this weekend."
The Wolverines are still allowing more than three goals per game this season. During the six-game unbeaten streak, Michigan has allowed two goals three times, three goals once and five and six in consecutive games against Ohio State. They took four of six points from the Buckeyes, but Berenson doesn't shy away from saying that allowing that many goals isn't going to work in the long run.
"One game it might be a bad goal on the goalie's part and another game it might be the penalty killers or just a breakdown defensively," he said. "That's something that we're trying to do, I think we can do a better job. We're trying to do a better job in those areas. You can't go through a season with over three goals against and expect to win anything.
"Really, when you look at it, it comes down to one or two shots or goals in 100 shots that can be the difference," Berenson added. "So we've got to look at it that way and take care of those shots."
Goaltender Steve Racine does seem to be trending in the right direction in 2016, and Berenson agreed with that assessment. The senior has a 2.96 GAA and .906 save percentage and Berenson said that he "right now is probably our go-to goalie."
The Wolverines offense, however, doesn't seem to have many weak points. The top line of Kyle Connor (36 points), JT Compher (32) and Tyler Motte (28) leads the way, but Michigan also has good secondary scoring, with 13 players having 10 or more points this season.
"In Justin Selman, Alex Kile, Boo Nieves, Tony Calderone and Cooper Marody we've got some secondary scoring," Berenson said. "That's going to be important because Kyle Connor can't score every night and it's going to be important that our second, third and even our fourth line, if we get that secondary scoring I think that's going to help us a lot."
Minnesota rides a hot streak into North Star Cup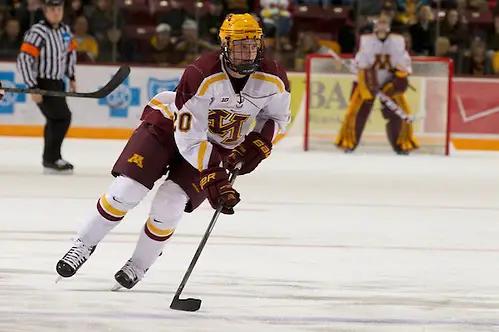 A recent CityPages article was a talking point around the state of Minnesota after it brought up some points about the "downfall" of the Minnesota hockey program and heaped most the blame on coach Don Lucia. I'm not going to talk a lot about the article other than to say it accomplished what it was supposed to: create a controversy and get talked about.
One of the points raised was the Gophers' less-than-stellar record against their in-state rivals. Minnesota is 1-5 against Minnesota-Duluth, St. Cloud State and Minnesota State this season. The Gophers will have a chance to better that record this weekend at the North Star College Cup, and they look like they're playing their best hockey of the season heading into the tournament.
"We're trying to improve. I think since Christmas we've lost two games, both in overtime, and both we could have won, but we didn't," Lucia said after Saturday's victory at Wisconsin. "We're 8-2 in the Big Ten and we've played everybody one round and we've played six out of 10 on the road. We've put ourselves in a good position with that, but you just have to keep winning.
"We lost some games earlier in the year that we let slip away and we just have to keep clawing our way back up and try and fill in the hole that we dug for ourselves," he added. "I give our guys a lot of credit; they've stayed with it."
Lucia added that he was happy for the players that the team was playing better, saying, "It's not easy when you're not winning in our program." Lately, the Gophers have been winning. Minnesota has won five games in a row, but four of those wins were against team near the bottom of the PairWise Rankings.
A game against a formidable Bemidji State squad and a rematch with St. Cloud State or Minnesota State this weekend will tell us if Minnesota's resurgence is something or nothing.
Suspensions galore
For the second straight weekend, a major headline in the Big Ten was dirty hits and the suspensions that resulted from those hits.
Minnesota's Tommy Novak was on the bad end of two separate vicious hits from Wisconsin's Aidan Cavallini and Eddie Wittchow on Saturday. Cavallini was suspended for one game and Wittchow will sit out three games. Lucia kept things political after the game, but didn't hide the fact that he wasn't happy.
"That was an ugly hit and that's obviously the hits that they're trying to take out of the game," he said. "I was surprised at some of the runs and a couple of the majors against the walls — you can't do that. That open-ice hit, you just can't make that play anymore. Both majors it was [Novak]; I don't know if they were targeting him or what, but those are not good plays."
Mike Eaves said during Wisconsin's Monday news conference that the team may look into appealing Wittchow's suspension, which is surprising to me. I don't know how it can be argued that the punishment doesn't fit the crime. If anything, it may be too forgiving.
It doesn't seem like suspensions ranging from one to three games are curbing the number of dirty and dangerous hits in college. Maybe ones that range from six to eight games, especially for extremely egregious hits, would.
Ohio State's Josh Healey also picked up a two-game suspension last weekend, so if you add that to the four suspensions that were a result of the fight at the end of the Ohio State-Michigan game on Jan. 17, it's been a busy couple weeks for those in charge of reviewing tape and handing out suspensions.
Three stars of the week
A historically good weekend in Madison ends with the Gophers sweeping the three stars.
First star — Minnesota junior defenseman Michael Brodzinski: After ending up in Lucia's doghouse due to taking a bad penalty, Brodzinski notched his first career hat trick during Saturday's 9-2 victory over Wisconsin. He also had an assist during Friday's victory.
Second star — Minnesota junior forward Hudson Fasching: Fasching picked up two goals and three assists for Minnesota.
Third star — Minnesota freshman goaltender Eric Schierhorn: He stopped all 29 shots he saw on Friday night and added another 25 saves on Saturday. The Gophers picked up their first road sweep of Wisconsin since 2006.
B1G in the poll
No. 20 Minnesota joins No. 6 Michigan and No. 15 Penn State in this week's USCHO.com Division I Men's Poll.
My ballot
1. North Dakota
2. Quinnipiac
3. St. Cloud State
4. Providence
5. Boston College
6. Michigan
7. Harvard
8. Massachusetts-Lowell
9. Boston University
10. Yale
11. Notre Dame
12. Omaha
13. Cornell
14. Penn State
15. Denver
16. Minnesota State
17. Rensselaer
18. Bowling Green
19. Michigan Tech
20. Minnesota
This week's games
Michigan at Penn State (Thursday at Pegula Ice Arena, Saturday at Madison Square Garden)
Michigan State at Ohio State (Friday and Saturday, Value City Arena)
Alaska at Wisconsin (Friday and Saturday, Kohl Center)
Minnesota vs. Bemidji State and St. Cloud State or Minnesota State (Saturday and Sunday, North Star College Cup at Xcel Energy Center)