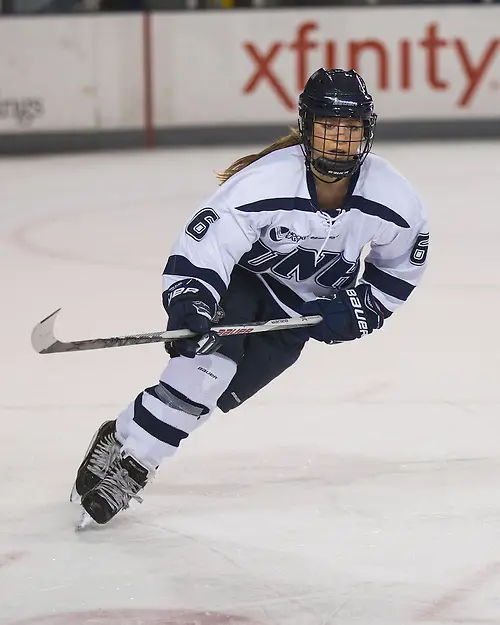 Candace: The results from the weekend are strange to me in several ways Arlan. In the WCHA, 23 of 24 points went to the favorite, with Minnesota State's tie with Ohio State Friday being the only point garnered by a lower seed. Granted, North Dakota made life difficult for Wisconsin, but ultimately couldn't get a win or tie to match the success it had against the Badgers in December. Bemidji State's sweep of Minnesota-Duluth was impressive to me, and lifted the Beavers back ahead of the Fighting Hawks in the WCHA standings. That could flip again this weekend when Bemidji faces Minnesota and North Dakota faces Minnesota State, and then possibly flip back the following weekend when North Dakota faces Minnesota and Bemidji State faces St. Cloud State. Those two are going to be battling for the 3-4 spots down to the final weekend.
Hockey East also pretty much went to script, with the team with the better record winning every game in the conference over the weekend. In the ECAC, a couple of ties Friday between Clarkson and Cornell and St. Lawrence and Colgate were the only thing preventing the ECAC going according to plan, although I guess if you want to be truly accurate the tie between Brown and Union Saturday also fits that mold.
And then there's the CHA. I just don't know what to make of that conference. Lindenwood managed a split with Mercyhurst, Robert Morris, with the best overall record of any team in the conference, lost and tied Penn State, and RIT, which has come out of nowhere to win the CHA tournament the last two years, beat Syracuse in overtime. I wouldn't want to bet on any CHA game right now. I'll bet you are glad that you aren't trying to pick those games anymore.
What do you make of the CHA right now?
Arlan: I think the story in the CHA is much as it has been for the last season and a half. There isn't a lot of firepower in the league. RMU's Brittany Howard, with 31 points, is the only conference member with more than 25 points and the only one averaging more than a point a game. The Colonials have the 10th-best scoring offense in the country. Syracuse and Mercyhurst are next at 13th and 15th, and the other three are near the bottom. So the league doesn't see that many goals scored. This weekend, the teams collectively averaged just a goal and a half, and that was with the benefit of three overtime games. Nobody scored more than three goals in a game this weekend, and nobody did so the previous week either.
Thus, the games are always close. The underdog can stay in the game most of the time. Penn State and Lindenwood have had strong goaltending all season. The third team in the bottom half of standings, RIT, recently got senior Jetta Rackleff back from injury, and she seems to have made a difference, coming up with some big performances and holding the Tigers in games. In the four games over the weekend where the lower-ranked team got points, its goaltender finished with 33, 35, 40, and 41 saves.
Home ice seems to matter in the CHA as well. Two of the underdogs were playing series at home, and RIT and Syracuse played a home-and-home series with the host coming out on top. The miles involved can be considerable for some of the trips, so travel can present an obstacle for the road teams.
Over the long run, Mercyhurst is the best team, and that has played out year after year in the conference standings, but over 60 minutes, rather than 20 games, the Lakers' advantage isn't what it once was, so the other CHA teams subscribe to the "on any given day" philosophy, no matter who they're playing.
We tend to see something similar in Hockey East, but only in games involving the bottom six teams, and while the results in the CHA tend to fluctuate rather quickly, some of the Hockey East teams can get cold and struggle for a month or more.
One team that isn't struggling these days is Northeastern. The Huskies made it 11 straight wins over the weekend, equaling the program's longest streak since back in 1991. Do you think Northeastern can keep it going until it potentially runs into Boston College in the Beanpot final?
Candace: I'd say it's likely. Though New Hampshire has moved into fourth place, the Wildcats don't possess enough firepower or defense to slow Northeastern for long. Boston University's 6-1 loss to Quinnipiac shows to me that the Terriers have just not figured out how to beat top teams in the post Marie-Philip Poulin era. After the first Beanpot game against the Terriers, the Huskies get Providence, another one of those teams that shows it can beat the ones near it in the standings, but won't come close to the top squads. Northeastern beat the Friars 5-1 two weeks ago. That takes Northeastern right into the Beanpot championship game against either BC or Harvard. Northeastern won't get a break either, because three days later the Huskies travel to Chestnut Hill to play the Eagles in their final Hockey East matchup of the season before closing with a home-and-home with BU.
Kendall Coyne continues with the hot hand; she leads the nation in scoring, two points ahead of BC star Alex Carpenter. A rarity happened on Friday, as Elaine Chuli and Connecticut held Coyne off the score sheet. It didn't matter, as Northeastern got goals from four others, including Coyne's linemate, Denisa Krížová, who is continuing to have a strong year. Coyne was back at it Saturday with four points on two goals and two assists. Brittany Bugalski is also playing well in net for the Huskies, sporting a 1.72 goals-against and a .930 save percentage. Regardless, I have trouble seeing anybody but a top team like BC, Wisconsin, or Minnesota slowing Northeastern down.
Let's circle back out west. We had talked about Minnesota-Duluth getting better over the course of the season, but Bemidji State swept them again. What does that tell you about the state of the Bulldogs and Beavers, respectively?
Arlan: One of my questions for the Bulldogs is what is the goaltending situation these days. When I watched them, freshman Maddie Rooney was playing great. She got lit up in her start in Madison to begin January, and now looks to be part of some sort of goaltender rotation that includes two seniors, three-year starter Kayla Black and little-used Karissa Grapp. During Jessie Vetter's first season for Wisconsin, she was part of a three-goaltender rotation right up until the NCAA tournament started and that turned out okay, but it's certainly not the norm. Maura Crowell is likely trying to give each one a chance and hoping that one plays so well that it forces her to make her the starter, but thus far in 2016, they've all had their moments, but nothing that has added up to a UMD win.
The Bulldogs need the goaltending to be top-notch, because they aren't that deep up front and they're young on the blue line. The offense is often limited to what the top line can provide, and with youth on the back end comes the occasional breakdown. The last six games were a brutal stretch against ranked opponents, and now the schedule brings the bottom two teams in the standings, so that provides a different sort of a measuring stick.
Meanwhile, Bemidji State has three more wins than it did through the same number of games last season, but the Beavers' season lacks a bit of the wow factor. They haven't beaten Wisconsin or Minnesota, and they had knocked off both of those squads by this point a year ago. They've certainly been more consistent; the Beavers have eliminated the bad losses to teams below them.
I'd say that the big advantages that Bemidji State has over UMD is that the Beavers have a better idea of what they need to do to win, the coach and players are farther along in adjusting to each other, and BSU has more players who can contribute in some way on a nightly basis. Bemidji State may not have a top line as dangerous as that of UMD, but BSU has a better Plan B and is more comfortable winning a 1-0 game if need be. Once graduation knocks some holes in the Beavers' roster, the roles may be reversed next season.
Bemidji State gets one more shot to knock off a top-three team this weekend when it hosts Minnesota. North Dakota has done better in that regard thus far this season, and while it didn't necessarily almost defeat Wisconsin, it certainly gave the Badgers a battle all weekend. Saturday's game basically came down to the Badgers being the team that benefited from a kind bounce, and Wisconsin needed a power-play goal in the last couple of minutes to come out on top on Sunday.
Over the course of the year, I've tried to theorize a few times on why the Fighting Hawks can look comparable to the power teams at times and then vulnerable against seemingly lesser opponents at others. I'm not sure I've succeeded, so how do you explain a team that can stay right there with some of the best teams in country over the course of a weekend stumbling against teams like Ohio State and Syracuse? Is it a case of UND getting so high on certain weeks that it suffers a letdown on others, or is there some other element of its play that stands out to you?
Candace: I think there are actually a few things going on that contribute to North Dakota's mercurial results. Yes, I think the Fighting Hawks really get up to play their two WCHA rivals, Minnesota and Wisconsin, and are completely focused and basically working at their limit for 60 minutes in those games.
However, it isn't just that. For all of North Dakota's success, the Fighting Hawks offense is in that category you alluded to with the CHA and that conference's struggles. North Dakota is ranked only 20th nationally out of 36 teams for offense, scoring just 2.21 goals a game. The defense is much better, giving up only 1.79 goals per game, but that isn't a huge margin, just half a goal. For the big two in the WCHA, Minnesota's goal differential is 4.08 goals more than it gives up, and Wisconsin's is 3.42 goals per game. When your margin is as razor-thin as North Dakota's, there isn't a lot of room for error.
Aside from teams like BC, Minnesota, Wisconsin, and Northeastern, a lot of teams really struggle to score. It's not rocket science that the teams that have the best margin between goals scored and goals allowed are those that are in the top 10 in the rankings, such as Clarkson, Quinnipiac, and Princeton, which are all over a 1.5 goal differential.
North Dakota has some scorers, but Amy Menke is the only one averaging over a point a game, and that is just barely, at 1.08 points per game. I think players like Becca Kohler, Meghan Dufault, and Tanja Eisenschmid are slightly under-producing in their senior years. Kohler is right about where she was as a junior, but I think North Dakota needs more from her. Dufault is just under a goal per game, but again, is barely above her junior year production. Eisenschmid is a defenseman, so her contributions are more important in North Dakota's end, but her scoring is down from both her sophomore and junior year.
Without players that can really put the puck home, North Dakota has to focus on defense, and there are a lot of teams that are in the same boat, because they too don't score as much as they need to. When you get into defensive battles, one bounce of the puck can be enough to decide the game, so I think North Dakota is always going to be vulnerable there.
I mentioned Clarkson before, and the Golden Knights can score, but they have struggled at times. Their 2-2 tie with Cornell Friday has to be looked at as a disappointment, a chance that slipped away to do more to secure second place in the ECAC, or even gain ground on league-leading Quinnipiac. The Golden Knights face St. Lawrence tomorrow, a must-win game in what is always a big rivalry. As North Dakota has had puzzling results, so at times has Clarkson. What is your take on the Golden Knights?
Arlan: Clarkson is similar in some ways to Bemidji State in that it is having a better season than it did a year ago, but for some reason, it doesn't always feel like it. Maybe both are victims of our expectations. We expected the Golden Knights to take a step forward, and overall, they have. However, in the ECAC, they're a point behind their pace from a year ago, a season in which they finished strongly, winning seven of their final eight ECAC games.
While they shared the season title with Harvard last year, they could run the table and still not catch Quinnipiac if they don't get some help. The Bobcats are two games ahead, with each team having eight games left. On paper, Clarkson has the easier slate remaining, with five home games, including very winnable contests against Union, Brown, Yale, and Rensselaer, but that didn't matter when it lost to RPI in the first half. The other two weekends figure to be key, starting this week with a home-and-home series with rival St. Lawrence. In two weeks, the Golden Knights have a tough road trip to visit Princeton and Quinnipiac.
Clarkson's offensive production is up by over a half a goal from what it was last season, but the production in ECAC action has increased by only about 0.14 goals per game, and that has been canceled out by an equivalent scoring increase for ECAC opponents. I'm not sure if the slight degradation defensively is from being younger on the blue line, or if Shea Tiley just hasn't been quite as steady this year. As a sophomore, she may be dealing with a bit higher expectations as well. In the games that I've seen, there have been goals allowed that have been a little surprising, but I've also seen a couple of unlucky bounces.
In any case, a great season is still a possibility for the Golden Knights. It all comes down to how they develop over the final couple of months.
Meanwhile, I'd almost forgotten that Princeton existed. The Tigers had 16 days between their defeat of RPI and Monday's 4-0 handling of Connecticut. That made it 11 straight wins for Jeff Kampersal's squad, including the last three on the road. Princeton has to retain that road magic, because it still needs to travel to Dartmouth, Harvard, Colgate, and Cornell before it gets to entertain at Hobey Baker Rink again.
We haven't focused that much on Princeton, but one key to its gains this year is that its overall scoring average is up about 0.8 goals a game. One factor is a player I don't remember us discussing previously, freshman Karlie Lund, who leads the team in assists with 16 and points with 27. Defenseman Kelsey Koelzer is the only player on the roster within 10 points of her. She has provided a similar boost to that of Melissa Samoskevich at Quinnipiac, and in points per game, she's exceeded the impact of the Bobcats' rookie. Lund has given another element to the Tigers, who didn't have anyone average a point per game last year.
I think we've half expected Princeton to fade down the stretch. Is it possible that the Tigers aren't going away?
Candace: It's certainly looking that way to me. The win Monday against Connecticut is impressive to me because it came on the road. Yes, Chuli wasn't in net, but Annie Belanger is a capable backup, posting pretty solid numbers, including a .906 save percentage. No, they aren't light-the-world-on-fire numbers, but as a backup, I think sometimes it's hard to get into a groove. Belanger has actually played 11 games so far, somewhat surprising given that Chuli is a senior. I wonder if coach Chris MacKenzie is hoping to keep Chuli fresh for a possible playoff run in the Hockey East tournament?
Anyway, back to the Tigers. Their offense has certainly caught fire of late. Granted, some of the teams aren't defensive powerhouses, but during their 11-game win streak, the Tigers have been held to under three goals only once, by Harvard, and that still wasn't enough for the Tigers to lose, as they came away with an OT win. You mentioned Lund and Koelzer, but even though those two are setting the pace, Princeton is still getting decent production from a few others. Molly Contini has 17 points and is averaging .810 points a game, and Hilary Lloyd is at .750 points a game. The Tigers have eight players averaging at least half a point a game.
The other thing Princeton has in its favor is the presence of senior goaltender Kimberly Newell. She's putting up gaudy numbers, with a 1.39 goals-against and a .947 save percentage, both career bests. In fact, the goals-against is almost a goal lower than her previous best. Sophomore Alysia DaSilva has also won three games during the current streak, and has an even better save percentage and goals-against than Newell, which tells me the Tigers are committed to solid play in their own end.
Having said that, aside from Harvard, I think the teams Princeton has beaten during its streak are teams it should beat, though the numbers have been impressive, such as a 5-1 win over Yale, a 6-1 win over Brown, and a 5-0 win over Union, then a 3-2 win over Rensselaer.
The next three weeks will really tell us where Princeton is at. I expect the Tigers will beat Dartmouth in Hanover this Friday, because the Big Green just can't seem to catch a break, but after that, Princeton runs a gauntlet with five games against some of the ECAC's best, including road games against Harvard, Colgate, and Cornell, and then a home series against Clarkson and St. Lawrence. The latter two both beat the Tigers back in November, and were the last teams to actually defeat Princeton. Cornell also beat Princeton back in November, and Colgate only lost by one goal, a 3-2 decision, so this next stretch will be the true answer to whether Princeton is for real.
Right now, the Tigers would be in the NCAA tournament according to the revised PairWise criteria, depending on whether favorites won in the ECAC, Hockey East, and WCHA tournaments, but they are on the bubble, and Bemidji State and North Dakota are right there too. The next four weeks are going to really interesting in that regard.
I know we usually talk about the movers and shakers, but I want to shift gears right now. Minnesota State had a great weekend against Minnesota two weekends ago, and seemed poised to get its first conference win of the year, but came up short against Ohio State, tying the Buckeyes on Friday and then getting blown out Saturday. Friday might have been their last chance to get a win in conference, because the Mavericks end their season by facing, in order, North Dakota, Minnesota-Duluth, Wisconsin, and Bemidji State.
The Mavericks at least have won out of conference this season. By contrast, Union hasn't won a game at all this season, though it has a few ties. The Dutchwomen had a great chance this weekend to get a win, but fell short against Yale Friday, giving up the game-winner at 12:53 of the third in a 2-1 loss. On Saturday, the Dutchwomen played Brown, and carried a 2-1 lead into the last couple minutes of the game, but Erin Conway scored an extra-attacker goal at 18:42 to tie it for the Bears. When I look at the Dutchwomen's remaining games, I don't see many opportunities to pick up a win, though I guess they could put a scare into either Cornell or Dartmouth, and maybe St. Lawrence.
Do you think Minnesota State will get a conference win, or Union a win of any sort, before the playoffs?
Arlan: You have to kind of feel for the Union kids with the way their season has fizzled. The question coming into the season was how would they replace Shenae Lundberg in net, and Melissa Black has answered that question very confidently, with a better save percentage and goals-against average. The problem has been on the offensive end, as it so often is for Union. It came into this year with more promise than usual, after Kathryn Tomaselli and Jessica Kaminsky reached 20 points as juniors, lofty heights for anyone on Union's roster. With only eight games remaining, Tomaselli has only half the points that she had a year ago, and Kaminsky has just five. Nobody else has made a dramatic gain, and the overall scoring for the Dutchwomen is 62 percent of last year's output. That's a huge drop for a team that has to scratch and claw for every goal.
When Union does get a lead, it hasn't been able to close the deal. It has scored first in nine games, and obviously, every lead has slipped away. One might think that given its strength is defense, it might find a way to clamp down once ahead on the scoreboard, but that's not the case. The good news is that when the Dutchwomen do score first, they at least tie more often than they lose, but that's a rather hollow consolation. If the opponent scores first, the game is virtually over, because Union is only 0-16-1 in such games.
Can the Dutchwomen find a win in their final eight games? I don't see it. It would be the perfect punctuation to just how competitive the ECAC season has been if a winless team could find one as the days dwindle, but it's hard to pick a likely candidate. Maybe Dartmouth, because as you say, little has gone right for the Big Green of late, but I doubt Union's odds are any better than one in five of pulling the upset.
As for Minnesota State, that is more probable. I'd say the Mavericks have about a 50/50 shot of winning once in their next eight games. They battled from behind to erase four different leads by the Buckeyes, but the defense let them down. After holding the Gophers to five goals the week before, OSU scored 11 times. They'll need a better effort from Brianna Quade than what she delivered in allowing five goals on 19 shots on Saturday. If the Fighting Hawks don't bonk after an emotional series in Wisconsin, then MSU's best chance would seem to be when it hosts UMD. Bemidji State is easier to shut down, but I doubt the Mavericks will score enough against the Beavers to take advantage.
These aren't the only teams that are struggling. We've talked about Dartmouth, which is 0-11-1 in its last dozen. Maine, which once had a 3-2-0 conference mark, has gone 0-12-1 in Hockey East since then. For all the parity and equality that has come into the sport, there is still disparity between the haves and certain others.
BC has won 26 straight. Quinnipiac is unbeaten in its last 18 games. As we previously mentioned, Princeton and Northeastern have those 11-game streaks. So while there is ever-increasing parity, I doubt that Union can really relate to the season that the Eagles or Bobcats are having. The simplest way to explain it is that the teams rattling off long hot streaks have someone near the top of the scoring charts. Lund of Princeton is 14th in points per game after Monday night's game, and the other teams have at least one in the top 10. Of those I mentioned on losing streaks, the highest individual scoring performance is Dartmouth's Laura Stacey at 45th. That's why it is tough for a team like Bemidji State to swim upstream with an offense whose most prolific scorer is Kaitlyn Tougas, currently tied for 88th in points per game, so the Beavers have to play an almost perfect game defensively to have success.
Still, teams find ways to turn it around. New Hampshire looked quite hapless when it lost its first seven and won just twice in the next seven. Now the Wildcats have won seven of 10. I wonder how much of it is the relief of knowing that the name "Boston College" no longer remains on the schedule?
Candace: Funny, but I think it's more than that. I suppose you could add that two of the Wildcats' three games against Northeastern are done too, as are its games against the ECAC elite of Quinnipiac, Harvard, and Clarkson.
In all seriousness, New Hampshire's fortunes are probably tied to the emergence of freshman goaltender Kyra Smith, who has supplanted senior Vilma Vaattovaara as the starter. Smith has played 18 games so far, and has gone 9-8-1. She's posted a 2.60 goals-against and a .900 save percentage. Aside from the two games against the high-powered Northeastern offense, she's done a respectable job of keeping the scores close. She made 23 saves in New Hampshire's 5-2 win over Yale, and 30 in the 3-2 win over Dartmouth back in December.
In addition to the increasingly steady goaltending, New Hampshire is getting scoring from senior Jonna Curtis, who has 28 points and is averaging over a point a game. Curtis is tied for 18th nationally in goals scored. New Hampshire is also getting secondary contributions from Amy Boucher and Amy Schlagel, both sophomores. Boucher is tied for 14th nationally in power-play goals with four.
New Hampshire is now in the final home ice spot for the Hockey East tournament, one point ahead of Connecticut, though the Huskies have a game in hand. The schedule seems to favor the Huskies, who have only one game left against the big three in Hockey East, while New Hampshire still has one against Northeastern and a home-and-home with mercurial Boston University, but New Hampshire ends its season at home with a pair against Connecticut, and that could decide home ice. UNH beat the Huskies 2-1 back in November on the road, so if the Wildcats can sweep, they might take that final home ice spot, and then get to play Connecticut all over again.
I guess you can put New Hampshire in the "pleasant surprise" category for this season, alongside teams like Colgate. Are there any others that have surprised you this season with their performance, either positively or negatively?
Arlan: Just scanning down the rankings, I don't think there is any surprise from BC, Wisconsin, or Minnesota. We could say it is a surprise that the Eagles are still perfect, but after their season last year, not really. The big difference from last year to this year is who exactly would we have expected to bounce BC this year? Both BU and Harvard have taken steps back, and for all the improvement shown by Northeastern, it still had a considerable amount of ground to make up.
I think Quinnipiac is a bit of a surprise. Not a shocker, by any means, given they've had similar starts and were a tournament team last year. Nothing is guaranteed with a new coach and a new primary goaltender, so kudos to coach Cassandra Turner and Sydney Rossman for sliding seamlessly into their new roles, and helping the Bobcats take another step forward.
Princeton would have to be another pleasant surprise. The ECAC coaches slotted the Tigers sixth, and they currently sit tied for second. If they wind up in the NCAA field when the pairings are announced, I think that may qualify as the biggest positive surprise.
Looking at some second-division teams, St. Cloud State has been more competitive than expected. The Huskies were tabbed by the coaches to finish ahead of only Minnesota State, but they've been fifth for a while now. I don't know that they can stay there, but it is still an advancement by Eric Rud in his second season, even if they drop to sixth.
Rensselaer is also far above where most thought. The league's coaches predicted a 10th-place finish, and yours truly mistakenly put the Engineers one spot lower. Freshman goaltender Lovisa Selander has stabilized them defensively, and they've climbed up to seventh in the ECAC.
As for a disappointing team, maybe Maine? The Black Bears were a home-ice team in the quarters last year, and the Hockey East coaches predicted that they would be again. Now Maine sits eighth and could possibly miss the playoffs altogether. Its only win in the last two months plus came over winless Union. With the improvement Providence has shown over the course of the season, and the problems Maine has had versus Connecticut of late, that puts a lot of pressure on its series versus Merrimack. I also didn't expect Dartmouth to have only four wins at this point. At least when I watch the Big Green, they look like their next win could be just around the corner.