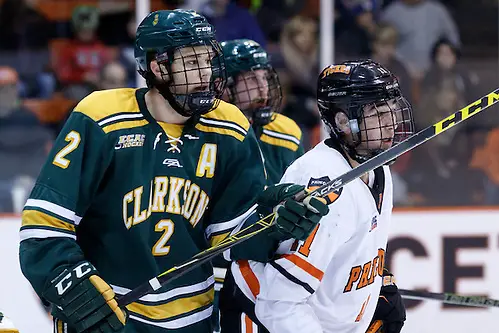 A perfect storm of injuries and a string of tough road games had Clarkson stuck in a five-game losing streak at the start of January.
But as the Golden Knights have gotten healthy, the wins have started coming. Clarkson is 4-1-1 since Jan. 2, including road wins at Bowling Green and Harvard.
With players like forward Jordan Boucher, Dylan Gareau and defenseman Terrance Amorosa back in the lineup, the Golden Knights have been able to play the up-tempo and physical game that coach Casey Jones prefers.
"Our defensive corps are very capable guys for us," Jones said. "Right now they are moving pucks well, allowing us to play fast. They're getting pucks up to the forwards, and that affords us an opportunity to play the way we want to play."
Three of Clarkson's regular defensemen are NHL draft picks, as Amorosa (Philadelphia), Kelly Summers (Ottawa), and James de Haas (Detroit) all have their rights owned by NHL teams, while seniors Paul Geiger and Kevin Tansey have plenty of experience.
The Golden Knights are a team that doesn't rely on one or two players to score, meaning that missing several players from the lineup takes away from how they want to play.
"We generally put four lines out there," Jones said. "When we do that, we limit other teams' scoring chances and play with good pace and instincts. That's our recipe for success, and I thought we did a good job of that last weekend."
Clarkson tied Yale last Friday and then shut out Brown on Saturday.
It's also helped that goalie Greg Lewis has become a stabilizing presence in net for the Golden Knights. The senior has started six games in a row, and has a .918 save percentage this season for a team that has an overall mark of .897.
"He's in his senior year and he's played a lot over his career," Jones said of Lewis. "It took him a little bit to get where he needed to be, but he's competed for playing time and has taken advantage of it."
Clarkson is healthy at the right time, as two players have left the program in the last month. Sophomore forward Janick Asselin signed a contract with the Norfolk Admirals in the ECHL, while junior defenseman Bryan Sinz transferred to Division III Wisconsin-Eau Claire.
"For us, it's an opportunity for other guys [to step up]," Jones said, adding that sophomore forward Ben Dalpe is one of the players who has taken advantage of his added playing time. Dalpe's .593 faceoff winning percentage leads the team and is 19th in Division I.
Not only are the Golden Knights healthy, but they will play eight of their final 12 games at home. Clarkson is 8-1-2 at Cheel Arena this season.
"If we take care of things in our own building, it affords us the opportunity of getting where we want to get," Jones said.
Brown looking for more scoring depth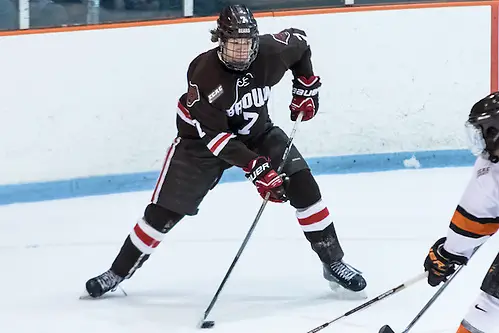 While they might not get the attention they deserve, Brown's top line of Tommy Marchin, Mark Naclerio and Nick Lappin is arguably one of the best in ECAC Hockey.
The trio has combined for 61 points in 57 games, led by Lappin, who has 11 goals and 14 assists and is 13th in the country in points per game. Marchin is sixth nationally among freshmen in points per game. Both Lappin and Naclerio, who is an excellent faceoff man, play on the penalty kill as well.
Despite that line combining for 26 of Brown's 46 goals, coach Brendan Whittet has no plans to break the trio up.
"They've been so dominant it doesn't make much sense to screw around with that a line that has been able to put up the point totals that they have this year," he said. "It's hard to mess with something that you know works to put something together that may work and kind of spread the wealth a little."
Whittet has tried to mix up the other three lines, although his options are limited given that the Bears are down to 12 healthy forwards for the remainder of the season.
Sophomores Tyler Bird, Max Willman and Sam Lafferty are all NHL draft picks, and along with classmate Charlie Corcoran, they have the potential to give Brown some scoring depth behind its top line. Freshman Max Gottlieb has 15 points in 19 games, a pace that is ninth among Division I defensemen.
"Guys are definitely making strides," Whittet said, "and that's good to see because we have to have some secondary scoring."
Two weekends ago, the Bears were able to match Yale's speed in a 3-2 loss at Ingalls Rink. Brown outplayed the Bulldogs for stretches, but bad decisions with the puck led to some costly turnovers.
Rensselaer on the rise
RPI has one loss in its last 10 games, an impressive stretch that has helped the Engineers post the second-best winning percentage in league play behind Quinnipiac. Second-place Harvard is a point ahead of RPI, but the Crimson have played an extra ECAC game.
The Engineers beat Union 5-2 last Saturday in a nonconference game to win the Mayor's Cup. The win gave RPI a sweep of the regular season series with the Dutchmen and evened the Mayor's Cup series at two.
Last Thursday, RPI came within 10 seconds of handing Quinnipiac its first conference loss of the season, but Sam Anas' late goal helped the Bobcats rally for a 2-2 tie.
The Bobcats attempted 102 shots in the game, with 29 of those getting blocked by the Engineers. Those that got through were saved by Jason Kasdorf, whose .938 save percentage is tied for third in the nation.
"Yes, you're praised when you do block shots but at the halfway point of the season it's become the other way," RPI coach Seth Appert said. "The guys who don't block shots, it's like 'come on, everyone else is doing it.' That's become the expectation inside the locker room."
On the season, the Engineers are fourth in the nation in blocked shots, while senior captain and defenseman Chris Bradley ranks third with 66 in 26 games.
"We've got good on sticks in front of the net — that's the staple of our team," Bradley said. "The net front is huge on both ends of the ice. That's were the most important battles are."
RPI has been strong in that aspect despite numerous injuries. Kasdorf and forward Mark Miller missed time earlier this season, while freshman Evan Tironese had seven points in six games before getting knocked out for the season. The Engineers are without defenseman Parker Reno and leading scorer Riley Bourbonnais.
Freshmen Meirs Moore and Tommy Grant have taken many of the minutes left open by Reno's absence.
"We've had so many injuries this year, that doesn't even faze our guys," Appert said. "We don't even address it, it's just the next man up. It's not that we need Tommy and some of these other guys to replace Parker's style of play, they just have to eat his minutes in their own way."
Around the league
• Union forward Mike Vecchione might be off his 50-point pace from a year ago, but the junior is having a terrific year in the faceoff circle. His .627 faceoff winning percentage is sixth in the country. Other league players among the national leaders in faceoffs include Cornell's John Knisley (ninth), Dartmouth's Troy Crema (11th) and Union's Spencer Foo (16th).
• Harvard's Kyle Criscuolo, (player) and Michael Floodstrand (rookie) joined Dartmouth's Charles Grant (goalie) as the league's weekly award winners. Criscuolo had two game-winning goals in a four-point weekend for the Crimson, including his 100th career point Friday, while Floodstrand had the first multi-point game of his career Saturday with a goal and an assist at Cornell. The win was Harvard's first at Lynah Rink since the 2012-13 season. Grant had a .958 save percentage on the weekend, including the second shutout of his career at Lynah Rink. The senior ends his regular season career at Lynah with a 3-0-1 mark against the Big Red.
• Harvard hosted a skating event on Monday with One Summit, an organization that helps children with cancer build courage and confidence. Members of the Crimson skated with children fighting cancer, and each child received a Harvard hockey jersey.
• Princeton returned to action for the first time since Jan. 8 on Tuesday, beating American International 1-0. Colton Phinney had 23 saves in the win.