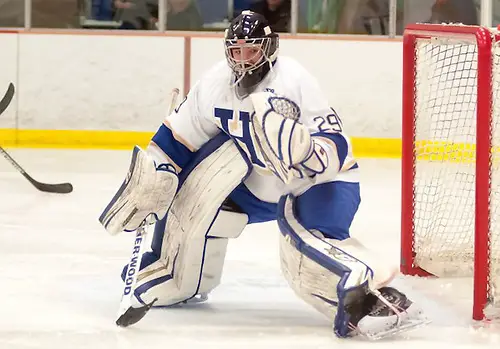 Following weekend wins over Amherst by a 2-0 score and Daniel Webster by a 6-2 score, Hamilton is truly enjoying an 11-game unbeaten streak that has pushed the Continentals to 11-3-2 on the season and battling for the top spot in the NESCAC.
What do they attribute their recent run of success to?
It's accumulated experience that is paying dividends for an upper classman laden roster.
"No doubt, experience is a big factor for us," Hamilton coach Rob Haberbusch noted. "The bulk of our team is made up by nine juniors and three seniors who lead the way for us. The team is playing great and having fun right now. They have really grown up since the days of getting our butts kicked when they were freshmen and sophomores. Now that we are enjoying some success, they want more – the more success we have, the hungrier this team gets."
While the coach gives credit to his upperclassmen for leading the way, the Continentals have been getting contributions from everyone up and down the roster. Junior Robbie Murden leads the team in scoring with 13 goals and 23 points, but the balance has been there for Hamilton along with new experiences driving the next leap from talented underclassmen who are contributing in a big way.
"We are a deep team," stated Haberbusch. "I think our all-freshman line of [Jason] Brochu, [Jon] Stickel and [Rory] Gagnon has nine goals with all of them contributing. I don't think you will find many first-year lines contributing as much and really adding to the depth and balance."
Two sophomores having breakout seasons are also key contributors to the current run. Goaltender Evan Buitenhuis and forward Neil Conway have been key factors in Hamilton's success. Buitenhuis is among the leaders nationally in both goals-against average (1.32) and save percentage (.959), while Conway is second on the team in scoring (6-13-19) as a key element in the first line productivity with linemates Murden and Brandon Willett.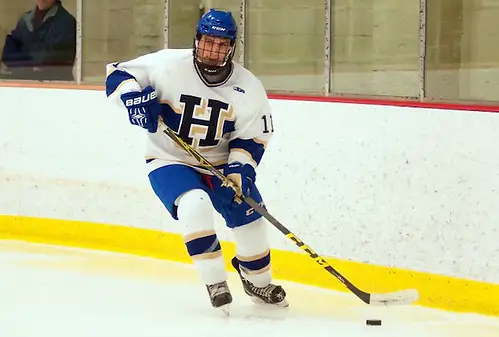 "I don't know if you would call it a breakout season for Evan," said Haberbusch. "He really had an injury-riddled season as a freshman, but what we saw in the five games he played was right in line with how he has played all year for us. We just needed him to get and stay healthy. He has told other media that his success comes from 'a culture of defensive responsibility.' I like that a lot and think Evan is right on with the team's commitment to solid team defense, but he has been there to shut teams down and pick us up with the big save when we need it."
Conway has built on his slow start as a freshman to be one of the impact playmakers on the Continentals' offense.
"Neil got off to a slow start as a freshman," Haberbusch said. "The final third of the season, he got it going. He didn't think he was doing much, but the coaches saw the improvement so much he moved onto the power play unit late in the season. During the summer, he made a big commitment to getting bigger and faster. He worked out hard and added 15 pounds of muscle in the offseason without sacrificing any of his speed and agility. He is stronger on the puck now and moved to a new plateau playing with the first line."
While the team and its coach aren't shying away from any conversation around the current streak, they also know that the hard work is upon them with the second half of the conference schedule kicking into high gear over the remaining weekends.
So how does a team on a roll keep it fresh and morale high coming down the home stretch?
It's all about doing a little less to achieve a little more.
"Now that classes are back in session, we had one practice day off per week," said Haberbusch. "The strategy to keep everybody's energy level up in these last few weeks is to add one more day off per week and shorten the remaining practices to keep everybody focused and less fatigued. The schedule really comes at you quickly after the break and we have high expectations from this group. We always target being in the top four for a home playoff berth, but I think this team wants and expects more.
"There is still a lot of work to be done. We expect the second half to be harder than the first and are preparing with a one-game focus. The next game is the most important one."
The next one is in fact a matchup with the defending national champs from Trinity on the road this Saturday night in Connecticut. Back in early December, the Continentals lost a heartbreaker at home in overtime by a 3-2 score after surrendering the tying goal in the final two minutes of regulation play. That was the last time they lost a hockey game this season.
"We are playing for ourselves and don't need any other motivation like making it about being a revenge game," noted Haberbusch. "We would like to keep the streak and the fun going – that is where our experience can make it count."