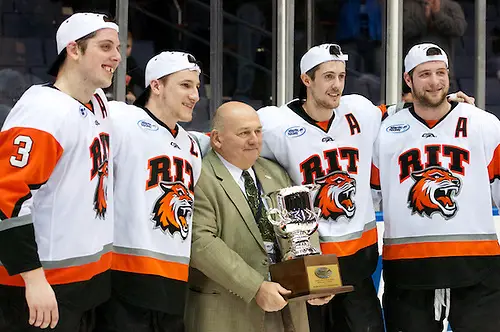 As the college hockey regular season approaches its final month, I sat down with Atlantic Hockey commissioner Bob DeGregorio to talk about a wide range of topics impacting his conference and its 11 member institutions.
In a sort of "State of the League," he addressed a number of different topics, ranging from on-ice results to off-ice possibilities.
The rise of competitiveness
In taking stock of the league's 11 teams, DeGregorio looked at how all of the teams are simply getting better.
"Robert Morris might have the best team in the league this year," he said, "but then they play Mercyhurst, who has a freshman goalie [Adam Carlson] stand on his head for 50 saves and earn them a tie. [Shane] Conacher from Canisius might be the league's best player. Army is getting better and better. Air Force is young and becoming very good."
Despite a need for more nonconference victories, the level of competitiveness is growing within the AHC. DeGregorio pointed out how Atlantic Hockey teams are scoring more marquee victories — Robert Morris defeated nationally ranked Penn State and UMass-Lowell to win the Three Rivers Classic; Army defeated nationally ranked Merrimack while also beating Connecticut; Bentley swept Northeastern; Mercyhurst split with Colgate and defeated Ohio State.
"I look at next year, and I see some really great, great nonleague games that are going to be great opportunities for us," he said. "We just need to tip the scale with more consistency."
One reason for the league's success is an elevation of its scholarship limit. Although the NCAA allows for a maximum monetary value of 18 scholarships, Atlantic Hockey allowed only 12 until last year. Over the past two years, they've phased in two more scholarships, bringing the league limit up to 14.
"The increase in scholarships allowed teams to offer athletes more money, which is helping them become much more competitive in recruiting," said DeGregorio, who anticipates the topic will be reviewed once again at the league's meetings this spring.
The need for nonconference wins
Since Niagara earned the only at-large bid in AHC history as the third seeded team in the 2013 West Regional, there's been a special interest in seeing it happen again. Fans, coaches, players and league officials alike would love to see it become a trend.
But even with strides forward, league teams aren't winning consistently enough to mathematically qualify. Despite winning the Three Rivers Classic, Robert Morris lost to Dartmouth and Union. After watching Mercyhurst split with Colgate, St. Lawrence and Clarkson both swept Rochester Institute of Technology and Niagara. There are wins and ties against Brown, Princeton, Arizona State and Bowling Green, but there's losses to the Alaska schools, Boston College, Boston University, New Hampshire and Penn State. AHC teams aren't exclusively at the bottom of the PairWise Rankings, but they're also not inside the bubble either.
"We are earning great opportunities," he said, "but it's for naught because we're also losing games. So even though we're getting more competitive, we're not winning enough games [to get a second team into the NCAA tournament]. We have to win some of those games."
Balance through growth
With Arizona State entering Division I this season as the 60th team, questions have swirled about another possible round of realignment. Depending on which, if any, teams move, DeGregorio indicated that Atlantic Hockey has to be ready for whatever the future holds.
"We're always looking beyond the possibilities currently in front of us," he said, "because we know there is no real quiet niche of 10 or 12 teams anymore in college hockey. We need to be willing to move with the growth of the game because as the game grows, more teams will need places to go."
That brings up the obvious question of expansion. With 11 teams, going to an even number would make scheduling balanced and protect rivalries.
"We certainly don't want to lose anyone," he said, "and we've talked to different schools to gauge their interest. We have let some schools know that we're willing to welcome them, but it's all their call. Adding a sport is a significant investment. So our focus right now has to be, as a league, to continue getting more competitive. We have to win more games to create success to become more attractive to any teams looking to add the sport."
Given the league's east/west configuration, DeGregorio acknowledged the difficulties in scheduling and said that the league is looking to protect rivalries. He acknowledged several solid rivalries developing inside the league's ranks, including Air Force-Army, Canisius-Niagara, Bentley-RIT and others.
"No matter what, protecting rivalries is a priority to us moving forward," he said.
Not feeling "Blue" at all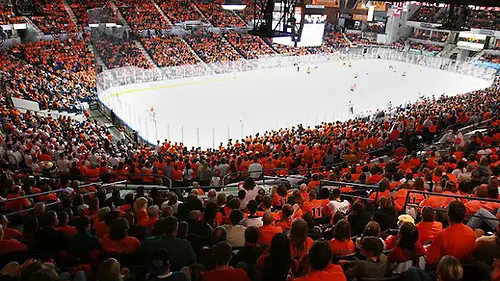 Before 2007, Atlantic Hockey played its championship game at campus sites. Beginning with that '07 game, however, the league's crowned its champion at Blue Cross Arena in Rochester, N.Y.
Atlantic Hockey is signed to Blue Cross Arena through 2017, a relationship the commissioner hopes can continue to blossom.
"We've made some inroads in the community and with sponsorship opportunities," he said, "so it's a relationship that we don't want to see end anytime soon."
Players of the week
Atlantic Hockey announced its Travel Team USA Weekly Honors this week, with the following picking up victories:
Player of the week — Bentley's Andrew Gladiuk: Gladiuk netted a natural hat trick in Bentley's five-goal third period last Friday. In helping the Falcons to a 6-1 victory at home, he scored three straight times in less than five minutes, while adding two assists for five points. If that wasn't enough to warrant honors, Gladiuk scored a goal and an assist in Saturday's 5-5 tie, giving him seven points on the weekend alone.
Defensive player of the week — Canisius' Jack Stander: Plus/minus might be one of my favorite stats in hockey, so it's worth leading off Stander's line with a plus-3 weekend against Holy Cross. He scored his first goal of the season on Saturday, adding an assist on the eventual game-winner in a 2-1 victory.
Goalie of the week — Canisius' Simon Hofley: Hofley shut down one of the league's best offenses, making 91 saves on 94 shots in the process. He became the first Golden Griffins player to post back-to-back 40-plus-save performances since Tony Capobianco four years ago. That type of performance took the honors away from Mercyhurst's Adam Carlson, who made 50 saves in a 2-2 tie against Robert Morris.
Rookie of the week — RIT's Gabe Valenzuela: Valenzuela scored three goals and was a plus-2 on the weekend in the Tigers' weekend sweep of Sacred Heart. After scoring a goal in a 3-1 win on Friday, he scored twice in a 5-3 victory on Sunday, a game postponed from Saturday thanks to Winter Storm Jonas.
Congratulations to Mercyhurst
In case you missed it this week, Mercyhurst announced that an anonymous donor contribution $250,000 for renovations and improvements to its hockey programs. Mercyhurst Ice Center, already undergoing a redesign of its lobby, will have further renovations done to locker rooms and arena seating.
As someone who follows and covers Atlantic Hockey, here's a hearty congratulations to men's coach Rick Gotkin, women's coach Michael Sisti and all of the Lakers family on a landmark day for their program.