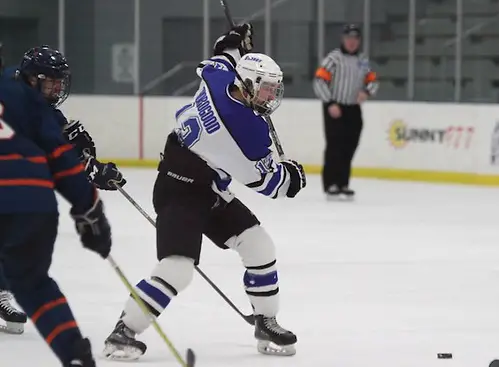 Derek Thorogood hasn't had to worry about a sophomore slump.
Nineteen games into his second season at Marian, the talented sophomore forward already has 11 more points (25) than he did all of last year when he scored nine goals and dished out five assists.
His numbers are impressive. In addition to seven goals, he has rung up 18 assists, helping Marian win six consecutive games. Along the way, Thorogood has scored a point in 12 consecutive games.
But Thorogood won't take all of the credit.
"My linemates (Hunter Stewart and Devin Stuermer) have made it easy for me to be successful," Thorogood said. "We have great chemistry and our new coach (Erik Largen) has us playing in a way that has led to opportunities for me to make plays."
Thorogood is native of Canada, growing up in Calgary, and he took three years off of school while playing junior hockey.
It took time to readjust to a life of balancing athletics with academics but Thorogood has figured it out.
"One of the biggest things was getting used to managing time again," Thorogood said. "I also had to get used to the game being faster at this level. But everything has worked out well for me."
He said one of the big keys to his adjustment to the game is that he is around players he is familiar with. He grew up with several of the players on the team and lives with them in college.
"I came in with five of the guys from Calgary and that made things a lot easier because I already knew people," Thorogood said. "It's been a great experience so far. I'm glad I have the opportunity to play college hockey."
Thorogood has no doubt made the most of his opportunity, making significant strides since last season. He went into the week ranking ninth in the nation in assists per game (0.95).
"I've improved both offensively and on defense," Thorogood said. "I think the fact that we play differently this year under a new coach has been a big part of why I've been so successful."
Hard work has also made a difference.
"We do a lot of work on and off the ice and that puts me in a position to be prepared to play every weekend," Thorogood said. "We're ready for every challenge that comes our way, and I feel like that has been a big part of our success as a team."
The Sabres, sitting at 11-5-3 overall and 9-4-1 in the conference, are riding a wave of momentum and playing with a great deal of confidence as they head down the final stretch of the regular season. They know they can play with the best in the country.
After all, they took one game from St. Norbert (4-2) at the start of the year and played Adrian close (4-4, 3-2) in a two-game series. St. Norbert and Adrian are currently the co-No. 1 teams in the USCHO.com Division III Men's Poll.
"We just have to keep playing the way we have up to this point," Thorogood said. "We were able to split with St. Norbert and we were right there to win against Adrian. We know we have a lot of potential and want to continue playing our best hockey as we get closer to the postseason.
Oles showing signs of improvement
St. Olaf went through a difficult stretch earlier this season, going winless in 10 consecutive games. The streak included eight losses in a row.
But the Oles have started to turn things around a bit. They played Gustavus Adolphus to a 3-3 tie in each of its two games against the Gusties over the weekend. They have lost only once in their last four games and sit at 3-11-5 overall and 1-5-4 in the MIAC.
Peter Lindblad has been a bright spot for St. Olaf despite the tough moments. He has tallied a team-best 11 goals and has also dished out eight assists.
Drew Otto is also playing well for the Oles, punching in eight goals to go along with six assists. Steven Sherman leads the team in assists with 11 and has also tallied three goals.
St. Olaf will have to be at its best to finish on a high note, though, as only two of its remaining six games are against an opponent with a losing record. The Oles play Bethel this weekend before taking on Concordia (Minn.) and St. Thomas in the final two weekends of the season.
Northland on a roll
Northland swept a weekend series against Aurora, beating the Spartans 4-0 and 4-3 to improve to 5-11-1 overall and 4-8 in the NCHA.
The Lumberjacks got two goals from Ben Owen in Saturday's win, the final one serving as the game winner. Owen has played in 11 games this year and has racked up two goals and three assists.
Lucas Benedet leads the team in goals scored with six and he has also dished out six assists. The Lumberjacks have tallied 39 goals in all.
AJ Smith is only a freshman, but has five wins to his credit.
Northland has the potential to close the season riding a wave of momentum. After the Lumberjacks play at Finlandia Friday, the final seven games will be played at home.
No matter how the rest of the year plays out, the Lumberjacks have no doubt turned things around. They opened the year on a five-game losing streak and lost seven of their first eight overall.But they have played better as of late and already have two more wins than they did all of last season.
Falcons eager to bounce back
Wisconsin-River Falls saw its 11-game unbeaten streak come to an end Saturday in a 4-3 loss to Wisconsin-Stevens Point in a WIAC showdown.
But the Falcons are still in first place in the conference, sitting atop the standings with a 3-1 record. They are 12-5-3 overall.
River Falls plays its final nonconference game of the year Thursday as it takes on Bethel before closing the regular season with two games against Wisconsin-Stout and two against Wisconsin-Superior.
The loss to Stevens Point marked only the second time in the last 12 games that the Falcons have allowed more than two goals in a game. In fact, it's only the fourth time it has happened all year.
Goaltender Tanner Milliron deserves a lot of credit for that success on defense. He has won 11 games this year and has two shutouts to his credit. Milliron owns a 1.76 GAA with a .928 save percentage and three shutouts.
The Falcons have given up only 34 goals all year while scoring 57. Kyle Gattelaro leads the way with seven goals. He has also dished out seven assists.
Best of the West
The top spot in the latest USCHO.com poll is shared by Adrian and St. Norbert. The co-No. 1 teams in the nation split an NCHA series last weekend. Stevens Point checks in at No. 5 this week while Wisconsin-Eau Claire is also in the top 10 as it's ninth this week. River Falls is 12th and the Milwaukee School of Engineering and St. Scholastica are 14th and 15th, respectively.