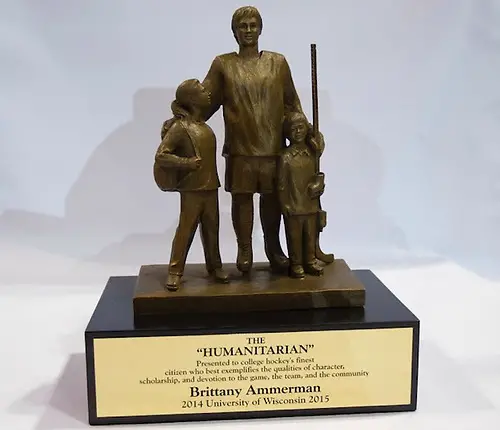 Five senior players have been named finalists for the 2016 BNY Mellon Wealth Management Hockey Humanitarian Award.
They are: Harvard forward Kyle Criscuolo, Air Force goaltender Chris Dylewski, Babson goaltender Jamie Murray, Cornell defenseman Morgan Richardson and Brown defenseman Allison Rolandelli.
Presented since 1996, the award honors college hockey's finest citizen, with nominations open to men's and women's players from Divisions I, II and III.
The 2016 recipient will be named at the Frozen Four in Tampa, Fla., on April 8.
Here are the biographies of the finalists, courtesy of the Hockey Humanitarian Award Foundation:
Kyle Criscuolo, Harvard senior forward, Southampton, N.J.

Senior co-captain Kyle Criscuolo has been everything Harvard Hockey could ask for in a leader. The New Jersey native is among the top point scorers on the team and he has been successful in the classroom, receiving the 2015 ECAC Student-Athlete of the Year award. His leadership carries over into the Harvard and Boston communities as well. He has led Harvard Hockey through a number of community service initiatives during his career. Included in those initiatives are the Making Strides Count Program, his organization of a volunteer day at the Cristo Rey School, programs with the Special Olympics, hosting learn-to-skate programs in conjunction with the One Summit organization, banding a team for the annual Boston Wiffle Ball Challenge for charity and his early morning efforts at the Y2Y homeless shelter in Cambridge. All of this has also made him a candidate for the Senior CLASS Award.

Chris Dylewski, Air Force senior goaltender, Colorado Springs, Colo.

A senior goaltender, Chris Dylewski's contributions to the Air Force Academy and the Colorado Springs community are unparalleled. He founded a non-profit company, RISE, Inc., whose mission is to develop the skills needed for ethical and inspirational leadership. Chris has travelled to Juarez, Mexico to assist with building a home in an intensely impoverished area, providing much-needed housing for four families. Chris took the lead on working with a young boy, Jason, who suffers from a rare skeletal disease. In part due to these efforts, Chris recently became a recipient of the prestigious Spirit of the Springs Award, presented by the mayor of Colorado Springs. He founded two cadet clubs – Operation Safe and the Genocide and Mass Atrocity Awareness Club – and was instrumental in arranging for the Wounded Warrior sled hockey team to practice at the Academy's Cadet Ice Arena.

Jamie Murray, Babson senior goaltender, Scituate, Mass.

Murray founded the Cure For Cole Wiffle Ball Tournament to benefit his neighbor who was diagnosed with Focal Segmental Glomerulosclerosis as a child. The tournament has attracted over 1,110 competitors and raised more than $31,000 over the last six years. In 2013, he organized Roller Hockey to Remember following the Boston Marathon tragedy. This event has raised close to $10,000 while supporting the One Fund and a pair of charities with ties to family and alumni of the Babson hockey program. Murray also helped run a memorial hockey tournament for his late friend Patrick Falaro in April 2014 that raised $8,200 for Scituate Recreation and the Pine Street Inn homeless shelter. A two-time All-America selection and the 2015 Joe Concannon Award winner, Murray carries a 3.61 grade-point average and is a two-time Hockey Humanitarian Award finalist.

Morgan Richardson, Cornell senior defenseman, Ottawa

In addition to being a leader on the Cornell blue line, Richardson has been making her mark on the greater hockey community and beyond. After her sister Daron tragically took her own life in 2010 at the age of 14, Richardson and her family founded Do It For Daron (DIFD), an organization dedicated to promoting mental health awareness, particularly in youth. Richardson has been instrumental in the cause's growth throughout the hockey world, with teams at every level – from youth to college to professional – hosting their own DIFD events and donning the cause's recognizable purple heart. Dedicated to ending the stigma around free and open discussion of mental health, DIFD has raised over $4 million since its founding, and Richardson has assisted in distributing the funds to a number of mental health awareness programs throughout the U.S. and Canada.

Allison Rolandelli, Brown senior defenseman, Minnetonka, Minn.

To honor her mother, who lost her battle with cancer in 2014, Rolandelli has sought various ways to help cancer patients. She was a driving force in the effort to amend compliance regulations so that NCAA student-athletes have the right to participate with Love Your Melon, a student-founded apparel brand that not only gives hats to children battling cancer but also funds research and provides support for in-treatment children and their families. Rolandelli organizes visits with children at homes and hospitals, building relationships by playing games and socializing to take their minds off of the illness. For the past four years, Rolandelli has been volunteering weekly at an elementary school, interacting with first graders by helping them with schoolwork and sharing her experiences as a student and athlete. Within hockey, Rolandelli has volunteered as a skating coach the past two years, working with children and adults with developmental disabilities.
The Hockey Humanitarian Award Foundation will make a donation to the charity most important to each finalist.
U.S. College Hockey Online has been a Hockey Humanitarian Award media and marketing partner since 2007.