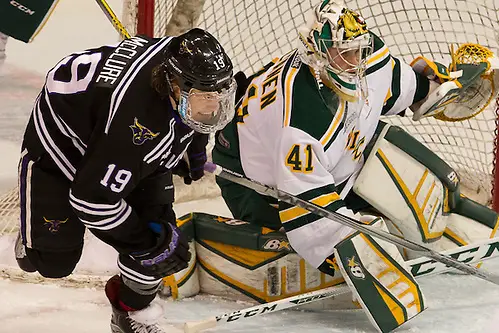 The bandages have finally been lifted from Northern Michigan's banged-up roster. With four wins in their previous eight games, the Wildcats are finally feeling healthy and seem ready for the WCHA's stretch run.
"With us, the story of our season is our injuries," Wildcats coach Walt Kyle said. "We're just now starting to get the team we thought we had at the beginning of the year."
The Wildcats' lineup at times this season resembled a medical clinic — lots of key players out of the lineup for various ailments.
Junior goaltender Mathias Dahlstrom has played in just five games this season because of a number of injuries. Sophomore defenseman Zach Urban didn't play until right before Christmas. Forwards Sami Salminen and Justin Rose were out from October until last weekend's series with Alaska-Anchorage.
And so on.
But Kyle didn't want his team to use that as an excuse, and the Wildcats didn't. Despite the depleted lineup, the Wildcats have hung around in the WCHA standings and are in fifth place with eight games to play.
"Through the first course of the year we weren't worried about who we didn't have, we were worried about who was on the ice," Kyle said. "We had to make sure that those guys took care of business, and they did a good job."
Goaltender Atte Tolvanen is one of those players. The Finnish freshman is 6-8-6 and has a 2.30 GAA to go along with a .931 save percentage.
"Quite honestly, we thought he'd be backing Dahlstrom up from day one, but he has been phenomenal," Kyle said. "He's probably the reason we're still in the hunt for home ice."
Northern Michigan is 12-10-6 overall and 9-7-4 in the league. Up until the Anchorage series, the Wildcats hadn't produced a weekend sweep against anyone. But against the Seawolves, they managed to win a pair of one-goal games and keep pace with Ferris State — the team ahead of them in the standings.
"For us to be a little more consistent over the past couple weeks, it's probably due to the fact that we're just kind of getting guys back in that we thought would be regulars in the lineup and play big roles," Kyle said.
They've also gotten big contributions from senior forward Darren Nowick, who leads the team with 25 points and has a point in all but one of the last eight games, and junior forward Dominik Shine, who had four points in the Anchorage series.
Up next for the Wildcats just so happens to be Ferris State. The Bulldogs are on a seven-game unbeaten streak and are four points ahead of Northern Michigan for the fourth and final home-ice playoff spot in the standings. Ferris has 26 points to Northern Michigan's 22. Further ahead are Michigan Tech and Bowling Green, who each have 29 points.
The Wildcats also happen to have games in hand on both Ferris and Tech and play both of them head-to-head in the season's final month. In other words, a home playoff series for is quite attainable.
"It's right there for us," Kyle said. "They're both really, really good teams and they're ahead of us. We're telling the guys, 'You want it, go get it.'"
Nanooks look to regroup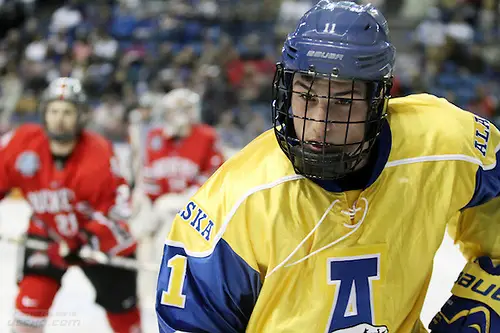 Alaska is in ninth place in the 10-team WCHA with 14 points, two behind Lake Superior State and Alaska-Anchorage, who are tied for seventh. Sitting idle this weekend, however, the Nanooks will have to wait another week before trying to climb back into playoff position, as the WCHA's bottom two teams do not make the conference playoffs.
The Seawolves are also idle, while the Lakers travel to Bemidji State to face a team sitting just two points up in the standings.
For Alaska, the break could be a chance to regroup. It has lost five games in a row and six of its last seven.
In two home losses last weekend to Ferris State, the Nanooks were without their leading scorer and one of the WCHA's top point men, Tyler Morley, who was injured the previous Saturday at Wisconsin. Morley has 24 points, which is tied for fourth overall in the scoring race.
"We can talk about who's not in our lineup but I think it's more important who's in our lineup," coach Dallas Ferguson told the Fairbanks Daily News-Miner after Friday's 4-0 loss to the Bulldogs. "We need everyone who has the opportunity right now to be digging in. [Morley's] a great player, but he's not available right now. We have 20 guys that were dressed tonight; that's the guys we have to focus on."
Alaska fell 2-1 in overtime the next night. The Nanooks will host Bowling Green on Feb. 19-20.
"The next two weeks will be about continuing to get sharper and sharper and mentally preparing for Bowling Green," assistant coach Lance West said after Saturday's game. "The one thing we can look forward to is that we can control our destiny, and I think we're very fortunate to have that situation. We have to stay positive and focused in order to will our way into a playoff spot, and then we can see what happens from there."
Ice chips
• Alabama-Huntsville is still in last place in the league standings — it has 11 points and is five points out of the WCHA playoff picture — but it's not eliminated yet. All three teams the Chargers were chasing (Alaska, Alaska-Anchorage and Lake Superior State) were swept last weekend. The Chargers also have two games in hand on both Alaska schools. UAH hosts league leaders Minnesota State this weekend, and it'll need some points if it wants to have a shot to get back into playoff position.
• Alaska-Anchorage forward Blake Tatchell leads the Seawolves with 20 points (7-13–20). He needs just one more point to become the 23rd Seawolves player ever to net 100 career points.
• Markus Gerbrandt's goal in Bemidji State's 2-1 win over Minnesota-Duluth on Tuesday, was the senior forward's third game-winner of the year. He now has five points in his last three games, including four at the 2016 North Star College Cup on Jan. 30-31. Gerbrandt has 20 points on the year, with 14 assists — a career-high — and six goals.
• Bowling Green senior forward Mark Cooper has enjoyed playing Minnesota State. After scoring two goals in Saturday's 3-1 win at Mankato to earn a series split, he has eight career goals against the Mavericks (four this season). He has 41 career goals. Cooper has six points in his last six games and leads the Falcons with 12 goals and 19 points.
• Ferris State's sweep of Alaska last weekend was the Bulldogs' first of the season. In all 14 weeks during the 2015-16 season, Ferris State has come away with at least two points. The only weekend without a victory was Nov. 13-14 when the Bulldogs skated to two ties with Alaska in Big Rapids.
• Of its four conference series since the start of 2016, Lake Superior State has played the top three teams in the league (Minnesota State, Michigan Tech and Bowling Green). The Lakers are 1-5 against those teams, with the lone win coming against Bowling Green on Jan. 8. The Lakers are mired in a five-game losing streak after sweeps by Tech and Minnesota and losing the second game of a series against Alaska-Anchorage on Jan. 17.
• Minnesota State's Bryce Gervais' two short-handed goals on the same penalty Friday night came 1:22 apart. It wasn't the fastest such feat in WCHA history. According to the WCHA record book, the fastest two short-handed goals scored by the same player came 31 seconds apart and were scored by Colorado College's Bruce Aikens against Minnesota in 1981. Three years earlier, Minnesota-Duluth's John Harrington scored two shorties in a span of 40 seconds against Michigan. Harrington is now the Minnesota State women's hockey coach. In 1990, UMD's Doug Torell scored two 44 seconds apart against Denver.
• Michigan Tech goaltender Jamie Phillips added to his own school record for career shutouts with a 3-0 win over Lake Superior last Friday. He has two this season and nine in 81 career starts. Phillips also moved into second on Tech's all-time wins list; he is 16-5-5 this season and 50-23-8 in his career.
• This week's WCHA players of the week are Michigan Tech senior forward Max Vallis (offensive), Tech senior goalie Phillips (defensive) and Ferris State freshman goalie Darren Smith (rookie).