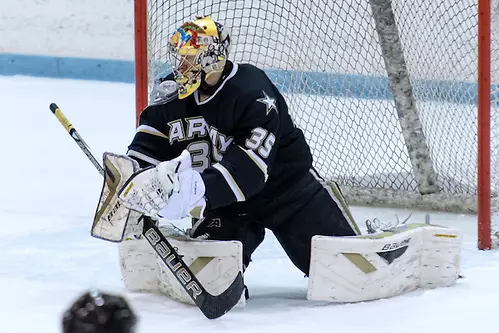 With two weekends left in the Atlantic Hockey regular season and anticipation building for the postseason, teams expected to be playoff underdogs are sending a message: Don't take us lightly.
Three squads at or near the bottom of the standings — Niagara, American International and Army West Point — were a combined 2-2-2 last week against higher-ranked competition.
AIC earned a road split at third-place Rochester Institute of Technology, while Niagara tied fifth-place Mercyhurst twice and Army West Point split with league leader Robert Morris.
The Black Knights have been one of the hottest teams in the conference in recent weeks, unbeaten in seven games before a 3-0 loss at Robert Morris on Saturday.
It's not a coincidence that the three goals allowed by the Black Knights in that game (one was an empty-netter) was the first time in nine contests that they surrendered more than two.
"We've been playing pretty well since Christmas," said Army West Point coach Brian Riley, in his 12th season.
"I liked how we played against Merrimack (3-2 win), UMass (2-1 loss) and then Sacred Heart, which was really our only bad game (4-1 loss). Our defense has been outstanding and keeps us in every game, but we need to get better at putting the puck in the net."
The Black Knights have indeed been better offensively as of late, averaging about a half a goal a game more than in the first semester. Riley said that's a result of his young team gaining confidence.
"It's an improvement that comes with experience," he said. "There's more confidence that when every line goes over the boards, there's a chance they're going to score."
USCHO Live!: Hear Army West Point coach Brian Riley on the Feb. 16 edition
Five of the six leading scorers for Army West Point are freshmen or sophomores, led by pair of second-year players, Conor Andrle (24 points) and Brendan McGuire (eight goals).
"Conor Andrle has been good for us all year," said Riley. "And guys like [junior] C.J. Reuchlein and [sophomore] Nick DeCenzo have been getting more [scoring] opportunities."
But the MVP for the Black Knights so far has been goaltender Parker Gahagen (2.29 GAA and .930 save percentage). He's allowed just 12 goals in his last eight starts.
"Parker's been really good for us, especially in the second half," said Riley. "He's such a calming influence for us. He makes the saves you expect him to make, and he makes some more. He's been a rock."
Army West Point is in eighth place, two points ahead of Sacred Heart for the final home-ice slot in the first round of the playoffs. The Black Knights host Mercyhurst this weekend and then finish up with a home-and-home series against Bentley.
Riley's team can finish anywhere from fourth to 10th. Battling first-place Robert Morris to a tightly contested split last weekend has the Black Knights feeling good about themselves heading into the home stretch.
"I told the guys before the series that this is right where we want to be, going up against the first-place team and seeing how we measured up," said Riley.
"And I told them after that I was pretty proud of them."
It's that time again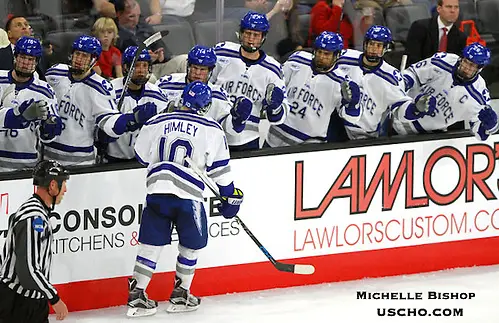 With most teams down to their final four games of the regular season (Bentley and AIC have just three left), it's time to dig out the tiebreakers.
If the end to this season is anything like the past several, they're going to be consulted often as we go down to the wire.
They are:
• 1. Winning percentage head-to-head
• 2. Conference Wins
• 3. Goal differential in head-to-head contests
• 4. Goals allowed in head-to-head contests
• 5. Winning percentage head-to-head against teams seeded 1 through 11, starting with the No. 1 seed.
• 6. Goal differential in games against teams seeded 1 through 11, starting with the No. 1 seed.
Keep in mind that first through fifth place comes with a first-round bye, and a top-four finish guarantees home ice in the quarterfinals.
The sixth-, seventh- and eighth-place teams will host first-round series with the bottom three finishers.
Based on the current standings and the appropriate tiebreakers, we have the following possible scenarios:
Robert Morris: The Colonials are the only team at this point that has clinched a first-round bye. RMU can finish anywhere from first to fifth.
Air Force: Can finish anywhere from first to sixth.
RIT: Also will finish between first and sixth place.
Holy Cross: The Crusaders are still in the running for the regular season title, and can finish anywhere from first to seventh.
Mercyhurst: The Lakers have the widest potential spread at this point, first through ninth.
Canisius: The Golden Griffins were the only team to sweep last weekend. They will finish between second and ninth.
Bentley: The Falcons were swept by Canisius last weekend, and only have an outside shot at a first-round bye. They can end as high as fifth and as low as 10th.
Army West Point: The Black Knights trail Bentley by a point with a game in hand, and are looking at finishing anywhere from fourth to 10th.
Sacred Heart: The Pioneers were idle last week. With four games left, they can finish between fifth and 11th.
Niagara: The Purple Eagles are tied for 10th place with AIC, but have a game in hand. They still have a shot at home ice in the first round, potentially ending up between seventh and 11th.
American International: The Yellow Jackets will be on the road in the first round. They will finish as high as ninth and as low as 11th.
Things will be narrowed down considerably by this time next week.
Century club
It's also the time of the season where some players are near or have reached the 100-career-point mark.
Two players are knocking on the door, and another pair share the league's career scoring lead for active players. In all, five players have amassed 100 points or more:
Andrew Gladiuk, Bentley: The senior came into the season with 108 points. He's added 35 more for a total of 143.
Zac Lynch, Robert Morris: Lynch started his senior season with 101 points; he has 143 total in 143 games.
Ralph Cuddemi, Canisius: Cuddemi has piled up 114 points to date, including 33 this season.
Josh Mitchell, RIT: The senior picked up his 100th career point on Jan 16, and has 113 so far.
Greg Gibson, Robert Morris: Gibson hit the century mark on Jan. 23. He's got 106 to date.
Shane Conacher, Canisius: Just a junior, Conacher is at 99 points.
Max French, Bentley: Also only a junior, French has 97 career points, including 40 this season.
Weekly awards
All four awards have a Western New York connection this week.
Player of the week — Dylan McLaughlin, Canisius: The rookie put up a whopping six points, all assists, in a sweep at Bentley. He had four on Saturday, tying a school record.
Goalie of the week — Parker Gahagen, Army West Point: The Buffalo, N.Y., native stopped 82 of 85 shots in a split at Robert Morris.
Rookie of the week — Felix Chamberland, Canisius: Chamberland had a pair of goals and an assist, his most prolific weekend to date.
Defensive player of the week — Jimmy Mazza, Canisius: Another Canisius rookie, Mazza had a goal and two assists last weekend.