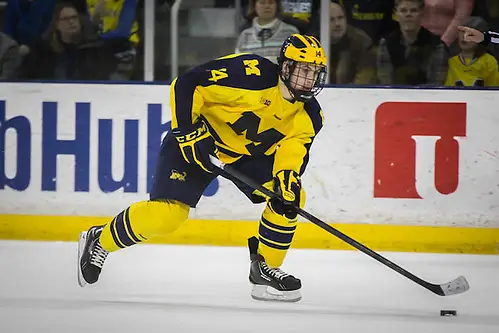 We are looking at a month of regular season hockey before the Big Ten tournament. Ohio State and Wisconsin both have eight games left; everyone else has six.
And I can't help but think that the last-place Badgers have already played the spoiler.
Minnesota and Michigan were each tied for first place heading into last weekend, and each played on the road. The Golden Gophers swept Ohio State while the Wolverines took five of six possible points from Wisconsin. Given that Minnesota and Michigan face off against each other in Minneapolis on Feb. 25-26, there is a good chance that the Wolverines will be feeling that single point from Saturday's 4-4 tie for the remainder of the season.
After Michigan picked up the extra point in Saturday's shootout, junior forward Tyler Motte said, "Five of six on the road is not too bad, but you always want to get six."
Yes. Yes, you do.
The Wolverines and Badgers scored alternately throughout regulation, with Wisconsin tying the game at 19:33 in the third. The Badgers outshot the Wolverines 44-33, too.
"We were lucky to come out of here with two points," said coach Red Berenson. "Really lucky. If it weren't for our goalie, we wouldn't have got anything. They were the better team on the night, and he held us in the third period, the overtime and then the shootout."
It's another example of Michigan's team defense being exposed. Senior goaltender Steve Racine (2.85 GAA, .915 save percentage) has really steadied himself in net as the season has progressed, but that team in front of him is often too reliant on its impressive offense. The Wolverines entered the weekend averaging nearly six goals per game in Big Ten play and still lead the nation with 4.78 goals per game.
In all my years of covering college hockey, I don't believe I've ever seen a team in either the CCHA or the Big Ten that has had the ability to control its destiny that this Michigan team does. I've certainly never seen an offense this prolific, deep, confident and talented, and there is plenty of talent on the blue line.
That inability to put away a last-place team — and I mean no disrespect to Wisconsin — means that Michigan may need to play some pristine hockey between now and mid-March. Even if the Wolverines split with the Golden Gophers when they meet Feb. 25-26, Michigan will need a few unintentional favors, things beyond their control to fall into place for the Wolverines to secure their first regular season Big Ten championship, something that seemed a bit closer just a short while ago.
So kudos to Minnesota, a team that has learned in the second half how to take care of its proverbial business.
The Golden Gophers' sweep of Ohio State in Columbus gave them sole possession of first place by that single point. Having been taken to overtime by the Buckeyes twice in Minneapolis in December, it was no surprise that Friday's 5-4 win went to overtime — because of Buckeyes forward Matthew Weis' goal with literally one second left in regulation — and it was no surprise that Saturday's 4-3 game was as close as it was, with OSU netting two third-period goals to make it interesting.
Still, in each game, the Gophers found a way to win. Justin Kloos had the game-winning goal at 3:25 in overtime Friday, and goalie Eric Schierhorn kept things from getting out of hand after the Buckeyes scored those two late goals Saturday.
Minnesota junior forward Vinni Lettieri, who had two assists in the series, said that the Gophers were focused heading into the weekend.
"Especially on the road, and Ohio has been playing some good hockey in their own place, so it was big for us to get this sweep," he said. "We wanted to come here prepared [to get] a lot of points out of this, so we accomplished our goal coming here, and, yeah, we're happy about it."
(Someone should tell Lettieri that the Buckeyes don't take kindly to being called "Ohio" without the "State." Or maybe he already knows that.)
Junior Hudson Fasching, who had two goals and two assists on the weekend, said that Minnesota was looking to recover from a close loss to Penn State the week before — and that the Gophers are keenly aware of their ability to let down late in the game, something that cost them more than once in the first half of the season.
"We still have a tendency to play on our heels when we have a big lead," said Fasching. "We've got to learn to keep that lead … and just never quit. We focused on some details in the last couple minutes, six on five, making sure our positioning was good and I think we played really well."
Minnesota may be 16-13 overall — making it a bubble team in the PairWise Rankings — but the Gophers are 11-3 in the Big Ten.
The Wolverines have just four losses total this season (18-4-5), but they're 9-2-3-2 in B1G play. Their overall play, however, puts them sixth in the PWR and they'll likely make the NCAA tournament for the first time since 2012.
The Gophers will host the Wolverines for a Thursday-Friday series to end the month, but neither plays conference hockey this weekend. Minnesota doesn't play at all, enjoying a bye before heading into the final three weeks of regular season play, while the Wolverines will host their old CCHA foe, Ferris State, for a single game Friday.
Some magic numbers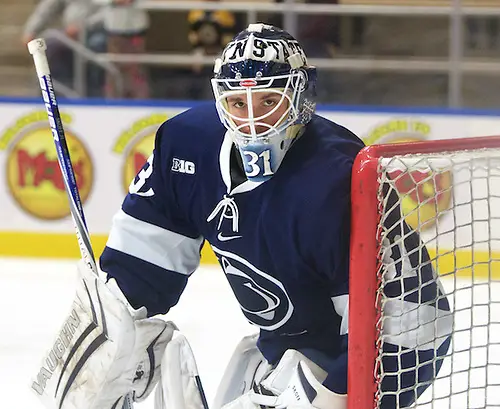 Minnesota and Michigan can look toward their late-February matchup as a series that could decide the championship. But what about the rest of the league?
Minnesota has 33 points, Michigan has 32 and Penn State is in third place with 26 points. The Nittany Lions still have a mathematical chance of capturing first place, while fourth-place Ohio State, with 12 points, still has a theoretical chance to tie for first, believe it or not.
Of course, for the Nittany Lions to advance to first place, they'd likely have to win their six remaining games — which includes a pair against Michigan, a team they play well — and have significant help from other teams that play Minnesota. It wouldn't hurt to chant and burn some sage, too.
The Buckeyes have eight remaining games, so winning out to secure 36 points would be necessary … plus an appeal to the universe for an alignment of the planets and maybe a special favor from a unicorn.
Realistically, the Nittany Lions likely will remain in third place, and they need two wins to secure third or fourth place; they cannot finish lower than fifth.
The Buckeyes, Spartans and Badgers can each finish in the cellar, given that Michigan State is two points behind OSU with 10 points and Wisconsin has seven points. Neither the Spartans nor the Badgers can finish higher than third place, although in the extremely unlikely event that Wisconsin wins its final eight games, the Badgers can finish as high as fourth place.
Seeding tiebreakers for the Big Ten tournament:
• 1. Greater number of Big Ten regular-season wins.
• 2. Best regular season win percentage.
• 3. Comparison of total goals for and against in conference games.
• 4. Comparison of win percentage against remaining highest-ranked teams in conference play.
• 5. Coin toss.
Even if there is a tie, I somehow doubt things will get as far as a coin toss.
Speaking of spoilers
It shouldn't have come as a surprise, really, that the Badgers played the Wolverines close in at least one game last weekend. In Ann Arbor earlier this season, Wisconsin scored 10 goals against Michigan and still managed to come away with just a single point — the Wolverines won 6-4 and the teams tied 6-6 with Michigan taking the extra shootout point.
"In Michigan, we had talked about the term, 'Flirting with victories,'" said UW coach Mike Eaves. "We did that there, losing 6-4 and tying 6-6. On Saturday night, it's happened several times we've come off the bench and shaken the other coaches' hands and they've been very complimentary to our group, but that and 90 cents will get you a cup of coffee. It won't get you a 'W.'"
With a month to go, Eaves said that the Badgers are "still tinkering" with things and that they're "forging to that point" where they want to be, but he's hesitant to say what the overall expectations are of his still-emerging team.
"I think it would be hard to paint a picture of what it is without limiting us or selling us short," said Eaves. "The fact that what we did against Michigan both there and here is a clear indicator … that we're knocking on that door. I think it's still part of our maturation process to do more things better. The mistakes that we've made continue to be really big ones, but we continue to making better plays with the puck."
This Friday and Saturday, Wisconsin hosts Michigan State. The Spartans and Badgers split a pair of games in East Lansing on Dec. 11-12.
And while we're still kind of talking about Michigan …
Michigan's top line of freshman Kyle Connor and juniors JT Compher and Tyler Motte — the group known as the CCM Line — is still the most prolific in the country. Motte (27-15–42) leads the nation in goals and is enjoying an 11-game goal-scoring streak.
Connor (22-26–48) leads the nation in points per game (1.78) and Compher (11-32–43) is second in that category. Motte is fourth in points per game, in case you're wondering, first in goals per game (1.00), and Connor is second in goals per game (0.81).
The trio is responsible for 45.6 percent of Michigan's overall goal production this season.
And as junior Alex Kile and senior Justin Selman have reached the 10-goal mark, the Wolverines have five players with goals in double digits.
In 35 games last season, Motte had nine goals.
'I think Hildy's found his groove again.'
The Spartans are a bit of a puzzle this season. They looked good early on, and then they simply didn't. All-American goaltender Jake Hildebrand had a great start to his senior year, and then really struggled from November until recently.
His numbers were nowhere near what they were in his first three seasons, with a save percentage below .900, but in the five games leading up to Michigan State's home series against Penn State last weekend, Hildebrand had given up two or fewer goals per game, posting a .926 save percentage and 2.40 GAA from Jan. 16 to Feb. 5.
In that stretch — all Big Ten games — Hildebrand received little support and had a 2-3 record to show for his solid play.
Last Friday, Hildebrand received less than little support. The Spartans lost to the Nittany Lions 6-1 and were outshot by Penn State 49-29. The Nittany Lions put up 20 shots to the Spartans' eight in the first period alone yet led only 2-0 after one, which is a clear indication of who was prepared for that game on the Michigan State bench and who was not.
After the 6-1 loss, Michigan State coach Tom Anastos didn't mince words. "We didn't defend very well, and when I say that, I'm talking about all over the ice, from the offensive zone on back," he said. "We got on the wrong side of pucks, we gave them too much time, we allowed them to play through us. We didn't cover people when they went to the net. We played poorly."
The Spartans and Nittany Lions tied 2-2 Saturday night.
Heading into the weekend against Wisconsin and into the Spartans' final six games, Anastos is still positive about his team's potential for growth.
"We've got to create way more consistency to our game, and way more consistency up and down our lineup and performance," said Anastos. "That's what causes frustration at times for all of us is that we see a level that we're capable of playing. We have excellent goaltending, and in this sport that is a dynamic that's a game-changer, so it's up to us to figure a way to put it all together and get better between now and the end of the season and go into the tournament and see what kind of noise we can make.
"I think our goaltending has been much better. I think Hildy's found his groove again."
It would help the Spartans significantly if the rest of the team could find its collective groove as well.
So, so close
With a 5-4 overtime loss and a 4-3 loss in regulation — one in which it scored two third-period goals to draw to within one — Ohio State nearly played spoiler itself last weekend.
Following Saturday's game, there was far more optimism than frustration in coach Steve Rohlik's voice.
"That's what makes me excited to come to work every day," said Rohlik. "We have eight games left and I truly believe this team can win any night. Our record might not show that right now, but I believe in these guys. I believe in our room."
Ohio State went 0-4 against first-place Minnesota in the regular season, losing every game by a single goal, three of them in overtime. In their last game, the only contest not to go to OT, Rohlik said that he loved the way his team played in the third period.
"Sometimes when you play desperate hockey you play your best hockey and we were doing that," he said. "I certainly would have loved to have seen five more minutes on the clock."
The Buckeyes play five of their remaining eight games on the road, including this weekend's series against the Nittany Lions. OSU is 1-9-1 on the road this season.
Senior night for the Nittany Lions
In their third year affiliated with the Big Ten and their fourth year as a Division I program, the Nittany Lions will be saying goodbye to a foundational class at the end of 2015-16, eight seniors who have helped define the team's identity: forwards Kenny Brooks, David Glen, Curtis Loik, Tommy Olczyk and Eric Scheid; defensemen Luke Juha and Connor Varley; and goaltender Matthew Skoff.
This weekend, the Nittany Lions are playing their last home series of the season as they host Ohio State, and Glen, the captain, had something to say about that.
"We came in on the ground floor and hopefully we set the foundation for the future of this program," he said. "We've grown leaps and bounds since our first year."
Penn State hockey's student section is called "The Roar Zone," and Glen called them "the best student section in the country." While he's biased, after having witnessed their dedication when the Nittany Lions played the Wolverines in Madison Square Garden at the end of January, I can say that PSU fans are a spirited, dedicated bunch.
So dedicated, in fact, that the Roar Zone bused 16 hours round-trip to last Saturday's game in East Lansing. Glen called them "absolutely amazing" — especially since the bus lost a wheel on the return trip to Pennsylvania.
Three stars of the week
A trio of junior forwards, and not one of them a stranger.
First star — Minnesota junior forward Justin Kloos: Kloos scored two goals in Minnesota's 5-4 win over Ohio State last Friday, including the game-winning overtime goal. Kloos had two assists in Minnesota's sweep of OSU, one in each contest, and Saturday's helper extended his point-scoring streak to 11 games. Kloos has 14 goals in 29 games this season, one more goal than he had in 10 contests last year. This is his fourth weekly Big Ten award and his first this season.
Second star — Minnesota junior forward Hudson Fasching: Fasching also had two goals and two assists in the Gophers' sweep of the Buckeyes, an assist Friday and three points Saturday, including a short-handed goal. Through 29 games, Fasching leads Minnesota in scoring (18-15–33) and has registered more goals this season than he had in each of his two previous years. This is his seventh weekly Big Ten award and his third this season.
Third star — Michigan junior forward JT Compher: Compher led the Wolverines in scoring with a goal and four assists in Michigan's win and tie against Wisconsin, including three assists in Friday's 4-1 win, matching his previous career high. His goal and assist Saturday extended his point-scoring streak to 16 games. Compher (11-32–43) is one goal short of his 2014-15 total and has matched his goal production from his freshman season. This is his fifth weekly Big Ten award and his second of the season.
My ballot
1. Boston College
2. Quinnipiac
3. St. Cloud State
4. North Dakota
5. Providence
6. Michigan
7. Notre Dame
8. Boston University
9. Yale
10. Denver
11. Harvard
12. UMass-Lowell
13. Omaha
14. Michigan Tech
15. Penn State
16. Minnesota
17. St. Lawrence
18. Miami
19. Clarkson
20. Robert Morris