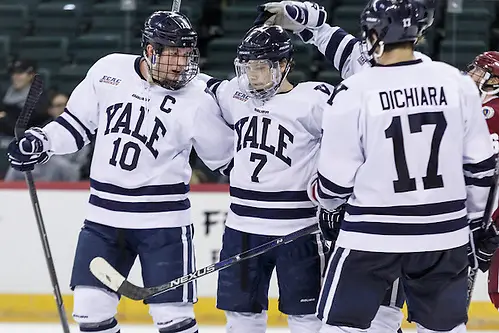 Yale freshman left winger Joe Snively said the transition has been comfortable in his first season with the Bulldogs.
It's easier, certainly, given that his team is on a five-game winning streak heading into the regular season's final two weekends and is second in the ECAC Hockey standings behind No. 1 Quinnipiac.
It also helps that Snively has been a major contributing factor. On a team known for its strong defense and stellar goaltending, Snively stands out in a good way. It's what he expected going in. The success along the way, and a chance to do some damage in the tournament, is icing on the cake.
"I didn't really know what I would be producing in terms of goals," said Snively, who leads Yale with 22 points on nine goals and 13 assists. "I knew going in that I wanted to make an impact offensively. I just wanted to help a team that, I saw last year, was really good defensively. We've started scoring more goals."
Yale's last loss was a 2-1 decision to Union on Jan. 29. Since then, the Bulldogs have outscored their opponents 17-4. Snively, paired with junior bruiser John Hayden and skilled senior center Stu Wilson, has added two goals and five assists in that stretch.
"I just played my game," he said. "When the offensive opportunities do come, the coaches encourage us to be creative and just play offense."
Snively, a Virginia native, got introduced to hockey at a young age. His father and older brother played. He grew up watching it. In 2011, Snively's sophomore year of high school, the winger started opening up the discussion to college hockey programs to offer his services. He made his decision a year later.
"It's a great coaching staff," he said of Yale. "A great school, too. And a great city."
The past few weekends, however, have pushed the Bulldogs to their limit. Senior defenseman Rob O'Gara is sitting out a two-game suspension handed down by the league, and injuries throughout the lineup have forced Yale coach Keith Allain to play only three forward lines.
Snively's line with Hayden and Wilson has found some chemistry, and has stuck together despite the depleted lineup.
"After Christmas, we sort of just came together," Snively said. "We've been doing really well the past couple of weekends. It's been really awesome.
"We sort of knew we could do some damage. I knew Hayden quite a bit, so we kind of knew what to do from the offset. It didn't take very long for our chemistry to build."
Allain said the shortened roster has actually made his team stronger.
"I like our team," he said in an email. "Our guys are close, we work extremely hard, compete on a day-to-day basis and now we are starting to learn how to win. … I really like our group."
Snively's line has been a big part of it.
"The three of them all bring something different," Allain said. "Stu is smart, quick, agile and can make plays in tight spaces. John is big and strong, finishes his checks, knows how to find space offensively and has a great release on his shot. Joe has speed and skill, he is dangerous in transition and has the hands of a goal-scorer. As they played together more they have learned to read off each other more quickly."
For Snively, things couldn't have gone any better. With Yale ranked eighth in the USCHO.com Division I Men's Poll and in the PairWise Rankings, the freshman likes his team's chances.
"Personally, I'm pretty satisfied with what I've done so far," he said. "There's quite a bit of hockey to be played and we'll see what we can do. But I think we're hitting our stride now more than ever."
Yale will host No. 18 St. Lawrence on Friday and No. 20 Clarkson on Saturday.
Around the ECAC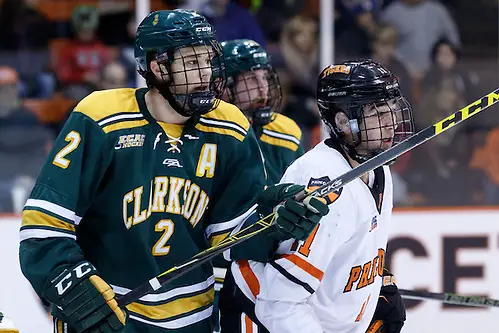 • Despite a 3-2 overtime loss to Quinnipiac last Saturday, it seems Clarkson has turned a corner down the stretch. Holding a 16-11-3 record, Clarkson sits in seventh place in the ECAC standings — just one point behind Rensselaer and Dartmouth. The Knights will play Brown on Friday before facing Yale, Harvard and Dartmouth in their final three regular season games. It looks like Clarkson will have to earn it.
• Despite Ryan Donato's selection as ECAC rookie of the week, Harvard has stumbled in its last six games: 2-4 with losses to RPI, Yale and Boston College. Jimmy Vesey is still four points behind ECAC offensive leader Sam Anas, but even his offensive production hasn't been able to solve Harvard's depth woes. The Crimson have Cornell and Colgate at home this week.