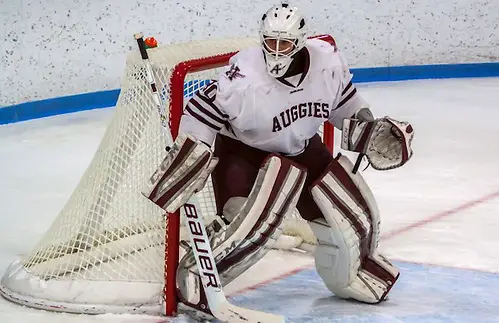 Jordyn Kaufer is clearly one of the best goaltenders in college hockey.
So on that note, it might surprise a few people that the Augsburg star wasn't considered one of the best when he played the sport in high school.
"I was actually cut from my high school team my junior year," Kaufer said. "I played junior gold hockey my final two year of high school. It gives guys a chance who don't make their high school team to still play the game."
Looking back on the experience now, he takes pride in how far he has come as a player.
"It's been humbling to be able to play college hockey," Kaufer said. "I've had friends tell me how cool it is that I get to play. I am thankful for the opportunity."
Kaufer has seized the opportunity in front of him.
A transfer from Concordia (Minn.), the sophomore has played a pivotal role in the success of the Auggies, who wrapped up the regular season MIAC title Saturday with a 4-0 win over St. Thomas.
That shutout was the third in the last five games for Kaufer, who is 14-4-1 in 19 starts and owns a 1.88 GAA. Kaufer has four shutouts in his career and has allowed only three goals in the last five games.
"It's been a great experience so far playing here," Kaufer said. "Everyone was super accepting when I transferred in. We have a group of guys who all get along really well."
When it comes to his personal success, Kaufer is quick to deflect the credit as if he is knocking a puck away.
"I feel like my success is a credit to the team's success," Kaufer said. "The guys in front of me do a great job of making plays and my goalie coach (Andrew Kent) has laid a foundation for my success. I'm in a great situation."
Kaufer said one of the biggest improvements he has made isn't so much about what he does from a skill standpoint as it is about the mental aspect of the game.
"I've done a better job of staying within my game and taking it one shot at a time," Kaufer said. "I'm more focused on just doing my job and not worrying about what's going on around me or in the stands."
Kaufer also played football and lacrosse in high school before venturing to Concordia.
He started 15 games as a freshman and won seven games. But he admits that Concordia wasn't the right fit for him and decided to make a change.
It has certainly worked out well, although he will tell you that going back to Concordia for a pair of games this season had a weird feel to it.
"It was definitely a surreal experience," Kaufer said. "I was just there a year earlier playing for them and know a lot of the guys. The two games were very competitive."
Kaufer said expectations were high when the year began and it's a thrill to have the hard work pay off with Augsburg's ninth regular-season MIAC crown and first since the 1997-98 season.
"Everyone comes in with the goal of winning a championship, but things started off a little tough for us when we went 1-3," Kaufer said. "But we were determined to have a great season and came together and started playing better. It's definitely a great feeling to win the title."
Augsburg, unbeaten in its last eight games, wraps up the regular season this weekend with two games against St. John's and will be the top seed for the conference tournament. Kaufer is excited about the opportunities ahead.
"We just have to take it one game at a time and keep doing what we have all season," Kaufer said. "We are happy about what we have accomplished so far, but we have to be ready to play at our best. We still have other goals in mind. We aren't done yet."
Cobbers poised for playoff berth
Concordia enters the final weekend of the regular season in good position for a MIAC playoff berth. The Cobbers are in fourth in the conference standings and wrap up the regular season against Bethel. They are seeking their fifth tourney berth in the last six years.
The Cobbers are coming off a series split with St. Olaf, falling 6-3 in the opener and winning the finale by a 3-0 score.
Jordie Bancroft took center stage in the win over the Oles, fashioning the second hat trick of his career. He scored twice in the final period to help the Cobbers snap a three-game losing streak. Concordia is now 9-12-2 overall and 7-6-1 in the MIAC.
The performance comes as no surprise as Bancroft has been playing his best hockey in the second half of the season. After managing only two goals and three assists in the first two months of the season, he has tallied 10 goals and five assists since the calendar flipped to 2016.
The win against the Oles also proved to be a memorable day for goaltender Donald Oldreive. The freshman stopped 17 shots to earn the first shutout of his career. He did it in just the second start of his career.
Perfect 10
Marian is the hottest team in the nation. The Sabres swept an NCHA series against Finlandia two weeks ago, stretching their win streak to 10 games. It's the longest streak in the country.
They will look to continue the streak this weekend when they take on Aurora.
Not only are the Sabres on a roll, but they are assured of hosting a tournament game for the first time since 2004 when they were in the MCHA. Marian finished as the runner-up that year.
Mike Gudmandson nailed down his first career shutout in a 5-0 win in the series finale. He is 4-3-0 on the season.
Marian has tallied 84 goals on the year, with Devin Stuermer coming through with 15 goals to go along with 12 assists.
The Sabres have been impressive on defense as well, allowing a goal or less in five of the games they have won during the streak. Only one opponent has scored more than two goals in a game.
Falcons finish on top
Wisconsin-River Falls and Wisconsin-Eau Claire both went 5-2-1 in the WIAC this season, but because the Falcons held the head-to-head tiebreaker advantage over the Blugolds, they will be the No. 1 seed for the WIAC tournament next weekend.
River Falls secured that right with a 4-0 win over Wisconsin-Stout Saturday and will play either Stout or Wisconsin-Superior in the semifinal round of the tournament Feb. 26-27. Tanner Milliron earned his fourth shutout of the season in Saturday's win as he stopped 22 shots. He improved to 13-6-4 in goal.
The Falcons have also thrived on offense, punching in 72 goals behind a balanced attack. Kyle Gattelaro leads the way with nine goals and 10 assists. Joe Drapluk has come through with seven goals and nine assists.
Ryan Doner (5-10), Christian George (7-7), Eddie Matsushima (5-9) and Zach Schrotenboer (8-5) have all scored at least five goals this season for the Falcons, who are 15-6-4 overall. River Falls is the defending conference tourney champion after defeating Wisconsin-Stevens Point 3-1 in the title game last year.
Best of the West
St. Norbert is still the No. 1 team in the nation. Adrian and Stevens Point are also in the top five, checking in at No. 3 and No. 4, respectively, this week. Eau Claire is ranked seventh. Marian is No. 11 this week and River Falls is 13th. St. Scholastica is No. 14.