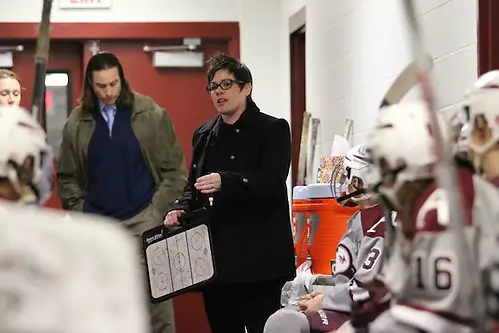 Pop quiz: What is the oldest women's college hockey program in the Midwest?
The answer: Augsburg.
Augsburg is currently in its 21st season (and 20th of varsity competition) and celebrated its two decades of women's hockey Saturday when the Auggies hosted St. Thomas in a MIAC battle.
The 5-2 loss to St. Thomas bumped the Auggies from the top spot in the MIAC, but in reflecting on the overall scope of the night, it was one to remember.
"Celebrating 20 years of Augsburg women's hockey was incredibly special, and humbling to gather 150 people who have been a part of the program over two decades, including former coaches, department members, alumni, the current team, and parents and friends of the program," said Augsburg coach Michelle McAteer. "We take great pride in being the first NCAA women's hockey program in the state [of Minnesota] and it's an honor to recognize those who were instrumental in making that happen. It also was an opportunity to connect our current team and alums, and remember that we are a part of something that is bigger than one team or year."
McAteer, who was previously an assistant coach with Harvard from 2005 to 2007 and at her alma mater at Minnesota-Duluth from 2008 to 2010 before taking over at Augsburg, was a member of Duluth teams that won national titles in 2001, 2002, and 2003.
She said when the opportunity presented itself to be a head coach, she took full advantage.
"Initially, it was an opportunity to be a head coach in Minneapolis and to lead after being an assistant coach at the D-I level," McAteer said. "During my interview, I quickly discovered the passion of the department and how close the coaches and athletes are, and the department camaraderie and support was very appealing. It also was clear that the Augsburg is a small school that values relationships and connections across campus, which is great for students and staff."
McAteer also noted that her time with Augsburg has been "satisfying" and she is "grateful for the opportunity to lead a college hockey program."
"I'm proud of what the players have accomplished," McAteer said. "We have improved every season, raising our expectations every year and asking the players to commit more of themselves to meet them. They continue to do that and represent Augsburg extremely well on and off the ice. We regularly participate in local community service events and placed 15 of our 22 players on the Dean's List. Like most coaches, I care deeply about who these athletes become, how they develop, and what they achieve after college hockey.
"It's gratifying to see them accomplish great things in life."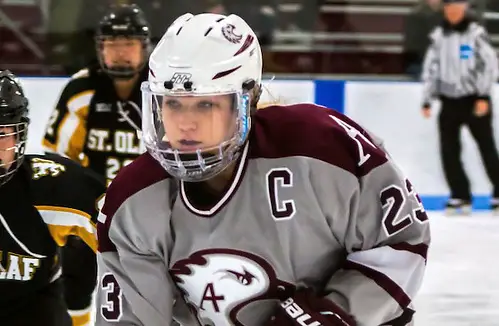 Augsburg senior captain Kayla Fuechtmann added that "it is an honor" to be part of the school's 20-year history.
"What appealed to me about Augsburg right away was how easily I could see myself fitting in after I had met the coaches and the team," remembered Fuechtmann. "I loved how Augsburg was a very welcoming school, with small class sizes, in a big city. Choosing an Augsburg education and representing Augsburg as an athlete has been an amazing four-year experience. When I was being recruited, I was not fully aware of the depth of the history that Augsburg women's hockey held. I did know that Michelle McAteer had been only the second head hockey coach at Augsburg (after Jill Pohtilla), and was committed to turning the program into a winning one."
Four years later and Fuechtmann isn't ready to face the reality of ending her senior season one way or another.
"Everyone always said it would fly by, and they were right," said Fuechtmann. "I can't believe I only have two more games in the regular season to competitively play the sport I grew up playing. As the season has winded down, I've been thinking back to when I was a freshman and how proud to be able to say the team has consistently improved our record each year."
One of the keys to Augsburg's success this season has been the play of senior goalie Erika Allen, who transferred to Augsburg last season from Bethel and has shined, claiming shutout wins in five of her last nine starts, including a shutout sweep of Concordia (Minn.) (which had entered the series with Augsburg leading the MIAC) Jan. 22-23 and a shutout sweep over Hamline Feb. 5-6.
Now, Augsburg needs to win both ends of a home-and-home this weekend against St. Benedict to make the MIAC playoffs.
Overall, the Auggies are 12-9-2 and 9-5-2 in MIAC play, and prior to this season under McAteer had never finished higher than eighth in the MIAC standings.
"This last regular-season series is huge," said McAteer. "We still have our destiny within our control and if we play to our potential and strengths, we have a chance to meet our goal of making playoffs. There is a lot on the line and we are excited for the challenge. As we pursue our team goal, we want to be able to say that we competed intensely and represented our institution with pride. On a deeper level, we want to live our values of being united as a team, devoted to academic excellence and our community, and play the game relentlessly.
"Making playoffs this year would make it a successful season because that has always been our team goal," added Fuechtmann. "Augsburg women's hockey team has not made playoffs since 2005 — I was in the fifth grade. The team has been devoted to working hard to make playoffs a reality."
NOTEBOOK
The top nine teams in the USCHO.com Division III Women's Poll were unchanged this past Monday, with just a change at No. 10 as Utica entered the poll after downing No. 1 Plattsburgh for the first time last Saturday. … Plattsburgh earned 14 first-place votes; Adrian had the other, … Lake Forest's Michelle Greeneway scored four goals against Marian last weekend and now has a nation-best 33 on the season. She's been held goal-less in just four of her 23 games this season and has 12 multi-goal games. … Plattsburgh goalie Camille Leonard continues to post ridiculous numbers: 21-1-0, 0.69 GAA, .961 save percentage, and 11 shutouts. She's only allowed 15 goals this season.