Arguably, the identity of the Hockey East regular season champion and the identities of the four teams that earn a first-round playoff bye come down to three series.
One will be held this weekend: Notre Dame at Providence. The other two will come a week later as the league closes out the regular season with a bang: Boston University at Notre Dame and a home-and-home between Boston College and Massachusetts-Lowell.
Aside from those contests, Hockey East's aforementioned Top Five should clean up in their games against "The Other Seven."
Or maybe not.
Last weekend, BC surrendered an extra-skater goal against Merrimack and had to settle for a tie, thereby losing a share of first place. The week before, Lowell managed only a single point between its games against Northeastern and New Hampshire.
So perhaps those "other" games — BU vs. UNH and BC at Vermont this week and Providence vs. Massachusetts next week — could see decisive points stolen from the Top Five. There is, after all, a reason Hockey East holds the reputation for being the top conference top to bottom.
All of which means that while Notre Dame holds its destiny in its own hands, that could slip away quickly against Providence this weekend (or BU the weekend after). And if the Irish do falter, it looks like the Eagles are in the best position to capitalize.
But if we've learning anything, it's this. Repeat after me: Anything … can … happen.
Sorting out the middle
While considerable attention has gone into the aforementioned race at the top, there's also a logjam in the middle, with only one team (Massachusetts) unable to finish as high as sixth. And with the fifth through eighth spots comes home ice in the opening round, not quite the prize that a first-round bye represents for the top four teams but a pretty good consolation.
So here's a look at fifth through eighth place.
Fifth, of course, goes to whichever one of the Top Five teams fails to secure a first-round bye. Well, duh.
To my eyes, that will be Lowell. The River Hawks cost themselves dearly two weeks ago with a tie with Northeastern and a loss to UNH. Since they're the only contender giving away two games in hand, they'll find themselves in fifth place by Sunday if BU sweeps UNH.
And then the River Hawks finish the season with two games against Boston College.
So I'm picking Lowell for fifth.
Northeastern looks like a shoo-in for sixth. The Huskies have lost only once (to BU in the Beanpot) since Dec. 6 and play series against UConn and Maine.
Seventh and eighth places may come down to two series a week from now: Vermont at Merrimack and UNH vs. UConn. Merrimack would need at least three points at Maine this weekend to give itself a chance, but I can see that happening.
One way or another, however, give me Vermont for seventh and New Hampshire defeating UConn head-to-head for eighth.
UConn taking another long-term step forward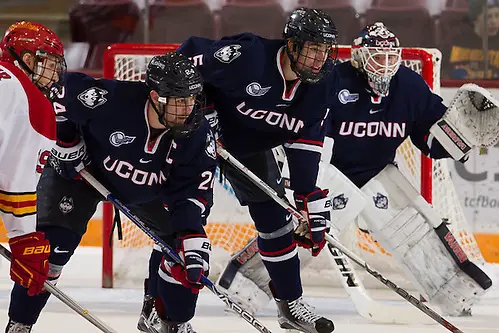 Sometimes a program can make progress without it looking that way. The team either stagnates in the standings or even takes a step backward.
A case in point is Connecticut. A year ago, in its inaugural Hockey East season, the Huskies finished 7-11-4 in league play, one of the most pleasant surprises in any conference. Expected to be cannon fodder for the established programs, UConn stunned teams like Boston College 1-0 and Massachusetts-Lowell 2-0.
This year, however, the Huskies stand at 4-10-4, thus needing to win three of their final four to match that 7-11-4 mark. With ultra-hot Northeastern and dangerous New Hampshire on the docket for two games each, that'll be a tall order.
Nonetheless, coach Mike Cavanaugh sees his team making steady progress that belies its position in the standings.
"Last year, we had to win a game 1-0," he says. "This year, we're a team whose record might be roughly the same or maybe not even as good, but we're more competitive in the games against the better teams.
"It's not that Robbie Nichols has to make 50 saves if we're going to be successful. We have a much more balanced team.
"I like where the program is [going]. I don't know whether it's just the eye test or you just get a feel for your team.
"No one knows what's going to happen Friday night, but I know this: If we play really well, we'll give ourselves a chance to win. Last year, if we played really well, we still needed Robbie to make 40 saves for us to win. He had to play really, really well or we didn't have a chance because we were going to be outshot two-to-one every time we played.
"I loved the grit and tenacity of last year's team, but it was pretty hard for us to score goals. So if we got behind, it was really hard for us to win a hockey game. That's not the case this year even though our record might not be as good as we want it.
"I like the progress our team has made and where the program is going in the future."
Part of that optimism is based on the play and production of freshmen forwards Max Letunov and Tage Thompson and freshman defenseman Joseph Masonius. A year ago, before their arrival, the Huskies were a rather distant last in Hockey East offense and power-play efficiency. This season, the freshman trio has helped add well over half a goal a game of production (from 1.83 goals per game to 2.40), while with four games remaining the Huskies have almost doubled their power-play totals.
Nonetheless, Cavanaugh stated earlier in the year that he also had to see the three improve their five-on-five play, especially in the defensive zone.
"They've progressed quite a bit," Cavanugh says. "Tage hasn't scored a lot of five-on-five goals, but his five-on-five play has been outstanding.
"The [three of them] are playing against a top line every night. That's a lot to ask for freshmen to come in and do that. We just played Providence, and they have six senior forwards. That type of experience goes a long way."
And Cavanaugh thinks the influx of young talent will continue.
"Look at how well-attended our games are," he says. "Our average attendance at home is 5,100. Right now, I think only BC and Lowell are higher in the league. We had close to 7,000 there the other day against Providence. When [potential recruits] see the fan support, that helps.
"That we've been able to attract some high-end players certainly helps with our recruiting.
"The fact that Tage Thompson is being talked about as going in the first round of the NHL draft certainly helps. Tage wasn't even on Central Scouting's list. He went from a non-rated player or a C player to an A player here over the season. It helps when you see a kid can come here and develop into that type of player.
"All of that has helped our recruiting."
Of course, it isn't all about the kids and the future. The Huskies are just one point out of a home-ice berth and with series upcoming against Northeastern and New Hampshire, they've got the teams they need to bypass in their sites.
That said, it's not UConn's focus.
"I'm not placing a whole lot of emphasis on the home-ice berth," Cavanaugh says. "We were in the very same situation last year and we put so much emphasis on it that it paralyzed us and we didn't play as well. The best thing for us is just focus on playing very well on Friday against Northeastern.
"They've been clicking on all cylinders so we're going to have to be at the top of our game to be successful.
"That's where our focus is right now, just playing really well down the stretch. We're trying to play the very best we can play heading into the playoffs, whether it's at home or on the road. It doesn't matter.
"We just want to be playing well going into the playoffs."