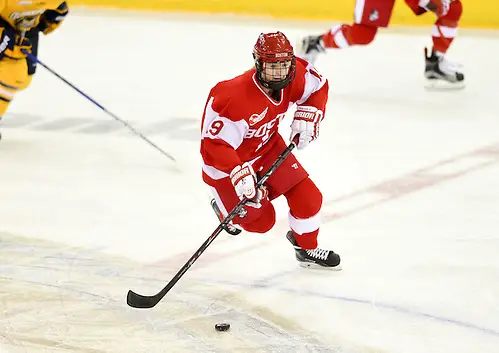 At Boston University, it has been one of those seasons.
Not a bad year, as the Terriers are just one victory shy of their sixth straight 20-win season. The first five of those ended with trips to the NCAA tournament, as did a 17-victory campaign in 2010.
This one may as well, but if the season ended today, Hockey East neighbors Boston College and Northeastern would be in the national tournament field, while BU would be out. Given there are a number of teams in front of the Terriers with fewer losses, it is doubtful that they can play their way into the top seven of the PairWise Rankings necessary to have a hope of an at-large bid.
However, BU has proven to be quite proficient at advancing through winning the Hockey East tournament, something it has done the last four years, and five of the last six. So although the Eagles and Huskies have been the better teams all season, should either face Boston University in the playoffs, they'll be looking at an opposing roster that knows exactly what it takes to win the league tourney, something those on the Boston College and Northeastern rosters have yet to accomplish.
This never shaped up to be an easy season after the graduation of star forward Marie-Philip Poulin, who led the team in scoring in her last two seasons in a Terriers' uniform. Surprisingly, the offense has carried on at roughly the same rate, as it's on pace to score just a couple of goals fewer over the course of the season, and during the 2016 portion of the schedule, scoring is up over last year.
One reason that there has been little if any drop off is the emergence of senior Rebecca Russo, who has upped her production to 35 points with a weekend remaining in the regular season, after posting back-to-back 21-point campaigns.
"I think from the beginning of the summer, I knew that my senior year I needed to step into a role of a leader as well as a huge component to the team," Russo said.
The gains started with preparation off the ice.
"I work out with a guy named Ben Prentiss in Stamford, Connecticut," Russo said. "He trains all the NHL players: Cam Atkinson, Scott Hartnell, Jonathan Quick, Chris Kreider, all those guys."
On any journey, it helps to get off to a good start, and Russo did that in the first game.
"My [winning goal versus Connecticut] with .3 seconds left in the game was kind of a rush and an incredible way to start my season," she said.
Not that her heroics in the opener or scoring since has been all Russo.
"I can't really do it without my linemates," Russo said. "I was playing with [sophomores] Becca Leslie and Victoria Bach at the time. Now with Becca Leslie and [junior] Maddie Elia on my line, I think that we've done a great job thus far this year."
Her coach sees it that way as well.
"The two top lines have been pretty consistent, in that there was the flip-flop of Elia and Bach, but the wings have stayed together for the majority of the year," coach Brian Durocher said.
It was particularly beneficial that Russo's line took off immediately, because the other line did not, despite having wings with accomplished resumes.
"In some ways, I think Kayla Tutino is trying so hard that she's trying too hard a little bit," Durocher said. "Sarah Lefort ran into the hot goalie, deflected puck, the post, the shot just wide, whatever, and just been a little bit below her numbers. Sometimes people forget that the year Marie-Philip Poulin wasn't here, she got 32 goals. She's a kid who still works her tail off, a big power forward who at any time could rattle off two, three, or four goals in a game."
Nobody has been expected to be another Poulin, but collectively, they've managed to keep the offense rolling.
"I think all six of them have played their role," Durocher said.
While Leslie leads the team with 43 points, everyone on the top two lines has at least 24 points.
"The biggest surprise has been that Sam Davis has had a real good freshman year," Durocher said.
Although not necessarily in a scoring role on the third line, the freshman from Pembroke, Mass., has 16 goals, second on the team, and 25 points.
"Dakota Woodworth moved from right wing to center and has become sort of the consummate third-line, checking center who has certainly chipped in with some points, but I think she has given us a big, strong, good skater in the middle that has done a real nice job there of playing," Durocher said. "Sam Sutherland is the other one who has been with them most of the year. Sam is probably the most creative of the three and has got the best pair of hands. They've made for a nice third line this year."
With the forwards at Durocher's disposal, he has been able to put together a top-10 power play that clicks 19.1 percent of the time.
"I like what our power play has done," he said. "There's some years where your power play is at a certain percentage, but there are too many days where you really don't look good or you don't make good decisions. I think we've done a good job all through the year making decisions."
Often, the key decision for any player is to take advantage of her strengths.
"I think Rebecca Russo has used her speed," Durocher said. "She's probably been more fearless around the net, getting the loose pucks and getting the opportunities. She even found a home on one of the flanks on one of the power plays that allows her to kind of sneak in on the back side, use her quickness and her speed to come down there. Without a doubt, consistency would be the key word."
That wasn't always true for Russo, particularly when she first arrived at BU, and according to Durocher, tended to doubt herself as a rookie.
"Sometimes she'd have her highs and lows," he said. "Sometimes, she could be her worst enemy."
Russo grew up nearby, but it wasn't a straight path that took her to BU.
"I live in Westport, Connecticut," she said. "I've lived there my whole life. I moved to Canada for one year. After 9/11, my dad was a 9/11 survivor, but I came back to Westport. Hockey's been a huge part of my life, so when I was old enough to make the switch to boarding school, I went to Berkshire for two years in Massachusetts. Then I transferred to Shattuck-St. Mary's for my junior and senior years."
The move to Minnesota didn't take her out of Durocher's sight, especially as Russo was a regular at USA Hockey camps.
"During a national camp, coach Durocher saw me and was interested in me from then on out," she said. "My junior year, I started getting questionnaires, filling them out, and kind of making an Excel spreadsheet — what I liked, yes or no if I visited, and all that kind of stuff. When I came to Boston University, I fell in love with it. Who wouldn't, I guess you could say. I'm kind of a city girl. I grew up in Westport, but I was in New York City a lot; my dad works there. I fell in love with the school and really liked coach Durocher. I committed here my junior year, by December 1, I think, of 2010. From there on out, never looked back and never regretted my decision."
Boston University has proven to be a good fit for her aspirations.
"My biggest dream is to become a sports broadcaster," Russo said. "I've watched ESPN my whole life. I was the kid that didn't really watch a lot of cartoons — maybe SpongeBob here and there."
Instead, her morning regimen included ESPN.
"I fell in love with sports in general, not just hockey," Russo said. "Then I fell in love with sideline reporters, going in the locker room, being on the field, whether it's hockey, baseball, football. So I'm studying cinema and media studies here with College of Communications. It's kind of like a dual major between the communications school and Arts & Sciences. I'm the sideline reporter for the BU men's ice hockey team right now."
As she did as a Terrier, Russo will need to grow into a bigger role.
"I definitely know that I'm not going to be on ESPN right away, but I definitely think with my character and who I am as a person, definitely will work my way up in the field," she said.
While offensively BU has gotten the job done, the increase in losses corresponds to an increase in goals allowed. The Terriers average slightly more than three goals against, roughly half a goal above what the defense allowed in recent seasons. The team graduated three defensemen last season, but Durocher isn't pointing his finger at the blue line.
"I compliment them on doing everything they've been told to do," Durocher said. "They positionally try to play well. They keep it simple. They're not afraid to make an indirect pass rather than try to thread a needle, but we haven't quite gotten it over the hurdle."
The current defensive rotation of seniors Lillian Ribeirinha-Braga and Alexis Woloschuk, juniors Sarah Steele and New Hampshire transfer Alexis Crossley, sophomore Savannah Newton, and freshman Connor Galway lacks the star power of past teams.
"If we don't have All-Americans back there, it's my job to coach them up, and it's their job to put it into action," Durocher said. "For the most part, I think they've done just that this year. That's all I can ask for. They're staying on the defensive side, playing well positionally, and if we can get the puck in the hands of our forwards, it helps, because that's sometimes your best defense. Let them handle the puck in the far end. Let them cycle, control the play. From a coaching perspective, I'm very pleased with the way the kids are playing."
The team's shortcomings have manifested on its penalty kill, which ranks 22nd in the country.
"We've probably been a little subpar in that area," Durocher said. "I think sometimes, you count on your best penalty killer being your goalie, and both Erin [O'Neil] and [Victoria Hanson] and myself have talked amongst us, we all just want one more stop in each game. It does help when you're killing penalties when you've got kids like the [Kaleigh] Fratkins of the world, or Kasey Bouchers or Catherine Wards who really can just propel a puck under duress and get it out of the zone. It's not as easy in women's hockey to have a defenseman go back there and just rip one off the glass and put it past the D up at the blue line."
The Terriers have been very close, twice losing to top-ranked BC by a goal, including one in overtime. Their most-recent meeting with No. 6 Northeastern, their opponent for a home-and-home series this weekend, was another one-goal loss.
"I just think it's that one save," Durocher said. "Some nights it's that pick up the right person on a back check, or make sure you don't lose the battle by the net. I don't want to put pressure on Vic or on Erin. They work extremely hard and play extremely well, but we're all goalies in this discussion, and it's just that one more we want to get. The best way to do it is to just relax and stay in your position. Our volunteer coach Amy Zappen does a great job with them. I think that can turn the table."
BU has turned the table as recently as last season, when over the final month it progressed from a 5-0 loss to the Eagles, to tying them, to defeating them in the Hockey East Championship.
"Late last year, the last game here with BC, the big game in the playoffs against them, we got those saves that gave us a chance to get over the hurdle," Durocher said. "We didn't beat them 6-5 or 5-4. They were 2-2 and 3-1 type hockey games. That's how you have to do it in the playoffs."
If the Terriers know anything, they know how to get it done in the postseason. Although the names may have changed, the objective has not.
"We have a huge senior class with eight of us," Russo said. "My freshman year, losing the national championship, really hurt. We want to win a national championship; I think that's everyone's goal. From all our Hockey East Championships, coming into this year, knowing the senior class that we have and the leaders that we have on that, I think it was a collective goal with what we want to reach is a national championship."
Nothing she's seen this year has convinced Russo that the goal is out of reach.
"If we play that full 60 minutes and we play as hard as we can, the heart and character that we have as the Boston University women's ice hockey team, I think we'll win big games," she said.
Recent days have only added to her personal determination after the passing of her grandfather.
"Kind of sad timing, but I'm just going to do everything I can to play for my grandpa," Russo said.