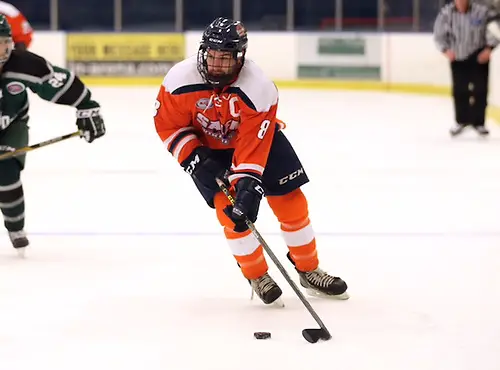 With just three games remaining this week in the MASCAC regular season schedule, Salem State is in a familiar position, atop the standings, and their coach and fans alike have every reason to believe that this perch on the leaderboard could be a launch point to higher goals for the rest of the season and upcoming playoffs.
Last week's wins over rival Plymouth State and Fitchburg State gave the Vikings a tenuous hold on first place, just a single point ahead of Plymouth State entering the final week of conference play.
Like most coaches, Bill O'Neill is not taking Massachusetts-Dartmouth nor Framingham State or Worcester State lightly, especially with the first two games this week coming on the road.
"We played very well this past weekend," stated O'Neill. "Obviously, it was a very big win over Plymouth State, but we followed it up with a really good effort against a very dangerous Fitchburg team – that game had a lot of shifts in momentum for both teams. I really like how we are playing right now and we are getting great support from our student body. Both games over the weekend were played in front of a full house in the rink – the fans continue to be great and really support us well at home."
The Vikings are 11-1-0 in their past 12 games and have outscored their opponents by a 49-20 margin in that stretch that includes wins over Amherst and Plymouth State twice. There are many reasons to point to for the success. but from the goal on out, Salem State has all the pieces to make a strong run for the league title and auto-bid to the NCAA tournament that comes with the MASCAC crown.
Junior Marcus Zelzer has taken the No. 1 goaltending position and is 14-1-0 on the season with a .936 save percentage and 1.66 GAA. He has not lost since Nov. 29 and his consistency has been a key part in the recent success for Salem State.
"Marcus really took over and ramped up his game in the second half," said O'Neill. "He has been so consistent, but is really part of a strong tandem that we have had for the last two seasons with him and Jason Pucciarelli. We have a lot of confidence in both guys and right now, it is Marcus who has the hot streak going, but they battle every day in practice to keep each other sharp and that competition certainly shows in the game performances so far."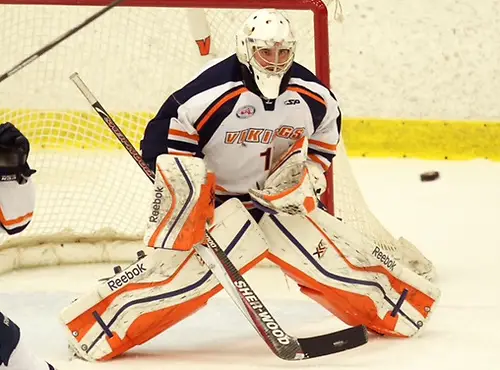 Defensively, this has been a breakout season for junior Brad Jones, whose 18 points are second on the team behind forward Cam Moniz and Jones' 14 assists lead the team. Where many teams have trouble finding offense, Jones has been a welcome addition to the offensive output for his coach and teammates.
"Brad has really made that big step this season," O'Neill explained. "He is a three-zone guy, but finds ways to get into the play at even strength and just on the power play. It probably wouldn't be fair to single him out because his playing partner has been a big part of the success as well. Gabriel Cromp was all-conference last year and has been Brad's playing partner. Gabe doesn't have as many points this year, but his solid play enables Brad to jump into the flow offensively where he has shown his strength in the scoring part of the game."
What team looking to make a deep run in March would be complete without some dynamic forwards?
The Vikings have balance and depth which makes them very dangerous for their opponents. Mix in some great leadership from some key upperclassmen and you have a recipe for continued strong results. While Moniz leads the team in goals (14) and points (21), 13 different players have double-digit point totals this season and nine also have five or more goals on the season to date. The depth and balance is seen in virtually every stat as 12 different players have power play goals and 11 different players have scored a game-winning goal this season. It is hard to key on just a handful of players or one line when you play the Vikings – something that O'Neill likes a lot about his team.
"I will say it again; I really do like how we have been playing in the second half," said O'Neill. "We have been getting productivity across all of our lines and terrific leadership from a great group of seniors who really have the team focused and playing at a high level each time out. It doesn't matter which line is on the ice, we think they all have a chance to put a goal on the scoreboard. There is a lot of good stuff happening, but we aren't going to get ahead of ourselves. We have a tough game at Massachusetts-Dartmouth on Thursday night, so that is the only game we really care about right now."
Thursday's matchup is a game between two of the very best coaches in D-III in O'Neill and John Rolli, with both having passed the 500-win plateau. O'Neill has a lot of respect for his coaching peer, but notes it's the players who will decide the outcome.
"We practice and prepare during the week for the next opponent," said O'Neill. "The players play the game, we aren't out there playing. We are more like directing traffic during the game, but it's a great game whenever we play UMD and they will be ready to knock us off if we don't come ready to play on Thursday."
The battle to get to the top has been won by the Vikings, who now look to carry momentum into winning the top seed in the conference playoffs and winning the MASCAC title – a title last won in the 2013-14 season.