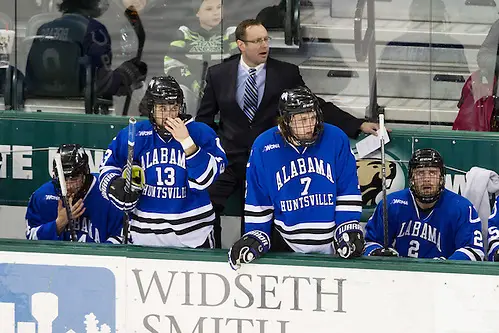 Spoiler alert! Alabama-Huntsville is a dangerous team.
The Chargers may be in 10th place in the WCHA standings, but they're a team that has taken points from every league foe they've played since the calendar flipped to 2016. There was the series split at home against Alaska, a tie at Ferris State, a split at Alaska-Anchorage and, last weekend, a couple of somewhat stunning ties against first-place and then-17th-ranked Minnesota State.
"We're better," said coach Mike Corbett, whose team is 2-2-3 in its last seven games. "We're [making mistakes] with less frequency now. We're not dropping that proverbial bomb that hurt us in the first half. We've tightened it up, dialed it back and said this is how we have to play."
Against the Mavericks, the Chargers took advantage of an unlikely own goal during a delayed penalty against them for a 3-3 overtime tie on Friday and got a 49-save performance from junior goalie Matt Larose in a 1-1 overtime tie on Saturday.
In that second game, the Chargers trailed 1-0 before junior Matt Salhany got loose on a short-handed breakaway and knotted things up with 63 seconds left in regulation. It was Huntsville's second short-handed goal of the weekend.
"We don't have the depth of the top teams," Corbett said, "so we're going to spend 70 percent of the time defending. But we're going to get our chances, and when we get those one to three chances, we have to bury them."
Last week's ties could come back to haunt Minnesota State in its quest to repeat as MacNaughton Cup champions. Idle this weekend, the Mavericks have a four-point lead over Bowling Green and Michigan Tech atop the standings. Most expected that to be a six-point margin this week.
But the Chargers aren't just playing the role of spoiler.
With six games remaining in the regular season, they're trying to make a charge and at least get back to eighth place — where they finished last season — and into the conference tournament.
Huntsville (6-17-5, 4-13-5 WCHA) has 13 league points and is three points behind Alaska-Anchorage for that eighth spot and five points behind seventh-place Lake Superior State. Alaska is ninth with 14 points.
"Our playoffs started last week, two weeks ago," said Corbett, whose team went through an 11-game winless streak from Nov. 6 to Dec. 18. "That's nobody's fault but our own. We didn't win a game in November. We didn't take care of business at home when we could have. …
"Now, we can't afford to come out of a weekend with no points," Corbett said.
A big key for securing points is the Chargers' goaltenders.
Larose, who, at least for now, appears to have wrestled the No. 1 goaltending spot away from Carmine Guerriero, moved up to third in the conference with a .931 save percentage after stopping 83 shots against the Mavericks. He has played in six of the Chargers' 10 games since Jan. 1 and has the fifth-best save percentage in the country over that span at .942. He was named WCHA defensive player of the week for his performances against Minnesota State.
"He's stepped up," Corbett said. He's a quiet kid who's bided his time. We've been lucky enough that [Larose and Guerriero] get along. They came in together and have competed against each other, but they get along, they understand. … They're 1A and 1B. We have full confidence in both guys in net."
Following the Northern Michigan series, Alabama-Huntsville will make another road trip to Bemidji State and then close out the regular season at home against Bowling Green.
Battle for home ice continues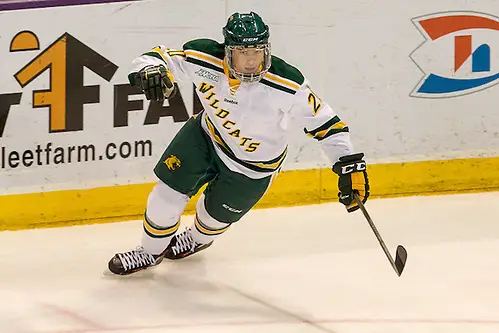 As the Chargers fight for their playoff lives, some interesting things are happening in the middle of the table — the battle for the four home-ice playoff spots among them.
Minnesota State has already punched its ticket; the Mavericks have 33 points and won't be caught by fifth-place Northern Michigan even if they lose out and the Wildcats win out. However, none of the other three teams in the league's top four has managed to clinch its spot quite yet.
Bowling Green and Michigan Tech are tied for second with 29 points, while fourth-place Ferris State is a point behind both of them. Northern Michigan does have more of a mountain to climb — with 24 points — but it could, theoretically, win its final six games and finish in second place depending on how the other three teams do. Stranger things have happened, after all.
The Falcons and Huskies both could potentially clinch their spots this weekend. The Falcons head to Alaska to play the Nanooks while the Huskies hit the road to Bemidji. Both teams could also pull even with idle Minnesota State with sweeps.
"Minnesota State kept the door open just a little bit for us — or Huntsville, depending on how you look at it — and we're still right in the middle of a regular-season championship race," Bowling Green coach Chris Bergeron said in a video interview on the Falcons' website earlier this week. "We have some say in that. We don't need someone's help."
The Bulldogs are in the least advantageous position, as Tech, Bowling Green and Northern all have two games in hand on them. They step out of the conference this weekend to take on instate rivals Michigan on the road. The Wildcats, meanwhile, host last-place Alabama-Huntsville.
After Northern Michigan beat Ferris State 3-2 on Saturday night, Bulldogs coach Bob Daniels said in his postgame news conference that the race is far from over.
"Does that keep them in it?" he said. "Sure it does. But the nice thing on our behalf is they have to win those games. It's still right there in front of us. We certainly didn't lose it tonight, but a win tonight might have cemented home ice."
Ice chips
• After being idle last weekend, Alaska-Anchorage will spend the rest of the regular season in its home state, starting with a series against Lake Superior State. Minnesota State comes to town next week, and the Seawolves will close out the schedule at Alaska. Senior forward Blake Tatchell needs one more point to become the 23rd Seawolves player to net 100 career points.
• Alaska is also coming off a bye week and hopes to break a five-game losing streak against Bowling Green. The Nanooks have won once in their last seven games. Looking ahead to next year, Alaska announced the field for the Brice Alaska Goal Rush tournament, which it will host on Oct. 14-15. Besides Alaska and Alaska-Anchorage, Omaha and Canisius will participate in the event.
• Bemidji State's penalty kill has allowed just 12 power-play goals in 118 opponent opportunities (89.8 percent). The Beavers are first in the WCHA and fourth in the country in penalty-kill success. This weekend, they take on Michigan Tech, which has the best power-play unit in the WCHA at 19-for-86 (22.1 percent).
• After dropping a 4-1 nonconference decision to Miami last weekend, Bowling Green has just one win in its last five games. The Falcons go on the road to Fairbanks for a series against Alaska this weekend. For the first time in 37 weeks, Bowling Green dropped out of the USCHO.com Division I Men's Poll.
• Ferris State freshman forward Corey Mackin continues to show he's the top rookie skater in the WCHA. Following a four-assist weekend in a home split with Northern Michigan, he has 21 points, seven more than the next freshman on the list. His point total ranks tied for eighth in overall scoring in the league. The Bulldogs step out of conference play on Friday for a single game against Michigan.
• Lake Superior State beat Bemidji State 3-0 on Saturday night. The victory snapped a six-game losing streak, which started with the loss at home to Alaska-Anchorage on Jan. 17. During that stretch, the Lakers were 0-for-23 on the power play, a streak which was snapped by J.T. Henke's game-winner against the Beavers. The Lakers take on the Seawolves again this weekend in Anchorage.
• Michigan Tech and Bemidji State meet this weekend in Bemidji. The teams have met 19 times in their history. The Huskies lead 9-5-4 in the series and are riding a 10-game unbeaten streak (7-0-3) against the Beavers dating back to 2012-13. Tech's last loss to Bemidji State came on Oct. 22, 2011.
• Minnesota State's senior forward Teddy Blueger scored his 100th career point on Friday night, becoming the 11th player in the Mavericks' Division I era to join the century club. Blueger, who has 28 goals and 73 assists for 101 points, leads the WCHA in overall scoring with 28 points (including a league-best 20 assists) and is second in conference scoring with 23. The Mavericks are idle this weekend.
• Northern Michigan coach Walt Kyle earned his 250th career victory Feb. 13 when the Wildcats beat Ferris State 3-2. Kyle is in his 14th season behind the Wildcats bench and has a career 250-236-63 record.
• WCHA players of the week are Ferris State freshman forward Corey Mackin (offensive), Alabama-Huntsville junior goaltender Matt Larose (defensive) and Lake Superior State freshman forward Gage Torrel (rookie).