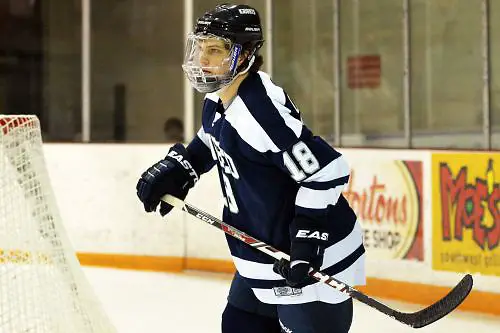 The SUNYAC announced its top individual awards Wednesday, in addition to three All-Conference Teams.
The conference's player of the year is Geneseo junior forward Stephen Collins, who tallied nine goals and 21 points in 16 SUNYAC games in 2015-16.
Geneseo's Chris Schultz earned coach of the year honors after guiding the Knights to a 15-4-6 mark and a 9-2-5 record in SUNYAC games, good for third in league standings. The award is the fourth for Schultz.
Brockport senior defenseman Chad Cummings is the defensive player of the year. Cummings fashioned five goals among 16 points and also registered 11 blocked shots this season.
Freshman forward Tim Kielich, also from Brockport, was named rookie of the year. He posted 19 points in 16 SUNYAC games.
2015-16 All-SUNYAC First Team
| Player's Name | Position | Class | School |
| --- | --- | --- | --- |
| Chase Nieuwendyk | F | Sr. | Brockport |
| Stephen Collins | F | Sr. | Geneseo |
| Trevor Hills | F | Jr. | Geneseo |
| Pat Condon | D | So. | Geneseo |
| Rich Botting | D | Sr. | Plattsburgh |
| Mike DeLaVergne | G | Jr. | Buffalo State |
2015-16 All-SUNYAC Second Team
| Player's Name | Position | Class | School |
| --- | --- | --- | --- |
| Ryan Salkeld | F | Sr. | Buffalo State |
| Shawn Hulshof | F | Jr. | Oswego |
| Connor Gorman | F | Sr. | Plattsburgh |
| Chad Cummings | D | Sr. | Brockport |
| Chris Taff | D | So. | Plattsburgh |
| Spencer Finney | G | Sr. | Plattsburgh |
2015-16 All-SUNYAC Third Team
| Player's Name | Position | Class | School |
| --- | --- | --- | --- |
| Taylor Pryce | F | Jr. | Buffalo State |
| Dillon Fox | F | Sr. | Plattsburgh |
| Dylan Vander Esch | F | So. | Potsdam |
| Chris Luker | D | Sr. | Brockport |
| Stephen Johnson | D | Jr. | Oswego |
| Devin McDonald | G | Fr. | Geneseo |