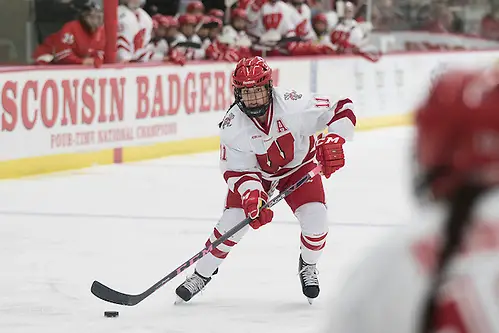 Top-seeded Boston College is only three wins shy of a perfect season as it searches for its first national title. The Eagles hope to reach the Frozen Four and get their first win there; they've been stopped in the semifinals five previous times.
Also representing Hockey East is Northeastern. After coming up just short in the past, the Huskies make their debut in this year's NCAA tournament.
Two-time entrants are Princeton, making its first appearance in 10 years, and Quinnipiac, back for a second year in a row.
There are also programs whose participation has reached double digits. Defending champion Minnesota has the most overall with 14, including 10 in a row. Mercyhurst, after a year away, makes its 11th trip. Wisconsin is back for a 10th season.
Completing the field is Clarkson, just two years removed from its first NCAA Championship.
Each is looking to win on Saturday to reach the Frozen Four in Durham, N.H. Once there, they'll need just two more victories on March 18 and 20 to realize the dream they've been chasing all season.
Northeastern Huskies at No. 1 Boston College Eagles, Saturday, March 12, 1 p.m. ET, noon CT
The best news for Boston College is that so far this season there hasn't been any bad news. The closest thing to a sour note may be that BC has been tasked with dispatching Northeastern for a fifth time rather than an expected fresh opponent in Princeton.
That seems unlikely to slow the Eagles more than anything else has. They persevered through a fourth date with Connecticut last weekend, and then seemed to relish the chance to inflict another beating on rival Boston University.
No, the only true victim in the bracket curveball is Northeastern. In truth, a destination of Boston rather than Minneapolis likely hurts more in terms of the experience than it does competitively. The Huskies would have faced many of the same disadvantages with either opponent. The Eagles, like the Gophers, have more scoring depth up front, a more-experienced blue line, and a battle-tested goaltender.
Each team knows well what awaits it on Saturday. The difference is that Boston College knows exactly what it must do to win, while Northeastern has to wonder whether even a perfect game on its part will be enough.
Statistical comparison
| Category | Northeastern | Boston College |
| --- | --- | --- |
| Record | 28-8-1 | 38-0-0 |
| Versus NCAA field | 2-4-0 | 4-0-0 |
| Common opponents | 25-3-1 | 30-0-0 |
| Goals-scored/game | 4.38 | 5.37 |
| Goals-allowed/game | 2.41 | 1.18 |
| Power play pct. | 21.3 | 33.1 |
| Penalty kill pct. | 84.2 | 91.7 |
| Avg. penalty minutes | 9.4 | 7.3 |
| NCAA appearance | First | Eighth |
Northeastern
Top scorers: Kendall Coyne, Sr., F, (49-34-83), Denisa Krížová, So., F, (20-39-59), Hayley Scamurra, Jr., F, (14-28-42), Jordan Krause, Sr., D, (5-25-30)
Goaltender: Brittany Bugalski, Fr., (20-7-1), 2.15 goals-against average, .919 save percentage, three shutouts
Northeastern's last postseason win over Boston College came in a Hockey East semifinal in 2013. The next day, Boston University ended the Huskies' season, as it did in 2014 and 2015. The Terriers knocked Northeastern out of the league tourney for the fourth straight year last weekend, but this time, the Huskies are the team that gets to advance to the national tournament.
Kendall Coyne leads the country in goals, goals per game, points, points per game, short-handed goals, and likely a few more categories that nobody has thought to quantify. She's in the midst of one of the best seasons in NCAA history.
Coyne is not the only bright spot for Northeastern. Her linemates, sophomore Denisa Krížová and junior Hayley Scamurra, have taken huge steps forward in terms of production. Senior Jordan Krause did the same on the blue line. Sophomore forward Shelby Herrington put up 23 points after having just one as a rookie. Freshman goaltender Brittany Bugalski's save percentage matches that turned in by Chloe Desjardins as a senior.
The problem is that for every superlative one uses to describe the Huskies, the same and more can be said about their opponent.
With defenseman Tori Hickel being the only other senior on Northeastern's roster besides Coyne and Krause, one might be tempted to say that having tasted the NCAA tournament, they'll be positioned to return soon, but faced with replacing a generational player like Coyne, one gets the sense that this is the Huskies' best shot in the near future.
Boston College
Top scorers: Alex Carpenter, Sr., F, (41-41-82), Haley Skarupa, Sr., F, (32-41-73), Makenna Newkirk, Fr., F, (21-27-48), Megan Keller, So., D, (12-36-48)
Goaltender: Katie Burt, So., (33-0-0), 1.16 goals-against average, .945 save percentage, 13 shutouts
Unlike last year, when Boston College perhaps peaked too soon and had nowhere to go but down, the Eagles have continued a steady climb from their lofty heights as the months have passed.
A year ago, the secondary scoring dwindled as the season went along. Perhaps there is a difference in the level of difficulty down the stretch in the two campaigns, I can't say, but the goals have continued to come at a steady pace.
Alex Carpenter has completely rewritten the Boston College record book, and now, there's only one thing missing from her personal resume. Such is the level of talent on the roster that in spite of the pending graduations of Carpenter, Haley Skarupa, who would have garnered more buzz had 75 percent of her career not overlapped Carpenter's, Dana Trivigno, Lexi Bender, Kaliya Johnson, and Meghan Grieves, the Eagles will still be a favorite to reach the Frozen Four next season.
Why the Huskies will win: Go big or go home. This would certainly qualify as going big.
Why the Eagles will win: They always win.
Mercyhurst Lakers at No. 2 Wisconsin Badgers, Saturday, March 12, 8 p.m. ET, 7 p.m. CT
Statistical comparison
| Category | Mercyhurst | Wisconsin |
| --- | --- | --- |
| Record | 19-10-5 | 34-3-1 |
| Versus NCAA field | 0-5-1 | 3-2-0 |
| Common opponents | 3-1-0 | 2-0-0 |
| Goals-scored/game | 2.71 | 3.84 |
| Goals-allowed/game | 2.00 | 0.68 |
| Power play pct. | 15.5 | 20.9 |
| Penalty kill pct. | 87.3 | 94.5 |
| Avg. penalty minutes | 11.6 | 6.6 |
| NCAA appearance | 11th | 10th |
Mercyhurst
Top scorers: Rachael Smith, Fr., F, (11-18-29), Jenna Dingeldein, Sr., F, (14-12-26), Emily Janiga, Sr., F, (11-13-24), Brooke Hartwick, So., F, (10-8-18)
Goaltender: Sarah McDonnell, Fr., (17-5-5), 1.59 goals-against average, .923 save percentage, four shutouts
A lot of people first started paying attention to Mercyhurst in 2006-07 with the addition of superstar Meghan Agosta. By then, the Lakers had already experienced two NCAA tournaments, including more than 72 minutes of sudden-death overtime.
Those teams didn't have any more star power than Mike Sisti's current squad does. Both times they'd gone on the road in the national tournament, and they hadn't received easy draws, playing the eventual national champion the second time, and the national runner-up the first.
Yes, the Lakers have had star-laden teams, but they've always been at their best when they've been able to assume the mantle of the underdog. That's certainly the case here.
Look at Mercyhurst's roster. It doesn't lack for good players. For a variety of reasons, those players didn't have great seasons, but it doesn't mean they won't have great and memorable postseasons. My guess is that the NCAA tournament has never seen a sub 20-win team that was more dangerous.
Through 10 previous quarterfinal games, Mercyhurst has either won, or, if we discount empty-net goals, it has lost by a goal. Home or away, the Lakers are always a tough out.
Wisconsin
Top scorers: Annie Pankowski, So., F, (22-34-56), Emily Clark, So., F, (22-20-42), Sarah Nurse, Jr., F, (24-11-35), Sydney McKibbon, Jr., F, (8-27-35)
Goaltender: Ann-Renée Desbiens, Jr., (32-3-1), 0.73 goals-against average, .961 save percentage, 20 shutouts
Wisconsin has the country's fourth-best scoring offense, but there are still stretches where it can become that gang that couldn't shoot straight. Offensively, it is sometimes less than the sum of its parts.
In both the Super Bowl and the AFC Championship game, we were reminded what wins championships, and it wasn't offense.
That's where the Badgers shine, because their defense is more than the sum of its parts. Perhaps that isn't exactly true. For sure, the five skaters on the ice knit together well, and as a unit, are capable of more defensively than their individual talents would suggest.
However, the final part, the one standing in the goal crease, adds immeasurably to that sum. We may have to be some days removed from it before we fully appreciate the season that Ann-Renée Desbiens has had. For a goalie, 10 shutouts is a great season. She's effectively had two great seasons in one, and she's not done.
The Badgers have other great players. They might put up five or six goals in a game in winning a championship. Their odds of winning one increase dramatically if their goaltender never allows a goal, and for the remainder of this season, she may not.
Why the Lakers will win: Based on past history this season, the Badgers don't do so well the week after they either win a trophy or defeat Minnesota, and they did both last weekend.
Why the Badgers will win: Wisconsin is 3-0 all-time versus Mercyhurst in the NCAA tournament, allowing a total of two goals.
Princeton Tigers at No. 3 Minnesota Golden Gophers, Saturday, March 12, 5 p.m. ET, 4 p.m. CT
For the second-straight season, Minnesota hosts a team of Tigers in the quarters, and again, they arrive under unusual circumstances. A year ago, RIT had a sub-.500 record after winning its conference auto-bid from the lowest seed. Princeton comes in off a bye week after falling in a best-of-three ECAC Hockey quarterfinal, having done enough during the regular season to gain the final at-large invitation.
The year before the NCAA started sponsoring the national tournament, Minnesota lost in the final of the inaugural WCHA tournament. The Gophers then had a couple of weeks to sit around and wait for the ECAC to play its tournament to see whether or not they'd receive an invitation to the national tournament sponsored by the AWCHA. Minnesota was invited, and it went on to win its first national title.
Princeton would welcome something similar —- the winning coming off of a bye part, not the Minnesota wins part.
When these teams played in the NCAA tournament 10 years ago, the Gophers hosted a quarterfinal having already lost 10 that season times. This year, Princeton had to sweat out its inclusion in the event with only eight losses and two ties.
Statistical comparison
| Category | Princeton | Minnesota |
| --- | --- | --- |
| Record | 22-8-2 | 32-4-1 |
| Versus NCAA field | 2-3-1 | 2-3-0 |
| Common opponents | 4-0-0 | 4-0-0 |
| Goals-scored/game | 3.12 | 4.73 |
| Goals-allowed/game | 1.72 | 1.24 |
| Power play pct. | 14.4 | 43.1 |
| Penalty kill pct. | 92.0 | 84.0 |
| Avg. penalty minutes | 7.7 | 5.0 |
| NCAA appearance | Second | 14th |
Princeton
Top scorers: Karlie Lund, Fr., F, (17-22-39), Kelsey Koelzer, Jr., D, (17-15-32), Molly Contini, Sr., F, (9-14-23), Morgan Sly, Jr., F, (9-13-22)
Goaltender: Kimberly Newell, Sr., (18-7-2), 1.72 goals-against average, .941 save percentage, four shutouts
After finishing third in ECAC Hockey and being ranked for much of the season, Princeton isn't exactly under the radar. Still, they are a better squad than most believe.
The Tigers match up well against Minnesota in many respects. Like their hosts, they have a senior goalie with national-team experience, and the two netminders have equivalent save percentages. Princeton ranks sixth in scoring defense, just two spots behind the Gophers. Each has a freshman forward who is a contender for national rookie of the year.
Princeton has some areas where it is superior. It's PK ranks third, while Minnesota's is 16th. That advantage is tempered, because the Gophers are the least-penalized team in the country, so they've only allowed three more power-play goals. Plus, Minnesota's power play converts roughly three times as often as that of the Tigers.
The Tigers' Kelsey Koelzer had a more productive season on the blue line than did any of the Minnesota defensemen. The question is, will she be available, after being injured in Princeton's most recent game versus St. Lawrence.
Minnesota
Top scorers: Dani Cameranesi, Jr., F, (32-35-67), Hannah Brandt, Sr., F, (24-35-59), Sarah Potomak, Fr. F, (12-37-49), Kelly Pannek, So., F, (22-25-47)
Goaltender: Amanda Leveille, Sr., (26-4-1), 1.26 goals-against average, .941 save percentage, 10 shutouts
Minnesota's winning percentage is actually a touch higher than it was last year when it came to the tournament as the top seed. It's offensive numbers don't tell the whole story, as the potential is even higher than the numbers.
The Gophers' two biggest offensive threats are Hannah Brandt, who was injured for most of the year, and Amanda Kessel, who has only played in 10 games.
Even without those two, they have other ways to score, with five other forwards that have between 34 and 67 points, four defensemen with more than 20 points, and a power play that has been the most productive in NCAA history.
Defensively, Amanda Leveille has been a big-game goaltender throughout her career, and that's been even more true as an upperclassman.
This season, something has been a little off in terms of the team's defense. Breakdowns come at the wrong time, and Leveille is asked to save her team too often.
Should they put it all together, the Gophers could still wind up on top, but time may run out before the puzzle is fully solved.
Why the Tigers will win: With four Minnesotans on the roster and a couple more recruits from the state on their way to Princeton, expect the Tigers to have more fan support than usual for a team playing a quarterfinal game this far from home.
Why the Gophers will win: This is the ninth time Minnesota has won at least 30 games, and it won its first game in the national tournament the other eight years.
Clarkson Golden Knights at No. 4 Quinnipiac Bobcats, Saturday, March 12, 2 p.m. ET, 1 p.m. CT
I could start to analyze this game in any number of ways, and I'm always going to conclude by saying the same thing: there's just not going to be many goals scored.
Quinnipiac only yields an average of 17.6 shots per game, and Clarkson only allows 18.9. When the goaltenders stop far above 90 percent of the shots, maybe a team scores a goal or two.
The Bobcats have only given up more than two goals four times, and three of those occurred back in October. Clarkson has also allowed more than a pair of goals four times, and not at all in 2016.
The teams have other similarities beyond excellent defensive numbers. They each have five ties. Both have one loss to Colgate. Outside of the two losses to Quinnipiac, Clarkson's other loss was to Rensselaer; Quinnipiac lost to Yale. RPI and Yale finished a point apart in the standings.
The question right up there with, "Who wins?" is, "How many overtimes will it take before someone does?"
Statistical comparison
| Category | Clarkson | Quinnipiac |
| --- | --- | --- |
| Record | 29-4-5 | 30-2-5 |
| Versus NCAA field | 2-2-1 | 4-0-3 |
| Common opponents | 25-2-4 | 23-2-3 |
| Goals-scored/game | 3.61 | 3.19 |
| Goals-allowed/game | 1.34 | 0.92 |
| Power play pct. | 19.3 | 25.7 |
| Penalty kill pct. | 88.0 | 92.2 |
| Avg. penalty minutes | 7.1 | 5.9 |
| NCAA appearance | Fifth | Second |
Clarkson
Top scorers: Cayley Mercer, Jr., F, (24-25-49), Olivia Howe, Sr., F, (16-21-37), Geneviève Bannon, Jr., F, (11-26-37), Erin Ambrose, Sr., D, (7-21-28)
Goaltender: Shae Tiley, So., (26-4-5), 1.36 goals-against average, .929 save percentage, eight shutouts
Clarkson finished with 33 points. The year before, it only had one more when it shared the season title. The Golden Knights had to settle for second this time not because they were worse, but because Quinnipiac was better.
The same was true in the league tourney. Clarkson played three strong games, winning all of them, to reach the final. There, it got edged out by a 1-0 score by the Bobcats.
Now Clarkson could trump that frustration win a quarterfinal win. The setting, though on the road, won't be an unfamiliar one. The Golden Knights will have traveled to Quinnipiac three times in the last month, including just six days before. Plus for Clarkson's upperclassmen, it's the site of their greatest triumph, as Quinnipiac hosted the Frozen Four where Clarkson won in 2014.
Quinnipiac
Top scorers: Taylar Cianfarano, So., F, (28-24-52), Nicole Connery, Sr., F, (13-14-27), Emma Woods, Jr., F, (11-23-34), Melissa Samoskevich, Fr., F, (16-16-32)
Goaltender: Sydney Rossman, Jr., (30-2-5), 0.89 goals-against average, .948 save percentage, 16 shutouts
Quinnipiac seems like a team destined for great things. Maybe those have already been achieved. A 30-win year, the regular-season title, the playoff crown to boot. Somehow, it seems that there is yet more to follow.
The Bobcats just might play the best team defense in the country. They take a lot of pride in it. They relish playing great defense. Quinnipiac did so a year ago, plugged in a new head coach and starting goaltender, and played great defense once more. Sixteen shutouts then, and 16 more now.
Along with stout goaltending, a confident and rugged blue line, and forwards willing to forecheck and backcheck all day long, there is just enough polish up front, with veteran forwards who score big goals at big times and budding prodigies capable of dazzling at any moment.
This is the time for a program to get greedy. With so many impact players set to graduate, who knows when Quinnipiac will be back in this position. It could be just a goal or two away from its first Frozen Four and an NCAA game against an opponent from outside the ECAC.
Why the Golden Knights will win: Given how even these two teams are, it seems odd that Clarkson would go a fourth game without a win in head-to-head play.
Why the Bobcats will win: The previous time that ECAC Hockey had a first-time winner of its season title, that team went on to win the NCAA Championship. Quinnipiac's first-round opponent can speak to the validity of that fact.