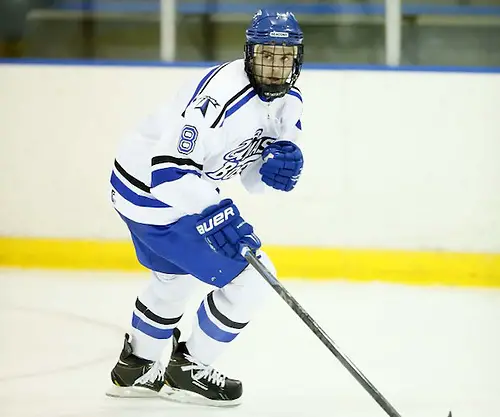 For almost 10 years, the Beacons of Massachusetts-Boston had come so painfully close to winning their first ECAC East title that in the first year of the NEHC, one might have thought coach Peter Belisle was seeing ghosts as his team faced a Babson team who had knocked the Beacons out of the tournament in each of the past four seasons and had a winning record on the Beacons home ice at the Clark Center.
It was a moment of truth for the Beacons who had often come so close, but were unable to close the deal — until this year.
With a sold-out Clark Center rocking and an overflow crowd watching big-screen televisions in the lobby, the Beacons knocked off Babson by a 3-2 score in overtime and no one could be prouder than their head coach.
"We have waited for this for so long," said Belisle. "It was so nerve racking the whole game. I thought even in the overtime they had a couple of great chances to beat us, but then Matt [Lemire] got his feet moving and good things happen when he gets the puck in transition."
The Beacons leading scorer along with defenseman Tyler Bishop created a great scoring chance that resulted in Colin Larkin's rebound goal and an eruption of excitement in the Clark Center.
Lemire's 45 points on the season is among the tops in the nation and along with linemates Larkin and Frankie DeAugustine, the Beacons top line is a threat every time they are on the ice in any situation. The line has combined for 39 goals and 111 points, including 15 power-play goals and six game winners for the Beacons.
"This team has been so great this season and not just the big name players who get all the points," noted Belisle. "Even in Saturday's game, Alex Demchuk and Andrew Crawford were so big for us. This team just kept finding ways to get it done and now in our first NCAA tournament, we open with the defending champions [Trinity]. It is a big hill to climb, but we have some experience playing them and we are thrilled to be playing more hockey. The ice in our rink is usually down by now – I may have to send an email to remind the facilities guys that we are still playing. Hopefully, for a little longer."