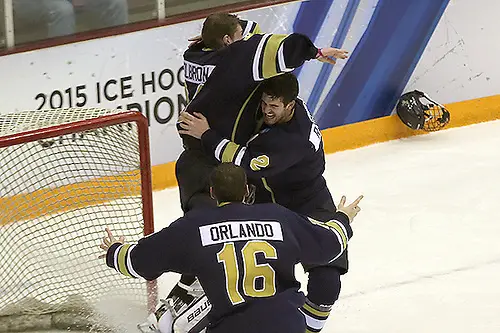 Last year, the Trinity Bantams earned an at-large bid to the national tournament and turned it into a championship run.
This year, coach Matt Greason's squad focused on winning an elusive NESCAC title that comes with the automatic qualifier to ensure their opportunity to defend their national crown.
"It is far better winning the conference title and getting in than waiting after a loss and hoping the season was good enough to qualify," noted Greason. "Getting in the way we did last year might have enabled us to sneak up on some teams in the tournament. I am very sure that is not going to be the case this year, starting with our game on Saturday night against a very good Massachusetts-Boston team. They beat us last season in a one-goal game, so we know they can play and must be really excited to be playing in their first national tournament. Our students are on spring break, so we may need to import a few extra locals to cheer us on, but we have been playing pretty well down the stretch and need to keep our strong team defense going against the Beacons."
Sophomore Alex Morin has been the big beneficiary of that strong team defense that starts in the other end of the ice with an aggressive forecheck. Morin has earned the bulk of the playing time from last year's national title goalie, Nathaniel Heilbron, and his coach thinks that last year has set a great routine for his young goaltender this season.
"'Nano' did a great job leading us last season to the national title and really set a great example for Alex in his freshman season," stated Greason. "Alex saw the work ethic and effort every day from Nano and they compete hard every day against each other, but with a focus on making themselves and each other better. I think Alex learned a lot from watching that disciplined approach and it certainly has shown benefits in his play this year as they continue to battle and make each other better goaltenders."
While the Bantams started the season with a very inexperienced D-corps, the season has seen the emergence of some solid players that have contributed greatly to the team's solid play in their own zone. Junior T.J. Sherman has become a reliable shutdown defenseman and adds a little offense to the mix as well.
"T.J. has been just so solid for us," said Greason. "He really is just so very consistent in the way that he positions himself on the ice, skates well and rarely makes a mistake with the puck in our own end. I thought he was terrific on Sunday against Amherst and we will need him to play a lot of minutes on Saturday against UMass-Boston.
"We aren't sneaking up on anyone this season, so we better be ready to play on Saturday."