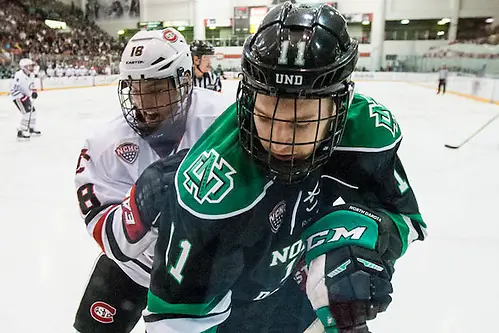 The final week of the NCHC regular season provided varying levels of certainty depending on where and when around the league attention was being paid. It wasn't the most climactic end to a season, but there was still plenty of excitement to go around.
North Dakota got its hands on the Penrose Cup for the second year running as the NCHC regular season champion. Whereas UND celebrated with the trophy on its home ice last season during the first round of the playoffs, the Fighting Hawks were able to do so again last weekend at Ralph Engelstad Arena before the postseason began.
St. Cloud State ended up as the No. 2 seed in the NCHC playoffs. North Dakota picked up a share of the league regular season title two weeks ago, and St. Cloud State fell out of the running for its own share of the top spot despite a sweep last weekend at Colorado College.
Plenty of eyes were also set upon Duluth, Minn., last weekend as two teams square in the middle of the NCHC pack battled each other for the final home-ice spot in this week's first round of the league playoffs. Minnesota-Duluth earned the No. 4 seed thanks to a pair of home victories over Miami, and UMD will host the RedHawks at least twice more this week as the league playoffs kick off.
Denver finished narrowly behind St. Cloud State, and the Pioneers will host sixth seed Omaha this weekend in the first round of the playoffs. Seventh-seeded Western Michigan will travel to St. Cloud, Minn., while No. 8 seed CC sets off for Grand Forks, N.D.
This week, we take a look at each of the NCHC's four first-round playoff series, how the contesting schools got there and what's on the line for them in the postseason.
No. 8 Colorado College at No. 1 North Dakota
How they got here: The NCHC is nearly three complete seasons old, and Colorado College (6-27-1 overall, 4-19-1-0 NCHC) has had to visit North Dakota (28-5-3, 19-4-1-1) in the first round of the league playoffs in each of those campaigns. The Fighting Hawks come into this edition having won each of their past six games, while CC visits Grand Forks having lost each of its last nine games and 10 of the Tigers' past 11.
What's at stake: UND, which enters the weekend No. 1 in the PairWise Rankings, is a lock to qualify for the NCAA tournament regardless of what happens in the NCHC playoffs. Defeating CC and doing well at the NCHC Frozen Faceoff next weekend in Minneapolis, however, would help the Fighting Hawks not only receive a high NCAA tourney seed but also wrap up a spot in a geographically favorable regional. CC is eighth from last in the PairWise and will have to win the NCHC playoff championship in order to qualify for the national tournament.
No. 7 Western Michigan at No. 2 St. Cloud State
How they got here: St. Cloud State (27-8-1, 17-6-1-1) finished second in the NCHC standings despite a bumpy home stretch to the regular season. The Huskies won the North Star College Cup in late January and finished the regular season with a road sweep at CC, but SCSU went 3-3 in the six games between those two events. Western Michigan (8-23-3, 5-18-1-1) has struggled lately, going 1-11 in the Broncos' past dozen games.
What's at stake: At No. 3 in the PairWise, St. Cloud State is on track to join North Dakota as a No. 1 regional seed in the NCAA tournament. Qualification for that competition has been all but secured, while Western will have to pick up four wins in the next two weekends in Minnesota in order to be one of Division I's last 16 men's teams standing.
No. 6 Omaha at No. 3 Denver
How they got here: Denver (21-8-5, 17-5-2-0) finished tied for second with St. Cloud State, and the Pioneers played very well down the home stretch of the regular season. The Pios have won each of their last nine games and have just two losses since Dec. 12. Four of Denver's victories since then came against Omaha (18-15-1, 8-15-1), which has gone 4-12 in the past 16 games.
What's at stake: UNO is still on the bubble of the NCAA tournament picture. Thanks in large part to a perfect nonconference record this season, the Mavericks are still 15th in the PairWise despite their poor recent form. Denver, sixth in the PairWise, is looking to lock up at least a No. 2 seed in the national tourney.
No. 5 Miami at No. 4 Minnesota-Duluth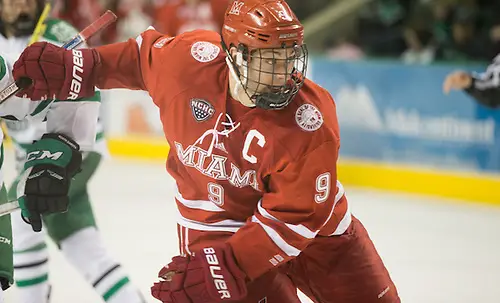 How they got here: This pairing wasn't finalized until last weekend when Minnesota-Duluth (15-14-5, 11-10-3-1) won both of its last two regular season home games against Miami (15-16-3, 9-13-2-2). Winners of four consecutive games, the Bulldogs come into this quick-turnaround rematch on a roll while Miami looks to pick up where it left off before last weekend. Prior to Miami's second and third losses of the season to UMD, the RedHawks had won five of their last six games.
What's at stake: Like Omaha, Minnesota-Duluth is a bubble team for the NCAA tournament. The Bulldogs have a chance to boost their spot in the PairWise (currently 13th), while Miami likely needs the automatic bid to make the NCAA tournament.
Players of the week
Offensive player of the week — Brock Boeser, North Dakota: The freshman forward picked up six points during the Fighting Hawks' home sweep of Western Michigan last weekend. Three goals and three assists helped Boeser become the first freshman to pick up NCHC scoring and goal-scoring titles in conference play.
Defensive player of the week — Ethan Prow, St. Cloud State: The senior blueliner and captain picked up three points in two victories last weekend on the road against Colorado College. Prow also finished the series with a plus-6 rating from St. Cloud's two wins over the Tigers.
Rookie of the week — Neal Pionk, Minnesota-Duluth: Pionk posted a career-high three points Friday in a 5-0 win over Miami in Duluth. In Saturday's rematch against the RedHawks, the defenseman blocked four shots during the Bulldogs' 3-1 sweep-clinching victory.
Goaltender of the week — Kasimir Kaskisuo, Minnesota-Duluth: The Finnish sophomore was a reason why UMD picked up the last home-ice spot in the first round of the NCHC playoffs. Kaskisuo stopped 40 of the 41 shots he faced last weekend in two home wins over Miami.
Acknowledgements
This is my last NCHC column of the season — Candace Horgan is set to take us home next week — although I'll still pop up time to time on our NCHC blog for game predictions and a few stories having to do with NCHC teams once the postseason begins.
Before we get to that point, though, I'd like to thank a handful of colleagues, friends and family for their incredible support. Huge thanks go out to USCHO executive editor Todd Milewski, who has been unending in his patience and guidance at least in the time I've been working with him here.
Thank you to my esteemed NCHC writing partner, Candace Horgan. She's been wonderful to work with since our days of covering the WCHA together, and I hope she makes optimal use of the beer money coming her way for winning our predictions contest. Again, annoyingly.
Thanks, as ever, to all of the NCHC coaches, players and school and league officials I've worked with this season, all of whom continue to make my job here a joy to hold.
Thank you to Lynn Evenson, my terrific boss at the Bottineau Courant, for continuing to let me indulge in this extra passion project.
Thank you to my parents, Doug and Karen, and my brothers, Ben and Tim. I love each of you more than I could ever begin to describe.
Last but not least, thank you to each of you that visit this website. It's you for whom all of us at USCHO work.