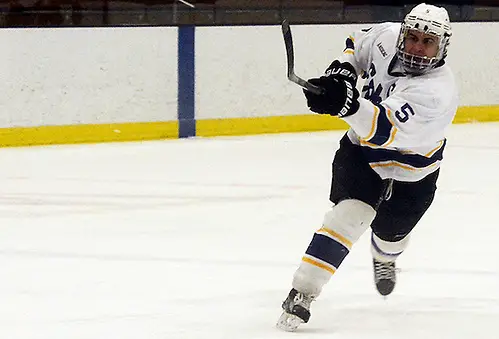 It is not fun to get knocked out of your conference tournament in the quarterfinal round, especially as the top seed and then have to wait anxiously on the outcome of all other games and the deliberations of the selection committee to know that your season-long body of work was good enough to get you into the NCAA tournament.
Such was the case for Williams, who earned their first trip to the tournament as an at-large bid and see some similarities to their pathway from another NESCAC opponent.
The defending national champions from Trinity got in last year as an at-large team on their way to winning the title and coach Bill Kangas hopes his team can make the most of their opportunity despite losing out on the coveted conference title.
"It was really hard those next few days after the loss to Tufts," noted Kangas. "We were down for a little bit, but then we kept skating, hoping really that our season wasn't over and that we would get into the national tournament. That Monday morning was all about excitement and nerves, but the fact is we are in and while it would have been great to play this last weekend for the conference title, we are excited to play in the program's first NCAA tournament. Trinity made a run in the same circumstance we are in, so anything is possible in the postseason. We have a home game against a longtime friend in Bill O'Neill and his Salem State team, so it should be a great experience."
The Ephs are led by the NESCAC Player of the Year in senior defenseman Zander Masucci, who literally does it all from the blue line for Williams.
Kangas could not be more complimentary of his captain on the ice and the terrific person off it.
"You look at almost every category and Zander leads us," stated Kangas. "Blocked shots, ice time, his offensive numbers are among the leaders and he is just a great leader for us. I am really happy for this team to be able to stay together and play more hockey. At this point, we just hope to be able to spend more time together and hopefully, practice again on Monday. We know Salem State is a very good team and they are certainly on a high after winning their conference title. We are going to enjoy the time together and be ready to play our best on Saturday night."