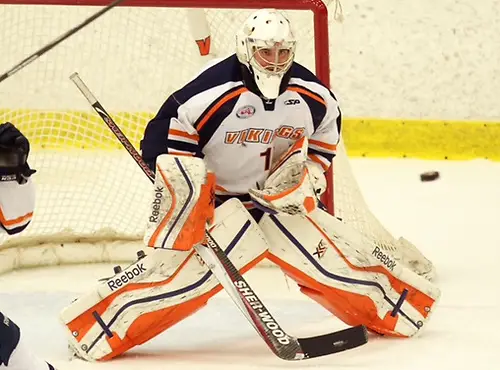 With Saturday's convincing 5-0 win over the defending champions from Plymouth State, Salem State extended its winning streak to 13 games and won not only the MASCAC title, but also the automatic qualifier to the NCAA tournament and a first-round date at Williams.
As has been the case all season, the Vikings win with great offensive balance, solid defense that can add to the offense, and great goaltending from the MASCAC Player of the Year Marcus Zelzer.
Zelzer, a junior, has an 18-1 record this season between the pipes for the Vikings. He is amongst the leaders in the nations in many statistics, including shutouts with five, a goals-against average of 1.78 and a save percentage of .932. He has not appeared in a game lost by the team since late November and has been the stalwart in goal that his teammates have complete confidence in. He will need to continue his current winning streak and level of play against the regular-season champions from the NESCAC, who received an at-large bid after losing their quarterfinal matchup with Tufts in the conference tournament.
The two teams and their coaches are not strangers to each other as they have faced each other many times dating back to the interlocking schedule shared by the then ECAC East based Vikings who played every year against NESCAC opponents.
Additionally, Salem State coach Bill O'Neill and Williams coach Bill Kangas are long-time friends further augmented by O'Neill's son, Andrew, coaching at Williams for a season under Kangas after his graduation from Salem State.
While Williams looks to shake off the loss in their last game, the Vikings are riding high and playing their best hockey of the season at just the right time. Five players have surpassed the 20-point plateau, while 14 in total have exceeded 1- points offensively for Salem State. They have great depth and balanced scoring that also includes defensemen Gabriel Cromp and Brad Jones, who have added to the prolific scoring from Cam Moniz, Casey Miller, Brandon Platt, Michael Casale and Daniel Campbell to name a few.
The formula of pressure from four lines and solid team defense in front of great goaltending has proven to be a winner and now, the Vikings are looking for more than just being a qualifier in the national tournament — they want to show they are capable of winning it.