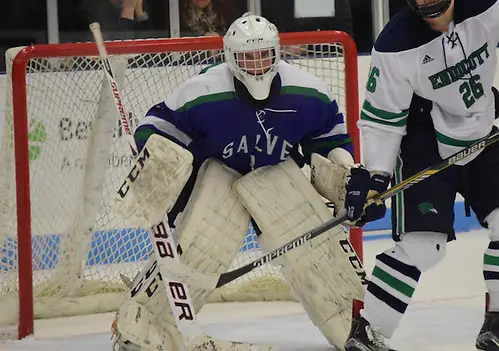 You see the names St. Norbert, Hobart, Adrian and Trinity in the NCAA tournament and you aren't surprised to see them amongst the competitors.
And then you see Salve Regina.
The Seahawks, from Rhode Island, have broken through in a big way for their program this year and their coach believes his team is not content with the milestones achieved to date, including the ECAC Northeast title.
"I think this team is out to put Salve Regina hockey on the map," coach Andy Boschetto said. "All season long, the bigger the opponent, the better this team played and especially on the road. We went to Trinity, ranked No. 1 in the country at the time, and won. We played a tough Elmira team on the road and won and lost by just a goal to Hobart on the road. We played Teddy Bear night at Utica and had to beat Nichols and Endicott on the road to win our conference. Our guys are up for the challenge and it will be a very big challenge against Geneseo."
The Seahawks did not yield a goal in their three wins on the way to the conference title. Goalie Blake Wojtala has shown maturity beyond his college experience as a freshman and the team has responded in front of him very well.
"Blake is very regimented in what he does," said Boschetto. "He has a consistent routine and really believes in the guys in front of him as much as they believe in him. No doubt he has bailed us out more than a few times this season with how well he has played and making that big save when we really need it. He works hard as does the rest of the team and we are going to need that against a very strong offensive team like Geneseo."
This could be the cliché battle between offense and defense as the Knights scored 17 goals in their conference tournament, while the Seahawks yielded zero.
"We know they are really talented up front," noted Boschetto. "Don't forget — we can score some goals, too. Our guys have stepped up to every challenge along the way and Geneseo is a big challenge, but one we are excited to prove what our program is about. It would be really nice to have practice next Monday."