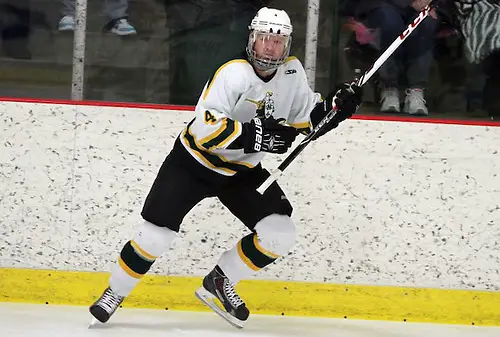 Four teams from the West region are in the NCAA tournament, including top-ranked Adrian, which opens the postseason March 19 in a showdown against two-time national runner-up Wisconsin-Stevens Point.
St. Norbert takes on MIAC champion Augsburg in a quarterfinal game March 19 as well.
Stevens Point (21-5-2) vs. Adrian (24-3-1)
The Pointers are in the NCAA tournament for the third consecutive season and the 12th time in program history. They are coming off a win over Wisconsin-River Falls in the WIAC tournament title game and are familiar with the Bulldogs, having split with them in the regular season. Stevens Point lost 3-2 at Adrian and earned a 6-4 win at home.
Stevens Point has won nine of its last 11 and has scored 135 goals on the year. Lawrence Cornellier leads the way in goals scored, punching in 20. He is one of five players who has scored at least 10 goals on the season.
The Pointers have been solid defensively as well, allowing three or more goals only three times over the course of the last 11 games. Max Milosek has had a lot to do with that success, fashioning a 2.08 GAA. He has allowed 46 goals and is 16-4-2 on the year, with two of those wins coming in shutout fashion.
Adrian is in the NCAA tournament for the sixth time and is coming off its second consecutive Harris Cup championship. The Bulldogs, winners of seven consecutive games, are seeking a repeat trip to the final four.
Like Stevens Point, Adrian features a high-powered offense, having scored 154 goals.
The Bulldogs are led by Connor Armour, who has come through with eight goals and 30 assists. A total of eight players have scored 10 or more goals, with Mathew Thompson and Trevor Boyd striking for 16 goals apiece. Adrian has scored at least four goals in each of their last 10 games.
Kevin Entmaa will look to carry his regular-season success into the postseason. Entmaa, only a freshman, is the only unbeaten goaltender in college hockey, sporting a 14-0-0 record. He has allowed only 30 goals. The Bulldogs have allowed two goals or less in their last four games.
St. Norbert (23-3-2) vs. Augsburg (17-8-2)
St. Norbert had its dream of an NCHA title dashed by Adrian, but it will aim to make a run at the national title as it begins postseason play against the Auggies. It will be the first meeting between the two teams since November of 2012, when St. Norbert skated to a 3-2 overtime win.
The Green Knights are making their 16th appearance in the NCAA tournament and own a 25-11-1 record in tournament play.
St. Norbert has lost only once in its last 12 games and is led by the play of Erik Cooper, who has racked up 12 goals and 20 assists to lead the team in points. Four other players have scored at least 11 goals, including Michael Hill, who has scored 15 goals to go along with 10 assists.
Tony Kujava has played in 17 games this year at goaltender and owns a 1.28 GAA. He is 14-1-1 on the season.
The Auggies are in the tourney for the first time since the 1997-98 campaign and this will be only their third NCAA trip in program history.
Augsburg won a thriller against St. John's in the MIAC tournament championship game, edging the Johnnies 5-4 in triple overtime. The Auggies have won 10 of their last 12 games and are led by Nate Flynn, who has come through with 16 goals and 14 assists. Corbin Chapman has been a key contributor as well, scoring 11 goals to go along with 10 assists.
Jordyn Kaufer has led the way in goal, sporting a 16-5-1 record on the year. He owns a 2.01 GAA and has recorded three shutouts this season.