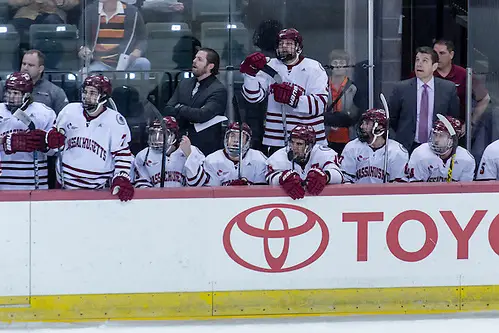 Before we get to the playoff matchups, let's first look at Massachusetts, where John Micheletto was relieved of his duties this weekend after four years at the helm.
The move came as no surprise. You don't finish next-to-last your first two years and then in the cellar the next two and hold onto your job.
The question is: Can UMass become a serious contender in Hockey East?
The Minutemen joined Hockey East for the 1994-95 season and went 3-21 in league play. Unfortunately, that proved to be a harbinger of things to come.
UMass made progress once it hired Don "Toot" Cahoon, recording its only winning seasons in league play in 2003-04 and 2006-07. Both times, the Minutemen advanced to the Garden, losing in the championship game to Maine in triple overtime in 2004 and to New Hampshire in overtime of the semifinals in 2007. The latter year represented the program's lone trip to the NCAA tournament.
When those successes and other near-.500 seasons weren't deemed sufficient, Micheletto, an assistant at Vermont, was brought in. The results clearly haven't been there.
In announcing the change, new athletic director Ryan Bamford said: "Our expectation is to be a top contender every year in Hockey East, the premiere collegiate hockey conference. We will work aggressively to recruit a head coach to our hockey program that can realize those expectations."
A top contender every year? Is that realistic?
The fact is that programs that have for the most part struggled, programs like UMass, face an uphill battle when it comes to recruiting. If you're an elite athlete, are you going to look first at Boston College or Boston University or Notre Dame? Or perhaps look at schools more recently at the top of Hockey East, like Providence and Massachusetts-Lowell?
Athletes instinctively gravitate to winning programs. The attitude most often is, "I'll go to [UMass or another school near the bottom] if I can't get an offer at a better school."
Teams like UMass can't live off the recruiting crumbs that fall off the tables of the schools at the top. Or even worse, those in the middle. In the words of Boston University legend Jack Parker, "The team that usually wins is the team that got off the bus with the most talent."
It is possible to turn programs around. Just look at what Nate Leaman has done at Providence and Norm Bazin at Lowell. Both schools had experienced some level of success before, but when Leaman arrived the Friars had gone 10 years since their last NCAA tournament appearance. In his fourth year, he led them to their first national championship.
Lowell's absence from the NCAA tournament had stretched to 15 years by the time that Bazin arrived, but he got the River Hawks there in his first season and led them to their first league title and Frozen Four berth a year later.
So it can be done. But it takes a special coach and considerable support from the school.
Bazin's success on the smaller campus in Lowell has to be especially galling to those around the Minutemen program. Why Lowell and not its sister school in Amherst?
"I can't speak to that," Bazin says. "I have never been to Amherst or worked in that environment. All I know is that Lowell has great leadership and we are very fortunate to have a great chancellor in Jacquie Moloney … and a great president in Marty Meehan.
"Leadership is top down. I feel our support and leadership is so good that it trickles down and our hockey players love playing for this university."
Can UMass get that same level of support and most importantly, the right coach to take advantage of it?
Cahoon chose to limit his comments, but did point out the need for a long-term focus. UMass isn't heading to the NCAA tournament next year, no matter who comes in as coach.
"The program is going to be managed by Ryan Bamford, the new athletic director, and everything I know about Ryan and everything I've learned about him tells me the program is in really good hands," Cahoon said. "I would think the process will be better than ever before, and UMass will begin to take a long-term approach to making this program live up to its potential."
We shall see.
Now, here's a look at the four Hockey East quarterfinal series playing out Friday, Saturday and, if necessary, Sunday.
No. 1 Boston College hosts No. 9 Vermont
This looks like a lopsided mismatch. The Eagles excel at both ends of the ice and on special teams, pretty much an ideally well-rounded team. Vermont, by contrast, was the lone team able to advance while on the road last weekend and is a tough defensive team to play, but has significant limitations on the offensive end and on the power play.
"We feel very good about our club in a lot of different areas," BC coach Jerry York says. "We've had a major improvement from last year's team. Our total whole team is better prepared.
"But we haven't gotten to the Garden the last two years."
Two years? Can that be?
Yes, it is. Two years ago, Notre Dame knocked off the top-seeded Eagles, and last year Vermont toppled them, then the No. 3 seed.
"We want to get back there," York says. "We'll have to play very well this weekend to achieve that."
Can the Catamounts do it two years in a row?
"It certainly catches our attention that they came in and played a terrific series last year," York says. "[Vermont coach] Kevin Sneddon had them ready and it went three games. It was a tough pill to swallow.
"Now we have a chance to go after another Lamoriello Cup and Vermont stands in our way. We certainly won't be overlooking them based on what happened last year. They have a club that can cause fits for anybody, so we're prepared for a well-structured, very disciplined team in the Catamounts."
For Vermont, the idea will be to play a tight-checking game and avoid a shootout.
"We are who we are," Sneddon says. "We don't have the ability, in my opinion, to open it up and play wide open against a team that has the kind of talent that Boston College has.
"We can skate with anybody in the country. We have speed. But our best attribute is trying to make teams defend as best as possible and take time and space away from teams that might have a little more skill than we do. It's just the way that we play against a lot of teams. It's knowing what you have and adapting to it.
"We're going to be challenged defensively. We know, having played them just a few weeks ago, that they have elite skill and some special players. There's no question about it.
"It's going to come down to needing [strong] goaltending and our special teams to be better than they were last time. We're going to have to be better all over the ice."
That said, the Catamounts know they've overcome steep odds before.
"There's no question that last year helps out," Sneddon says. "We had been plagued with limited to no success against Boston College, like most teams. But we found a way to eke out a series win last year. It definitely gives some confidence that we can do this.
"We know that we were the massive underdog last year and are again this year, but look at what can happen."
No. 2 Providence hosts No. 7 Merrimack
Last year, Providence won its first national championship; this year, it won its first Hockey East regular season title, sharing that honor with BC while dropping to the No. 2 seed based on tiebreaker to set up this matchup against Merrimack. The Warriors, who started out hot before cooling off, finished strong, defeating New Hampshire in the opening round.
"I'm really proud of our regular season," Providence coach Leaman says. "It's our first regular season championship or co-championship. We had some departures and some early departures, so we had some holes to fill, particularly in net and losing two centermen."
Despite those departures, the Friars boast considerable experience and not just of the playoff variety. They dress nine seniors, always an asset at this time of year, and are battle tested.
"We had a target on our back all season," Leaman says. "I really like how our team responded in the second half after we had the adversity of getting everyone's A game. It's been a [sign] of the growth of our program. The guys have really stayed calm."
Although the Friars welcomed a rejuvenating week off, it wasn't enough to bring back star defenseman Jake Walman, who remains out indefinitely with an injury. Fortunately, the Friars learned to play without Walman around the holiday break as well as almost all of the last four games.
Although the Friars come in as heavy favorites, Leaman considers Merrimack a formidable opponent.
"We played them earlier in the year when they were a top-20 team," he says. "They were really rolling. I was surprised when they had a dip because they're a very good team and they're very well coached. I like their depth. They have four lines that have all put up goals this year."
While Providence rested last weekend, Merrimack needed three games to dispatch New Hampshire. The old question of rust vs. rest naturally arises.
"Coach Leaman's as good of a coach as there is in college hockey, so he's going to look at the positives of having that week off," Merrimack coach Mark Dennehy says. "We're going to look at the positives of playing and getting in and staying in a rhythm.
"Winning a couple in a row always helps. It gives you a little bit of a swagger. But we're going in and playing the defending national champs in their barn. It's going to take all of our abilities and effort and focus to get it done."
The Warriors, who've had some ups and downs this season, may well be peaking at the right time.
"I think we're playing as well as we've played at any point in the season," Dennehy says. "We can look to that middle portion of the season and come up with excuses and explanations for what happened, but it doesn't matter. It can either strengthen you or kill you, and I think it strengthened us.
"It's not something I would recommend going through, especially as a coach, but I think we're better for having gone through it as a team."
No. 3 Notre Dame hosts No. 6 Northeastern
Notre Dame seemed on the verge of its first Hockey East regular season crown heading into the final two weekends, but got swept by Providence before splitting with Boston University, resulting in the matchup with Northeastern.
"Frankly, it's been a very positive year for us," Notre Dame coach Jeff Jackson says. "Going into the season, we didn't know exactly how we'd do considering that two thirds of our roster is freshmen and sophomores. But the younger guys have really contributed and our seniors have done a great job of leading.
"We ran into two of the best teams in the conference the last two weekends and maybe that's where our inexperience cost us. We have brain cramps for certain periods of time, and the whole game can change. We've had games where we've given up leads and we've had games where we've come from behind. A lot of that has to do with our youth. But at this time of the year you can't use youth as an excuse."
Unfortunately for the Irish, those final two weekends have pitted them against a Northeastern team that is 16-1-2 since early December.
"I guess our reward for getting a bye is getting the hottest team in college hockey," Jackson says wryly. "We know we're going to have our hands full."
Of course, Notre Dame had been matching Northeastern blow for blow going into those final weekends, posting a 13-1-3 mark.
"We've had some consistency in [goaltending and special teams], and it's been a real positive for us," Jackson says. "The last game against BU was like a playoff game, and those two factors came into play. Cal Petersen had a shutout, our power play scored a goal and our penalty kill stopped three attempts.
"There's no question when you get to this time of year that those are big factors. Goaltending and special teams are important any time of year but it's magnified in the playoffs."
Northeastern coach Jim Madigan expected just that type of tight-checking, low-scoring game.
"They're a team that doesn't give up many goals," he says. "They're very comfortable playing and winning close-checking, tight games. They've got a very good goaltender. They're very disciplined in their systems. They go to the net hard.
"We need to have real good details and focus and execution with discipline in our game to have success at Notre Dame. If one of those four things doesn't come, chances are you're not going to win.
"They are an elite team in our league and they were an elite team before joining our league. Our work is cut out for us. Saying that, I've got confidence that we can go out there and win. We've played well out there in my five years."
Northeastern has been so consistently excellent over the second half of the year that it hasn't had so much as a single one-goal win since the start of its 16-1-2 stretch. Sure, there have been empty-netters, but ironically the two overtimes forced by Maine last weekend may have been perfect to add just a little battle-tested edge to the Huskies.
"There were still some close games but this weekend will serve us well going forward," Madigan says. "Friday night we were down 2-0 after the first period. I liked our approach and our demeanor in the second and third. We chipped away. We didn't panic.
"On Saturday we gave away a three-goal lead, but then we played our best hockey. I think those two experiences will get us ready for a tight-checking game against Notre Dame."
No. 4 Massachusetts-Lowell hosts No. 5 Boston University
These two teams finished with identical 12-6-4 league records, but Lowell took the fourth seed and the resulting home-ice advantage based on tiebreakers. That could prove decisive since BU posted a lackluster 6-7-2 road mark while the River Hawks held serve at home to the tune of 12-2-3.
"It could become a factor especially if it comes down to a third game," Lowell coach Norm Bazin says. "This is the fifth year in a row we have been able to host and we are very proud of that. I think it demonstrates continuity and stability for our program, and to be able to host year in and year out is great. We have had great crowds here at the Tsongas Center this year and we hope to take advantage of that."
While the River Hawks have relied on scoring by committee, they've leaned heavily on senior goaltender Kevin Boyle. In Hockey East games, Boyle leads the league in both GAA (1.62) and save percentage (.941).
"He has been tremendous for us," Bazin says. "He is a legitimate Hobey Baker [Award] candidate.
"He finished No. 1 in Hockey East for goals against. He finished No. 1 in save percentage, and we all know how good Hockey East is. It is a very difficult league and to finish No. 1 in both of those categories says something about his performance.
"He has been our first star on nine different occasions. That tells you how important he is to our hockey club. He has had a terrific season, and we will need him to be terrific again if we want to move on from this weekend."
Of Hockey East's five top teams, the River Hawks have the least room for error in terms of making the NCAA tournament. They sit at 12th in the PairWise Rankings.
"I don't think that far ahead," Bazin says. "We've got our hands full with Boston University and that is all we are focusing on. This time of year is an awesome time of year to be playing hockey. If we are fortunate enough to play hockey after this weekend then we are obviously very deserving.
"We have had a good year but all we are focusing on right now is moving on and extending Hockey East action, and that's what my guys are channeling all their energy into right now."
For BU, the challenge will be getting the best of Lowell's top-ranked defense and Boyle. That may be tough while five-on-five, so its power play may prove decisive.
"Special teams makes or breaks you this time of year," BU coach David Quinn says. "We need an effective power play. Obviously, you want to be productive. You want to get goals. But a lot of times you also want to gain some momentum off your power play.
"Over the last month, we just haven't looked great on the power play yet our statistics have been pretty good. I'm hoping that we're in store for a good streak because we went through a dry spell. We had a stretch there where our guys were reluctant to go out there.
"But when you're playing a team like Lowell, you better be productive on the power play. That's going to be a key this weekend."
Quinn dismisses his team's less-than-stellar road record, noting that it started 0-3 away from Agganis Arena.
"We have played much better on the road as of late, over the last two and a half months," he says. "Our guys like playing on the road, believe it or not. We're going to have to do that this weekend."
And in closing …
I've got some short stories that will be appearing over the offseason, so if you'd like to be notified when they appear, go to hendricksonwriter.com and sign up for my newsletter.
Next week will be the final Hockey East column of the season, which Jim Connelly will be writing. After that, USCHO will shift into its NCAA tournament coverage.
So thanks to all you readers. Thanks also to my wife Brenda, aka the Greatest Wife Ever, for her support.